Tropical flavors and more for the height of summer.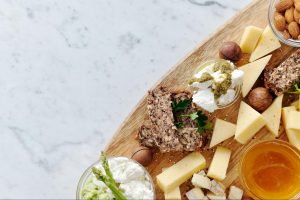 It's hot out there, so we'll cut to the chase. Here are our favorite pâté pairings for the height of summer. You know, take-a-cold-shower, blast-the-AC, ice-cream-every-day type of weather. These ideas – some new, some from our recipe archives – will make refreshing additions to your seasonal menus. Stay cool out there!
Appetizers
In many ways, pâté is the perfect summer appetizer. It keeps fresh in the refrigerator, ready to serve and enjoy when you don't have the energy for much else. A water cracker with a thin slice of fontina cheese, tomato, and Vegetable Pâté is sure to refresh, while a snack of Tomato Basil Pâté and cherry tomatoes can be whipped up in a jiffy. If you're up to a bit more prep work, cabbage and pâté rolls are absolutely to die for.
Entrées
Revenge is a dish best served cold. And so is this delicious pâté pasta salad recipe, featuring creamy and robust Eggplant and Goat Cheese pâté. A fresh veggie sandwich is also a great and filling option for busy summer days. To experience true summertime decadence, try grilled chicken skewers with alternating cubes of Chicken Ballotine, grilled watermelon, and peppers. The Ballotine's notes of pistachio, apricot, and pineapple will bring a tropical flair to wherever you dine.
Desserts
For a perfect blend of sweet and savory, try some pâté and peaches tartine or pair your pâté with cherries and cognac. The more adventurous chefs out there can try maple nut mushroom bites: spread some Earthy Mushroom vegan pâté on a pastry cracker, then top with maple candy crumbles and a pecan for extra crunch. 
Drinks
Pâte goes well with many kinds of beer, cocktails, and wine, both red and white. But our favorite sip and snack of the summer? Gotta be Lambrusco (a Spanish sparkling red wine) and Sage and Pork Mousse with Vermouth. 
We hope these refreshing ideas help get you through the dog days of summer and beyond! And remember, if you make a cool treat with pâté, remember to post a photo and tag @alexian_pate on social media!