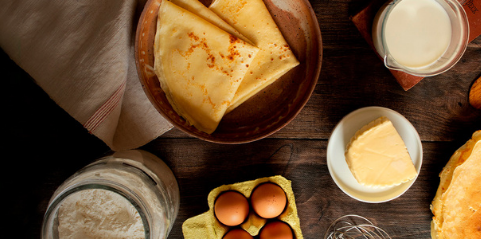 Easy Brunch Crepes with Pâté 
Universally adored and conveniently adaptable to endless food combinations, who doesn't love a delicious brunch crepe— especially when it involves pâté? Read on as we highlight our top three favorite pâté-inspired, mid-day crepe recipes.
Savory Chicken Crepe
 One of our favorite chicken crepe recipes is as easy as it is delicious, and essentially only involves four ingredients: Truffle Mousse, shredded chicken, asparagus, and roasted tomatoes. 
Spread a thin layer of the Truffle Mousse on a crispy golden crepe. Lightly sprinkle some of the shredded chicken on top, in addition to the asparagus and roasted tomatoes. Add salt and pepper to taste.
Pro tip: We suggest slowly building on these ingredients instead of going all in at once, as the last thing you want is your crepe to fall apart. And naturally, if you're keener on other vegetables— or on adding some cheesy elements— feel free to experiment as you see fit.
Vegan Crepe
Made with just six ingredients, this vegan crepe recipe is ridiculously simple— and extraordinarily delicious. All you'll need is Earthy Mushroom pâté, chickpeas, diced onion, minced garlic, spinach, and soy sauce. 
In a skillet, heat the oil over medium heat and add the diced onion and Earthy Mushroom pâté. Sauté for 3-4 minutes before adding the chickpeas and soy sauce. Stir occasionally. 
Fry for a few more minutes and stir in the minced garlic. Toss in the spinach and cook for 1-2 more minutes, then turn off the heat. 
Place the filling in a food processor or blender for some seconds, and then spread 1½ to 2 tablespoons of the filling onto a dairy-free crepe. Salt and pepper to taste. Voila!
Gourmet Duck Crepe
We know what you're thinking: Gourmet? I thought this article was supposed to be about easy crepe recipes. News flash: This culinary creation is about as easy as it gets, as it involves only three ingredients. Yes, you read that right. Three.
Duck Rillette is rich and full of flavor, making it the perfect filling for a gourmet brunch crepe, as well as the star of this recipe. The other two ingredients are sautéed onions and bell peppers. That's it.
Once you've sautéed the vegetables (preferably with some minced garlic, salt, and pepper), spread the Duck Rillette onto a crispy crepe. Add the sautéed onions and bell peppers. 
Overall, the crispy vegetables should cut through the savory creaminess of the Rillette to create a gourmet flavor that'll take your taste buds to new levels of deliciousness.