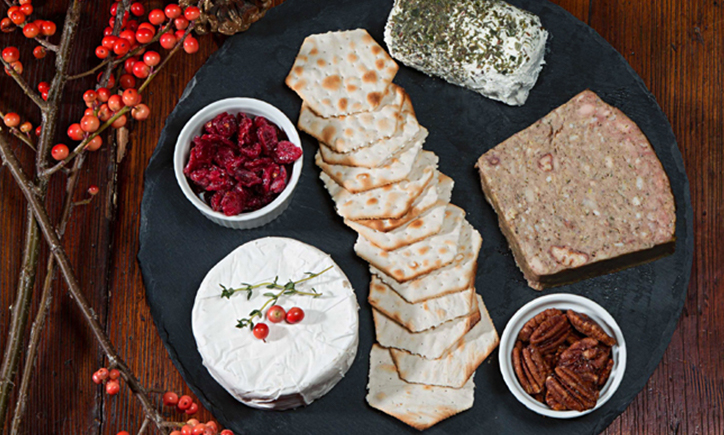 For most of us, the winter months bring us indoors to celebrate the holidays and to enjoy dinner parties with friends and family. Hors d'oeuvres are often central to these gatherings, and it is nice to provide guests with a variety from which to choose. Adding pâté to your menu will impress your guests as well as encourage them to perhaps try something new. Each pâté is unique, differing in style, flavor and type of ingredients, so providing a few as part of your spread is a creative and easy way to create variety. Below we've assembled a pâté cheat sheet to help you choose which to serve.
Country-style pâtés are the most traditional type, and are what most people think of when they hear the word pâté. This type is coarse in texture, similar to a meatloaf and is often served in thin slices on a baguette, or cut into cubes and served with toothpicks. Our Pâté de Campagne is a simple and approachable coarse style, which has arguably the most versatility for pairings.
For a smoother, more spreadable pâté, reach for a mousse like our Truffle Mousse which is an Alexian fan favorite. Mousses are often served alongside crackers, baguette, or crostini, making for an easy and quick presentation for your gathering.
There are many flavor profiles of pâté, and we find that offering the most unique or unusual flavors will garner the most attention. Try varieties like our Pheasant with Rosemary or our Wild Forest Mushroom .
Rillette which is arguably in the same family as pâté, is another item well received at gatherings. A rillette is meat which has been slowly cooked in its own fat with a blend of seasonings. Our Duck Rillette is a decadent treat and is a popular item during the holidays, during which time we all indulge!
For a lighter and more colorful option, our vegetable and vegan pâtés can be enjoyed during the cooler months but are also an appropriate option for summer. Our Eggplant and Goat Cheese, Mushroom Artichoke, and our Mixed Vegetable varieties are pleasing to the eye and very unique in flavor profile.
Next time you are hosting a gathering, don't let pâté intimidate you. Choose a few different varieties to serve alongside cheeses, breads and crackers, chutneys, mustards, and fresh fruits and vegetables. It is a perfect appetizer before a meal or to serve alongside cocktails.