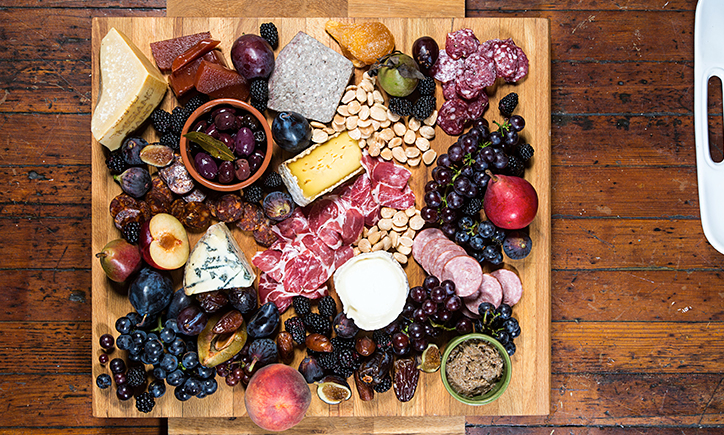 What comes to mind when you think about putting together a cheese board? It's probably cheeses, grapes or other fruit, a variety of crackers and maybe a little mustard on the side.
For a truly impressive cheese board, add charcuterie and pâté to the list. With beef, ham, sausage, turkey plus vegetarian and even vegan pâtés, you'll have something for everyone. Plus, you'll please those who put a priority on protein in their diet.
So where do you begin? First, you need a board that's large enough to hold all the goodies. Don't have a cheese board? A cutting board will do. Or any oversized serving platter. For a sophisticated presentation, use a slab of marble (just keep in mind that this will be heavy, so you may want to prep it where you'll actually be serving it).
Start by selecting your cheeses. You'll want to serve a variety of textures, from soft to hard, and a variety of flavors. Don't forget that not all cheese is made from cow's milk; expand your horizons with cheese made from the milk of goats or sheep.
Next, choose the charcuterie. We hate to tell you, but pepperoni is so yesterday. Instead, go for hard, cured sausages rich with flavors such as savory smoky, bold garlic or sweeter fennel. Because bacon is all the rage, you might want to add several crispy strips to your cheese board.
To mix up the texture, include spreadable pâtés on your cheese board. Choose from a variety of meats such as chicken, pork, veal, duck and pheasant. Vegetable pâtés can feature eggplant, mushrooms, roasted peppers or other veggies. And, yes, vegan pâtés are available, too.
Think outside the cracker box when choosing your carbs. Breadsticks, sliced baguettes, pita chips and gluten-free nut crackers are good choices. Be sure to offer a few herbed oils for dipping.
Don't overlook the details; it's all the "extras" that make a cheese board extra special. Consider salty olives, crunchy nuts, sweet dried fruit, tangy chutney. For a finishing touch, garnish with sprigs of parsley or other herbs.
A few rules of thumb:
• Serve cheeses and pâtés at room temperature
• Arrange the cheeses from mild to bold
• Label the items so guests know what to expect
Lastly, be sure to have both red and white wine on hand, as well as non-alcoholic options such as sparkling cider. Then pour yourself a glass and relax; you'll soon be busy accepting compliments from guests on your eye-pleasing and mouth-watering cheese board.