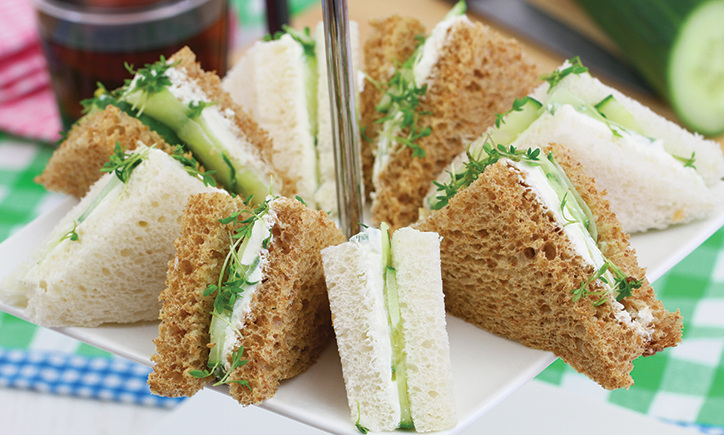 A tea party is a wonderful way to celebrate a birthday, bridal or baby shower or any gathering to catch up with friends. Be on top of your game and keep it stress-free by following these easy serving ideas.
In addition to the traditional scones, muffins, and cakes you might find at a tea party, you should also consider serving a few savory options. Making a few different sandwiches is a great way to do this and requires minimal effort. Purchase different types of bread, remove the crusts, add your filling of choice and then cut them into small rectangles or triangles.
For an avocado and pâté sandwich, mash the avocado with a squeeze of juice from an orange. Spoon over a slice of rye bread and top with thin slices of Alexian Grand Marnier pâté.
For egg and watercress sandwiches, boil one egg for each expected guest. Peel the eggs and mash them with 1½ tbsp mayonnaise and your choice of seasoning. Toast your choice of bread. Lay one slice of bread on a cutting board. Butter it, then spread the egg mixture and top with watercress. Spread Alexian Truffle Mousse on the other bread slice and top off the sandwich. Cut the crusts off if you like, then gently cut the sandwich carefully so as not to squash the egg. Skewer each sandwich with a sandwich pick.
For goat cheese sandwiches, spread goat cheese on your choice of bread. Top with slices of Alexian Vegetable Pâté and slices of cucumber for a bit of crunch and freshness. Serve sandwiches with potato chips.
And of course, you can't forget the tea! Set out an assortment of loose leaves and tea bags, in addition to other beverages such as coffee or mimosas, if it's a special occasion. Iced tea makes a more refreshing drink in warmer weather, so for this option, make different batches of flavored iced teas for guests to enjoy. We recommend one black tea and one choice of herbal tea. Accompany tea (hot or cold) selections with cream, sugar and lemon slices to accommodate your guests. Lastly, enjoy the time with loved ones!