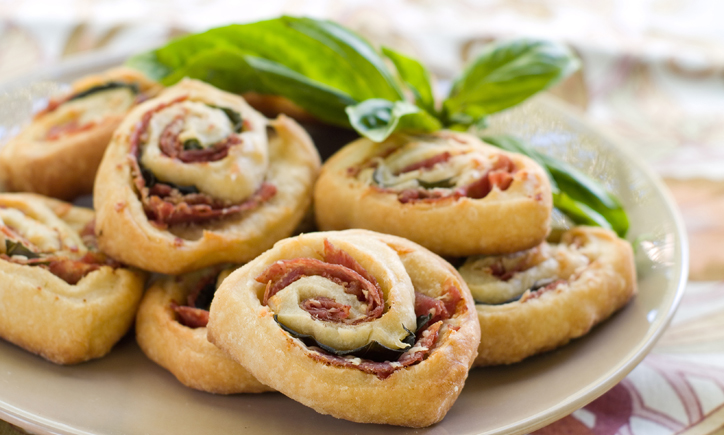 When you go on holiday, the only things you should be thinking about are having the sun on your toes and the wind in your hair. The last thing you want to do is get to the beach and realize your stomach is growling.
We've gathered some of our best and most beach-worthy snacks and lunches to make ahead for smooth-sailing this summer.
Make & Take Veggie Cups
Here's a little secret: pureeing any of our pâtés with a couple of tablespoons of Greek yogurt is an easy way to make a delicious dip, perfect for veggies, pita chips, or cheese.
One of our favorites, the Mushroom & Artichoke terrine, works particularly well. Simply combine the pâté and the yogurt and blend until smooth. Pour evenly into the bottom of 12 oz. plastic cups. Place vegetable sticks directly into the dip – sliced bell peppers, carrots, and celery are all great options.
For more diversity, try it with fresh mozzarella balls, cheddar cubes, cherry tomatoes, pretzel rods, or pita chips!
Upscale Lunchables
Skip the made-ahead lunch packs, and take your own! You'll feel better knowing exactly where the ingredients came from, and you'll feel like a kid again while enjoying cracker sandwiches (isn't that what summer is all about?)
Our new Olive Oil & Sea Salt Crackers are made of purely simple ingredients – exactly what you want for your kids and yourself.
• Proteins: coarse cut pâtés, like our Chicken & Veal Pâté , deli turkey, ham, or salami
• Cheeses: Cheddar, Swiss, American or sliced pepper jack
• Veggies: Hummus, sliced cucumbers, tomatoes or avocados.
• Spreads: Hummus, tzatziki, mustards, or one of our mousses, like our Truffle Mousse, for a creamy touch
Pinwheels
We all remember our parents making us pinwheels for lunch during the summer. Somehow, they were just more fun to eat than a regular sandwich or wrap. Now it's time to bring them back. Simply fill your favorite wrap with your favorite sandwich components, roll-up tightly and slice into bite-sized pieces.
Using more elevated ingredients such as spinach wraps, grilled veggies, and of course, our decadent pâtés, make them perfect for a simple yet sophisticated beach lunch. One of our favorite combinations is our Truffle Mousse, with grilled onion and shredded smoked gouda.
And for the kids? Go classic with peanut butter and jelly pinwheels or try something new and fun. We love pizza pinwheels – a classic tortilla wrap with pepperonis, shredded mozzarella and just a touch of marinara (we don't want them to be messy!).
Summer Sides
Sometimes you need a little something between lunch and dinner. We want to share some of our favorite snack recipes from some of our friends across the country.
Roasted Chickpeas. Easy to grab a handful of throughout the day, easy to make and easy to love.
Homemade Chex Mix. It's better than store bought, because it's customizable to your personal preferences.
Chocolate Banana Pops. We all need something sweet now and again – these banana pops hold up nicely in a cooler, and are a more healthy alternative to ice cream.