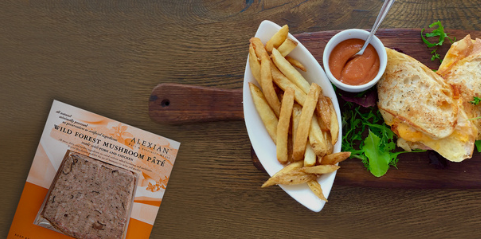 Treat Dad to the best pâté sandwich recipes and get ideas for the perfect Father's Day Sunday. Trust us when we say that these easy recipes—from an irresistibly gooey grilled cheese to a Thai-inspired dish—will please the whole fam. 
The American Classic
Is there anything better than biting into a hearty baguette? Only biting into a hearty baguette that's topped with our Herb de Provence Pâté! For a sandwich that's sure to please, we suggest layering our pâté with pickled vegetables (think: green beans, radishes, and carrots), crisp frisée, and creamy dijon aioli.
Feel free to experiment with fresh vegetables— like sliced tomato or onion— as well. Remember: You can't go wrong with additional greens!
The Thai Twist
A deliciously fun play on the classic Banh Mi, our rendition of this sandwich couples our Chicken Liver Pâté with traditional Vietnamese pork for additional depth in flavor. Stuffed full of fresh veggies and herbs for a burst of freshness, this sandwich will leave you and Pops craving for more.
For an extra layer of flavor, try incorporating any one of our vegan varieties into the mix. The interplay of flavors will do wonders for your taste buds (and Dad's!).
The Veggie Blend
First, julienne and sauté your choice of veggies (we suggest opting for mushrooms, onions, and peppers). Slice a fresh baguette in half and evenly toast both sides. Spread a smooth layer of Dijon on the inside of the warm, crispy bread. For your sandwich filling, include a few thin slices of our Herb de Provence Pâté, and stuff to the brim with the warm vegetables you prepared. Yum.
The Grilled Cheese 
We know what you might be asking yourself: A grilled cheese on Father's Day? The answer: Yes. But we're not just talking any grilled cheese here— we're talking a decadent pâté-inspired one.
For an "adult" twist on a grilled cheese you can turn to again and again, gather shredded white cheddar, sliced Swiss, a thick sliced bread, grilled onions, and our Wild Forest Mushroom Pâté.
Butter one side of two slices of bread. Add a thin slice of our Forest Mushroom Pâté, top with a slice of Swiss cheese, a sprinkle of white cheddar cheese, the grilled onions, another slice of Swiss, and finally the other slice of bread. Cook butter-side-down in a nonstick pan until golden brown on each side. 
The Brunch Special
Turns out, Dads love brunch just as Moms do!
Start with a fresh, crusty baguette from your local bakery. Cut in half and lightly toast it. Spread a generous helping of our Truffle Mousse Pâté. Sauté a few mushrooms, fry an egg, and gently place them on top. On the opposite side of the baguette, spread whole grain mustard. Last step: Enjoy!