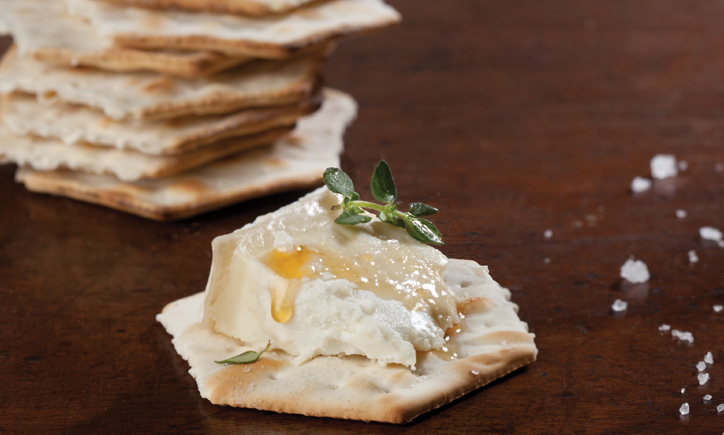 Sometimes, less is more. When you use the purest, highest quality ingredients, you can let them speak for themselves. Our crackers only have three ingredients – giving you everything you want in a cracker with nothing you don't.
Here are six ways you can top them off for a hearty snack, sophisticated lunch, or anytime delight.
Corn Salsa & Queso Fresco
Queso fresco is creamy and smooth, pairing nicely with the bright, fresh flavors of a corn and black bean salsa. To make the salsa, add equal parts corn and black bean, a handful of fresh, chopped cilantro, a spritz of fresh lime juice and a sprinkle of salt, pepper and cumin.
Lox & Cream Cheese
Bagels aren't ideal for a summer snack – they can be heavy and overly- filling, leaving you ready for a nap after you eat. Instead, try your favorite bagel combo on a flaky cracker, and get the best of both worlds.
Caprese
Caprese is (in our humble opinion) the salad of the summer. Tomatoes and basil are at their peak season, and fresh mozzarella is filling without weighing you down. Slice a log of fresh mozzarella into thin slices, and layer onto a decorative serving platter between slices of fresh tomato and fresh basil. Drizzle with a balsamic vinaigrette or simply with extra virgin olive oil and fresh cracked salt and pepper.
Pâté
We would be remiss if we didn't suggest pairing our pâté with our crackers. Both made with love and created to pair perfectly, any of our pâtés create a satisfying meal in mere seconds.
Our Wild Forest Mushroom Pâté is a classic, yet tantalizing combination of pork and chicken with bold bites of earthy mushroom.
For a lighter spread, we wholeheartedly suggest one of our Vegetable Terrines – such as our summertime favorite, Eggplant with Goat Cheese and Roasted Red Peppers.
Tuna & Avocado
Tuna sandwiches are a staple food – made better only with avocado. For a light summer salad, combine tuna with mashed avocado and nonfat Greek yogurt to taste. Season with salt and pepper, spread on your cracker, and enjoy!
Goat Cheese & Honey
Fresh chevre, spread generously and topped with a drizzle of honey, is an instant crowd-pleaser. For added depth of flavor, top with chopped apples or strawberries.