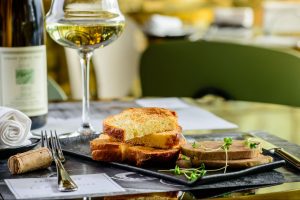 Those who love white wines such as Riesling, Sauvignon Blanc, or Chardonnay appreciate a good combination, and  the perfect taste they  create with our Alexian pâtés. White wines are a great choice of serving at any time since they usually have lower alcohol levels than red wines. They are better chilled, and when consumed with fish, salads, or light meals with vegetables, this kind of wine  leaves a refreshing feeling. Our suggestion of pairing with Alexian pâté will do the experience  even better.
Riesling wine goes well with Champagne Pâté, Sage & Pork Mousse Pâté, or Chicken Liver Mousse Pâté because of this wine's flowery and aromatic character. Riesling wine is characterized for its dry, semi-sweet, and sparkling sip, so our pâté's selection is a great match. 
Try pairing Sauvignon Blanc with Tomato Basil Pâté and Curry and Bell Pepper Pâté. This green-skinned grape variety is the fruity taste you want for a fresh pâté choice. 
Alexian Pâté pairing options for Chardonnay are Sage & Pork Mousse Pâté, or Truffle Mousse Pâté. This green variety of wine is used in the production of white wine, and it is its rich and creamy  flavor that makes it perfect for our  variety of products.