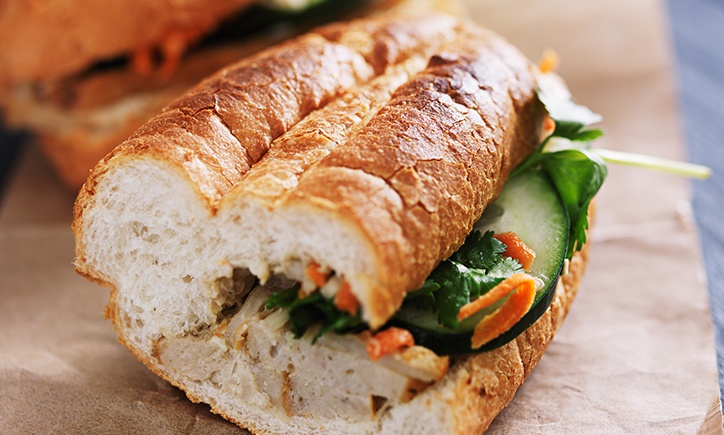 When you're hungry, there's nothing quite as satisfying as sinking your teeth into a delicious sandwich. We're not talking good-old-American PB&J. We're talking favorites from around the globe that will redefine your idea of "sandwich" forever.
Let's start with an American classic: grilled cheese. Give it a Spanish spin by adding prosciutto and dates.
Or become an Aussie for a day with a Vegemite sandwich. Be forewarned that many say it's an acquired taste.
Do as the Danish do with a smørrebrød (buttered bread) sandwich. Toppings include pickled or smoked fish, liver pate or mousse, sliced cold cuts and boiled eggs.
You might not associate Italy with dainty little tea sandwiches, but that's just what tramezzini are. These triangular finger sandwiches are made with crustless soft white bread and homemade mayonnaise. The fillings are up to you!
In England and India, chutney is a common ingredient in sandwiches. What's chutney, you ask? It's a spicy condiment made of fruits or vegetables with vinegar, spices, and sugar.
In the Middle East, pita is the bread of choice, filled with everything from falafel (fried chickpea balls) to eggplant to hummus or schnitzel (fried chicken breasts).
Breakfast sandwiches are all the rage here in the U.S. where everyone's on the go, but we don't have a corner on the market. In Singapore, toast bars are popular. Kaya toast sweet is a sweet sandwich similar to French toast. Here, the bread is covered in butter and kaya jam (made from egg and coconut milk) and fried, and is often eaten with a boiled egg for breakfast. The Spanish bocadillo – a baguette filled with meat, cheese or a sliced omelet – also is designed to be eaten on the run.
Need some additional inspiration? Check out these pâté sandwiches that you won't be able to get enough of! Like our twist on the traditional Vietnamese banh mi, which pairs chicken liver pate with shredded pork.