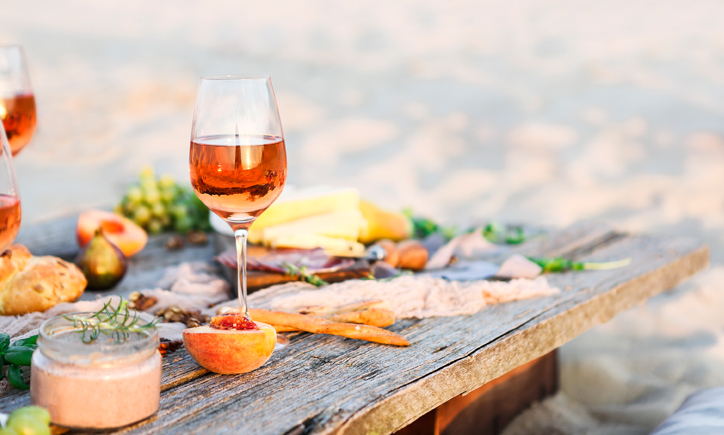 Spring is in the air. The flowers are blooming, the sun is shining and the air is warming. Life is good. But life is better with a tall glass of rosé, and better still with a delicious platter of pâté and good friends to share with. Read on for our favorite pairings of this perfect spring beverage with this perfect anytime food.
Medium-Bodied Dry Rosés + Forest Mushroom Pâté
Specifically: Southern French (Rhône and Languedoc) and Spanish rosés from Rioja and Navarra
This type of rosé stands up to big, savory flavors – so it's the perfect pairing for our Wild Forest Mushroom Pâté. Rich with bold flavors, such as shiitake mushroom, pork and sherry, it's perfect for eating cubed and served with a tall glass of your favorite medium-bodied rosé.
Light Dry Rosés + Herb de Provence Chicken Pâté
Specifically: Most Provençal rosés, Pinot Noir based rosés from Burgundy and the Loire, and Italian Bardolino Chiaretto
These rosés are crisp – similar to a glass of dry white wine – so they pair well with spiced pâtés, like our Herb de Provence recipe. Both are perfect for enjoying outside on the patio with friends.
Rosé Champagne + Truffle Mousse Pâté
Specifically: Brut rosés, such as those from Veuve Clicquot or Bollinger
There's something about rosé champagne that makes it feel even more decadent than regular champagne. And what better pair for decadence than a succulent Truffle Mousse Pâté? Savory and satisfying at once, this pairing is ideal for a girls night or me-time.
Elegant, Fruity Rosé + Duck Rillette
Specifically: Merlot-based Bordeaux rosé, More luxe Provençal rosés such as Bandol and Palette
Bright, fruity flavors are emblematic of spring time, and there's nothing better to complement those flavors than a gamey, rich pâté. Our Duck Rillette is modestly seasoned, allowing the savory notes of duck to come through and meld perfectly with fruity rosés.