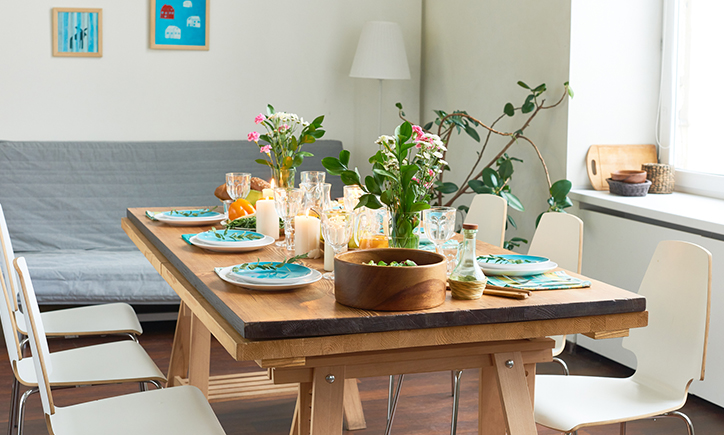 Spring is a time for renewal, so why not freshen up your table setting? We're not saying you have to go out and buy all new dinnerware, flatware and glassware. A few simple decorating tricks can transform your table from blah to beautiful.
Think texture. Wicker can give your table a carefree vibe. Inexpensive wicker paper plate holders can be used to cradle your china dinner plates, creating a whole new look. Or a woven plate charger, using natural elements, can recharge your table décor.
Think color. Pastels are always associated with spring. Add a pastel palette to your table with candles in hues of lavender, robin's-egg blue, mint green, blush pink or pale yellow.
Think flowers. Nothing signals the onset of spring better than flowers. The lily, symbolic of Easter, often comes to mind. Other flowers that bloom in the spring include the daffodil, tulip, azalea, pansy, iris, lilac, peony, azalea, bluebell, freesia, and primrose. And think outside the vase; a small cluster of flowers makes a gorgeous napkin ring.
Think vintage. An antique tin, a flowerpot, mason jar, bucket, measuring cup, egg cups, colander, pitcher, crate, apothecary bottle, berry basket or teapot makes a unique centerpiece, perfect for displaying your springtime flowers.
Think floral. The next best thing to fresh flowers is a floral tablecloth and/or napkins. Floral patterns have many colors; choose a different accent color each time you use a floral tablecloth, and you'll discover a completely new look.
Think feminine. Lacy doilies, gingham, feathery accents, ribbons, velvet, jeweled glassware, birds, hearts.
Think white. An all-white table setting is the epitome of freshness.
Think sweets. For a pastel-inspired finishing touch, serve French macarons in a pastel rainbow of colors. Or pistachio ice cream, orange sherbet, lemon sorbet, strawberry gelato. Or pastel mints.