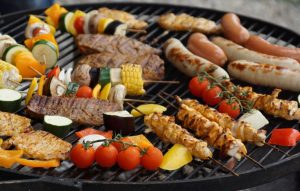 Labor Day weekend has now come and gone, and for many of us it also marked the unofficial end of summer. We soaked up every bit of the season: grilling out, hitting the beach, and wearing white – possibly for the last time before spring of next year. 
Though we support holding on to summer fun and fashion for as long as possible, it's still nice to come together for a great big picnic in the slightly-cooler days of early fall. We've curated some pâté picnic recipes for those dining in the great outdoors this September!
Bistro Burgers
Burgers are the all-American centerpiece of any great cookout! Take flippin' to the next level with caramelized onions, cornichons, and a rich slice of Truffle Mousse Pâté.
Grilled Veggie Skewers
For a colorful bite of summertime freshness, grill vegetables until nice lines of charring appear, then chop and skewer with cubes of Tomato Basil Vegan Pâté in between for a cool and creamy delight.
Pasta Salad
We've got not one but two versions of this iconic summertime side dish! The lesson here is, whatever your go-to pasta salad recipe is, it can be improved with a bit of pâté magic.
Pâté Dip
Chips and salsa abound at the grillside. Why not pack in a bit of extra protein and flavor with a pâté dip instead? This one's easy: just mash a bit of mousse with a fork until it reaches a dippable consistency. Yum!
Potato Salad
Summer's not over until you've enjoyed a generous portion of potato salad! We love ours with Dijon mustard, chives, a bit of dill, and a bit of Sage and Pork Mousse for super-savory flavor. 
We'd love to see how you end up incorporating pâté into your cookout menus! Tag us on social media at @alexian_pate, and remember, summer doesn't officially end until September 22nd. There's time yet for potato salad!