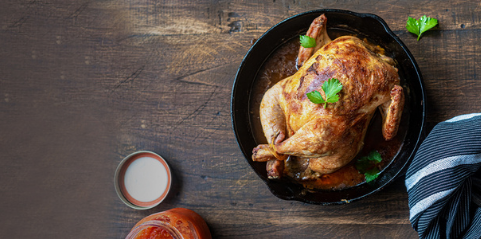 September is National Chicken Month, which is why we're bringing the humble chicken off the back-burner and into the spotlight. Read on below as we highlight everything you need to know about a few of our chicken pâté varieties.
Our Chicken Ballotine is prepared with a chicken breast that has been split and filled with minced white chicken meat, pistachios, and a medley of dried fruits, including papaya, pineapple, raisins, and apricots. The prepared meat is cooked slowly in a terrine to a mouth-watering golden brown. Hungry yet?
A rich yet delicate treat, Chicken Liver Mousse pâté is a pantry essential that offers a sweet, nutty flavor. This spreadable pâté can be enjoyed alone on bread and with simple vegetable accompaniments. We suggest serving it on a warm bagel with sliced cornichons– the crisp and savory zest of the cornichons makes a great pair with the smooth and flavorful chicken texture.
A wholesome blend of chicken, veal, and chicken liver dressed with mustard seeds and black pepper, our Chicken & Veal variety offers a rich flavor profile in a traditionally rustic pâté. Expertly crafted with all-natural ingredients, this French-forward pâté is light and best enjoyed alongside greens, or blended into gourmet recipes.
Our Herb de Provence recipe is anything but ordinary, featuring savory chicken breast, chicken liver, and rum with the classic French blend of herbs and lavender. Perfect when paired with zesty cornichons on rustic Tuscan bread, this coarse cut pâté is sure to satisfy and leave guests asking for seconds.