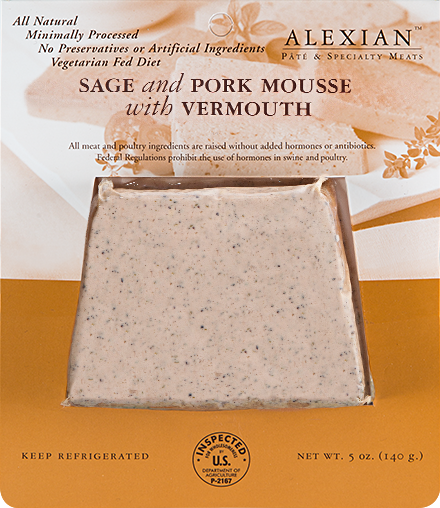 Creamy & Spreadable Mousses
Sage and Pork Mousse
The sage flavor complements the pork without over-powering it – and the earthy and savory flavor created features a distinct taste that's hearty and delicious on its own or with a variety of accompaniments.
The creamy mousse is easy to spread on bread, vegetables, sandwiches and more. It's a perfect pairing for any pork dish and, as a side to a thick soup, can make a great light meal this fall.
Ingredients
Made with pork and pork liver with vermouth and fine herbs.
Pork Liver, Pork Fat, Eggs, Milk, Vermouth, Onions, Salt, Spices, Garlic. Aspic Ingredients: Water, Salt, Gelatin, Sherry, Sugar, Salt, Vinegar, Chicken Stock
Contains Eggs and Milk.
Details
All natural ingredients
No preservatives, hormones or antibiotics
Keep refrigerated
Sandwich topping
For a truly flavorful cold sandwich, spread generously on left over pork tenderloin or boneless chop, place on crisp lettuce and a crusty roll. Wake up your pork dinner entrée! Spread pork and sage mousse on top of pork medallions after they have been cooked and allowed to cool for a few moments.
As a spread for crusty bread, toast points, or lightly salted cracker.
Check out our fall vegetable guide and pick a couple to try with the Sage and Pork Mousse. The creamy mousse can be spread on sliced mushrooms or spread into the hollows of celery sticks.
As a side to pork chops
During the fall and winter, light salads are less appealing and sometimes replacing them with sliced or cubed patés and a few mixed veggies can really hit the spot. Next time you're serving pork chops, try including Sage and Pork Mousse paté along side mini carrots, chopped broccoli and fresh celery as the salad course.