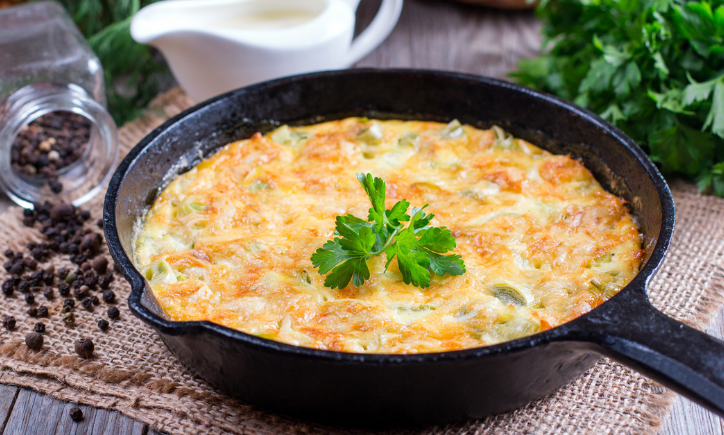 The season of entertaining is upon us once again, but it seems like just last week we were stuffing our turkeys and decking the halls! If you're anything like us, your Novembers and Decembers are packed with friends, family, and food. Here in the Alexian Kitchen, we're always trying to create new recipes that not only please our guests, but that is easy enough to leave us time to enjoy them.
We've gathered some of our very favorite 5-ingredient recipes to help you host the holidays without the hassle.
Baked Fontina
You can never go wrong with a big, melty skillet full of cheese. Especially when you add in Alexian pâté.
Layer cubed fontina cheese and Alexian Black Peppercorn Mousse in a cast iron skillet or baking dish, top with sliced garlic, thyme leaves and olive oil. Broil until it's melted and bubbly enough to scoop up. Serve with toasty, flaky bread.
Truffle Balls
We're not sure what the best part of this recipe is – the truffle, the mousse, the poppable, bite-size shape, or the fact that you don't have to turn on your oven to make them. For years, our Truffle Mousse Balls have inspired rave reviews, yet this three-ingredient recipe takes only minutes to make.
Simply roll teaspoon-sized balls of our Truffle Mousse into a mixture of Panko breadcrumbs and thyme, then set them in the fridge until you're ready to serve them. Make these in a large batch. The decadence of the truffle makes each bite practically melt in your mouth, keeping you coming back to the plate again and again.
Mini Grilled Cheese
Grilled cheese on Thanksgiving? Absolutely. Elevate your typical grilled cheese by substituting in decadent ingredients. Simply make 4-5 full-size sandwiches, slice into quarters and arrange on a plate. Here are a few mouth-watering suggestions.
Brioche + Swiss cheese + Goose Liver Mousse + caramelized onions
French bread + Duck Rillette + brie + plum jam
Potato bread + Black Peppercorn Mousse + over easy egg
Puff Pastry Bites
There's nothing quite as satisfying as biting into a warm, melt-in-your-mouth roll full of savory goodness. Gently wrap thin slices of any of our pâtés (though a couple of our favorites for this recipe are the Chicken & Veal and Forest Mushroom pâtés) in puff pastry and cook until light golden brown.
You can also use crescent roll dough in place of puff pastry to save a little time. Feel free to experiment with your own add-ins – like your favorite smoked cheese – just don't overload them!
Serve with a dijon or whole grain mustard dipping sauce, or on their own!
Deviled Eggs with Pâté
A simple yet decadent delight, deviled eggs are even better when Black Peppercorn Mousse is mixed in! These hearty snacks are handheld, making them ideal for casual holiday parties.