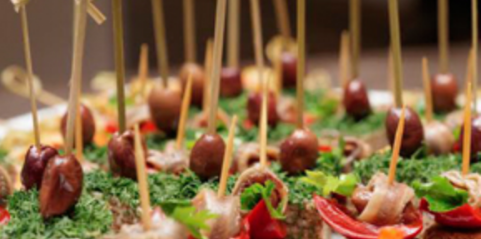 Entertaining at home can be fun! Alexian makes it easy to whip up fun, creative yet simple finger foods and one-bite appetizers.
Create a sampler platter and allow guests to create their own one-bite delights. Present a few different pâtés next to each other and show off a variety of colors, textures and flavors. Make it festive by forgoing labels and letting partygoers guess the flavors and ingredients.
Simply arrange some small, garnished plates and make finger food-sized portions of pâté available. If your guests are new to pâtés, we recommend offering a smooth and creamy mousse. Our duck liver mousse with Cognac is a best seller and even children love it.
All Alexian varieties can be paired with chunks of bread, cheeses and small portions of vegetables. Our pâtés are playful foods, so don't be afraid to experiment with ingredients. Here are some of our favorite combinations for single-bite party foods.
– Baked potatoes with Duck Rillette. Slice the potatoes in half the long way, add a generous dollop of pâté in the middle and cut into fourths to serve on toothpicks.
– Hallowed out zucchinis, peppers and tomatoes can be filled with pâtés like Pheasant Rosemary, Campagne or Grand Marnier. Cut them into small pieces and serve on toothpicks.