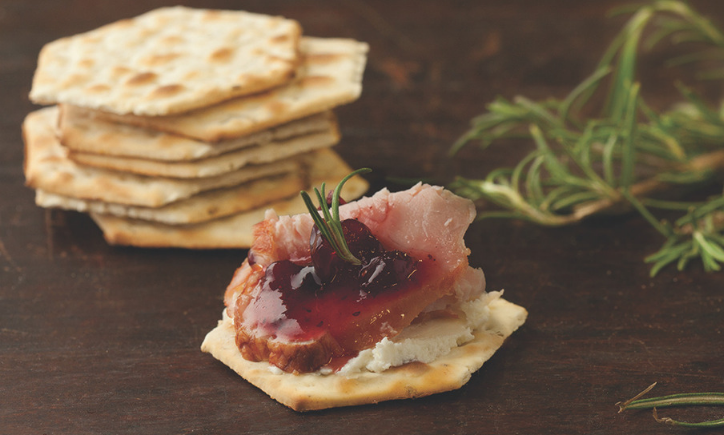 We're celebrating the goodness of simplicity this season. Our new Olive Oil & Sea Salt crackers are flaky and flavorful, yet have only three ingredients. With the season of entertaining quickly approaching, everyone's looking for easy ways to please a crowd.
The basic ingredients in our cracker make it the perfect pairing for an array of ingredients. We've gathered a collection of our favorite 3-ingredient toppings to show you just how good simple can be.
Alexian Chicken Liver Pâté + Capers + Shredded Smoked Cheddar
Smoked cheddar complements the bold flavors in our classic New York deli style Chicken Liver Pâté.
Fresh Sliced Mozzarella + Basil + Sliced Tomato
Kid approved and a classic, this Caprese style serving goes perfectly with the hints of olive oil in our crackers.
Goat Cheese + Sun Dried Tomatoes + Spinach
Simple Mediterranean favorites work in harmony to create the perfect bite, you can also use roasted red peppers in place of sun-dried tomatoes!
Alexian Black Peppercorn Mousse + Grilled Onions + Smoked Gouda
A comforting combination for a fall day, our Black Peppercorn Mousse goes perfectly with caramelized onions and a mild smoked gouda.
Goat Cheese + Sliced Fig + Balsamic Dressing Drizzle
Figs are a lovely late fall fruit, and the balsamic drizzle brings out their natural sweetness, while the goat cheese provides a creamy balance.
Hummus + Thinly Sliced Cucumbers + Shredded Carrots
Creamy hummus with crunchy cucumbers and carrots make a bright, protein-packed bite for hungry crowds.
Avocado + Turkey + Swiss
It's great on a sandwich, but it's even better on our crackers. Pair avocado, deli sliced turkey and either shredded or sliced swiss for a perfect appetizer (or lunch on the go).
Smoked Salmon + Cream Cheese + Dill
Smoked salmon and cream cheese are usually found on a bagel, but our crackers make a great vehicle too. Add a sprig of dill for a fresh balance to the creamy and smoky flavors.
Alexian Pheasant Rosemary Pâté + Chopped Pecans + Fresh Rosemary Sprigs
As the name suggests, our Pheasant Rosemary Pâté already has hints of rosemary and pecans, but adding extra on top brings out the flavor. Toast the pecans for extra flavor!
Prosciutto + Pear + Balsamic Drizzle 
Salty prosciutto is great when paired with sweet fruits, such as pears, and the balsamic drizzle works to tie it all together.