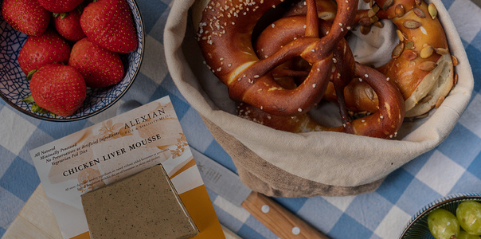 From mouthwatering puff bites to savory cheese delights, let's toast to our favorite Oktoberfest appetizers that are quick, easy, and— most importantly— delicious. Prost!
Baked Fontina
You can never go wrong with a large, melty skillet full of gooey cheese— especially when you add in delicious pâté.
Layer cubed fontina cheese and Black Peppercorn Mousse in a cast iron skillet or baking dish, top with sliced garlic, thyme leaves, and olive oil. Broil until it's melted and bubbly enough to scoop up. Serve with toasty, flaky bread, or crackers and tortilla chips.
Stuffed Mushrooms
Hearty stuffed mushrooms are always a treat, but when beer is involved they become a requirement. 
Clean and chop off the stems of however many large mushrooms you see fit. Sautee stems and green onions and combine with herby breadcrumbs, Campagne pâté, Parmesan cheese, basil, salt, and pepper. Fill the mushroom caps and bake for 15 minutes at 400 degrees F. Garnish with parsley to serve. 
Mini Grilled Cheeses
Elevate your everyday grilled cheese by introducing decadent ingredients. Simply make 4-5 full-size sandwiches, slice into quarters, and arrange on a plate. Here are a few mouth-watering suggestions.
Wontons
Wonton wrappers are a staple in our kitchen. They can be used to make a quick cup— by pressing them into a cupcake pan and baking—  or to make delicious dumplings.
To make a simply satisfying wonton for your party, spoon small amounts of our Truffle Mousse into wonton wrappers. Bake or fry until golden brown, and serve with your favorite dipping sauce— i.e. soy sauce, sesame oil, or spicy mayo.
Puff Pastry Bites
Gently wrap thin slices of any of our pâtés (though a couple of our favorites for this recipe are Chicken & Veal and Wild Forest Mushroom) in puff pastry and cook until light golden brown.
You can also use crescent roll dough in place of puff pastry to save a little time. Feel free to experiment with your own add-ins – like your favorite smoked cheese or veggie – for added flavor.
Serve with a dijon or whole grain mustard dipping sauce, or on their own.