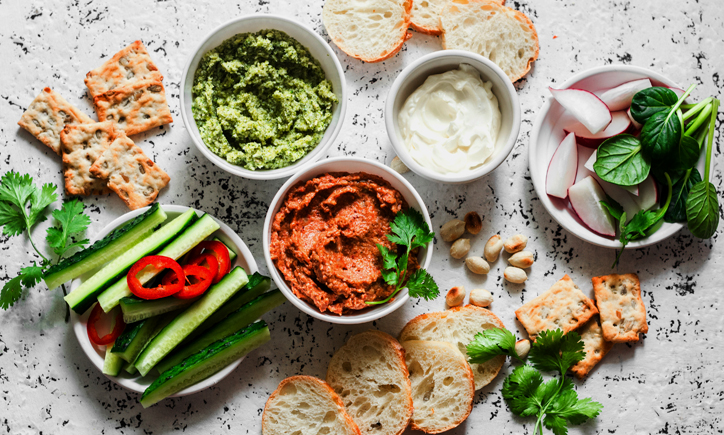 Whether you are throwing a party or just snacking the night away, crackers and spreads is a classic combo that never gets old. Top with a mousse style pâté and you've got yourself a rich, decadent treat for any occasion. Here are some of our favorites.
Our take on Braunschweiger Spread is creamy and rich. Mix together 3 ounces of softened cream cheese, 2 tablespoons chopped onion, and some chopped fresh parsley. Cover with saran wrap and refrigerate until chilled. Take one package of the pâté of your choice: our Chicken and Veal and our pâté de campagne are great options and let it get to room temperature. When ready, blend it in with the mixture. Serve with Alexian Crackers.
Make your own hummus combo with this simple recipe. You will need your choice of pâté: Our vegetable pâté and eggplant with goat cheese pâté work well with the chickpeas. Take 2 cups canned garbanzo beans or chickpeas, rinsed and drained and put it in a food processor with the pâté. Add in 1 tablespoon lemon juice and 2 teaspoons minced garlic and process until smooth. Transfer to a small bowl and serve with Alexian Crackers or veggies.
For a decadent treat, take one wheel of either brie or camembert and cut the rind off one side of the wheel. This is the side that will face up. Bake in the oven till melted. Once done, top with Duck Rillette. Serve with Alexian Crackers or a sliced baguette.
The key to a good spread is the depth of flavor. Pâté is the perfect candidate for a spread because it is so easy, flavorful, and decadent.