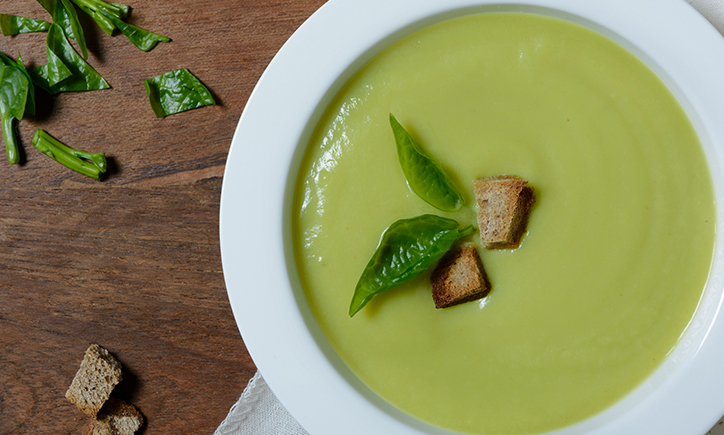 Rising temperatures shouldn't mean avoiding the kitchen especially since this season offers fresh, light, and delicious meals. Here are some summer recipes that we love. These quick and easy meals will give you more time to enjoy your days.
Chilled Avocado Soup with Pâté:
You won't be able to get enough of this Chilled Avocado Soup with Pâté. For this recipe you will need 3 large avocados—halved, pitted and peeled, 2 cups vegetable stock, 1/4 cup fresh lime juice, 1/2 cup heavy cream, salt, Canola oil, 4 medium serrano chilis thinly sliced, cilantro, and one slice of Grand Marnier Pâté. This will make four servings.
In a food processor, combine the avocados, stock, 1 cup of water and lime juice and puree until very smooth. Keep the machine on and gradually add the heavy cream. Strain into a large bowl, then season with salt. Cover and refrigerate until its chilled, around 1 hour.
Then in a medium saucepan, heat ¼ inch of canola oil until shimmering. Add the serranos and fry over moderately high heat, stirring, until lightly browned and crisp, 1 to 2 minutes. When done move to paper towels to drain.
Cut the Pâté into small chunks. Pour the chilled soup into bowls and top with the pâté and crispy serranos. Garnish with cilantro and serve.
Pâté Taco:
Your taste buds will be in for a treat with this Pâté Taco recipe that serves 4. You will need 1 quartered lime,12 small warm corn tortillas, shredded Romaine or Iceberg lettuce, Pico de Gallo salsa, 1 avocado – pitted and cut into thin slices, Sour cream, and one slice of Pâté de Campagne, cut into small chunks.
To make the taco, stack 2 tortillas on top of each other and fill with chunks of pâté, lettuce, salsa, a few avocado slices, and a dollop of sour cream. Repeat as necessary.
Ballotine and Cucumber Salad with Parsley Pesto:
For this light recipe you will need 2 cups parsley leaves, 1 cup fresh baby spinach, 2 tablespoons fresh lemon juice, 1 tablespoon toasted pine nuts, 1 tablespoon grated Parmesan cheese, 1 medium garlic clove – smashed, 1 teaspoon kosher salt, 1/4 teaspoon black pepper, 1/2 cup olive oil, 1 can unsalted chickpeas – drained and rinsed, 1 cup chopped English cucumber, 4 cups loosely packed arugula, and one slice of Chicken Ballotine.
Combine parsley, spinach, lemon juice, pine nuts, cheese, garlic, salt, and pepper in a food processor; process until smooth, about 1 minute. With the processor still on, add oil and process until smooth, about 1 minute. Stir together the ballotine, chickpeas, and cucumber in a large bowl. Add pesto; toss to combine. Place 2/3 cup arugula in each of 6 bowls and top each with the salad mixture. Serve immediately and enjoy.