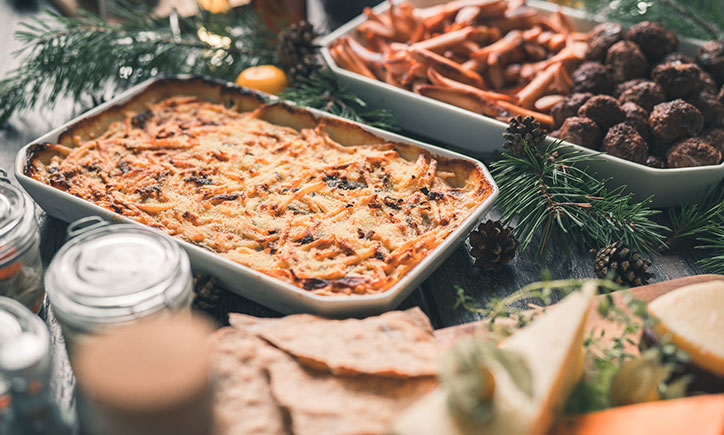 One way to win friends and get noticed at work is by bringing something delicious to the holiday office potluck. Here are a few recipes for success:
Skip the Swedish or sweet-and-sour meatballs and go for these Mediterranean-inspired Lamb Meatballs with Lemon-Cumin Yogurt. Cinnamon, cumin, mint and other spices give the meatballs their exotic flavor. And the yogurt dip is so yummy you might want to make extra, and bring some Olive Oil & Sea Salt Crackers to go with it.
In keeping with the Mediterranean theme, try these Fried Chickpeas with Sage. Be forewarned, however: They are so addictive that you might need to make two batches, one for home and one for the office.
You'll make believers out of the kale doubters at your office with this Kale-Apple Coleslaw with Poppyseed Dressing. This sweet-tangy coleslaw will have your coworkers coming back for more.
Bite-sized food is always a good bet, like this Lox Flatbread. Simply spread crème fraîche on flatbread or crackers, and top with smoked salmon. Simply divine!
Impress the boss with Buffalo Chicken Pinwheels, or bring a crockpot full of chili. Think outside the crockpot and make vegetarian chili, turkey chili or chili with beer (don't worry, most of the alcohol will evaporate).
Can't resist bringing something that's red and green? Anything with red and green peppers works, such as pasta salad. Or bring toothpick-skewered cubes of pâté and pimiento-stuffed green olives. Instead of a veggie tray, bring veggie skewers, alternating grape tomatoes with cucumber, broccoli or other green veggies. Feeling especially creative? Make a Christmas Tree Cheese Board, arranging rows of various shades of cubed cheese, green and red grapes, accented with twigs of thyme. Christmas Nacho Cups are super-simple: Fill dip-sized chips with a dollop of guacamole, topped by shredded cheese and half a grape tomato. Olé!
If you'd rather bring dessert, this Easy Mocha Fudge is as delicious to eat as it is easy to make. It's a great finger food (and a great pick-me-up later in the workday). Strawberry Santas are both adorable and delicious. Cut a strawberry in half horizontally, then make a "sandwich," filling it with whipped cream. Add a dollop of whipped cream on top, two dots of whipped cream on the bottom half for buttons, and two black sesame seeds for eyes. Other whimsical themed desserts are Rudolph the Red-Nosed Reindeer Brownies and Reindeer Oreo Balls.