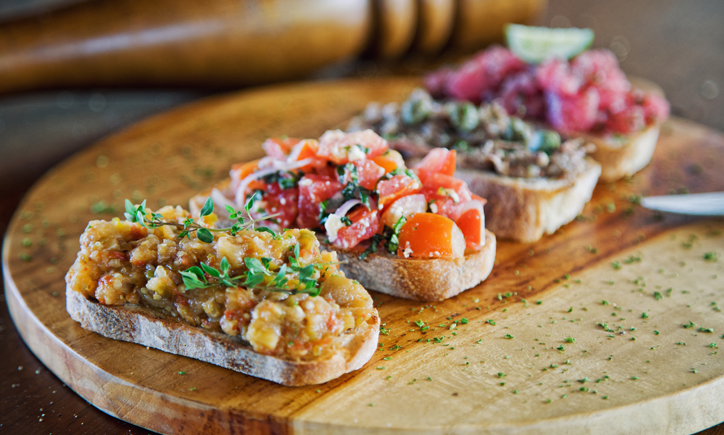 When the sun finally comes out from a long winter, the last thing anyone wants to do is spend the day cooking in the kitchen. We've compiled some of our very favorite toasts to put together in this weather – perfect for sharing with friends on the patio, or for a light and satisfying weeknight dinner.
Roasted Butternut Squash
We're at the time of the year where we have the best of both worlds – fresh spring veggies are making their way into grocery stores, while winter squashes are still keeping a strong presence.
Create a savory, warming toast with our Eggplant and Goat Cheese Terrine. Start by roasting butternut squash in the oven until soft. Scoop out and mash. Spread goat cheese over a toasty baguette, followed by our Eggplant and Goat Cheese terrine. Spread butternut squash over the baguette, top with black pepper, slice and serve alone or with a protein of your choice.
Balsamic Bruschetta
This Bruschetta recipe is one to keep on hand for a lighter rendition of pizza night – guaranteed to be family-approved.
Slice and lightly toast a baguette. Spread a thin layer of our Tomato-Basil Vegan Pâté onto each of the slices and set aside. Combine diced tomatoes and roughly chopped basil in a small bowl. Stir in balsamic vinegar until all pieces are just coated. Spoon the mixture onto each slice, and top with a sprinkle of parmesan cheese or fresh, sliced mozzarella.
Peachy Dreams
Summer may be months away, but that doesn't mean we're not dreaming of it. Peach preserves pair perfectly with our Grand Marnier Pâté. Our Grand Marnier is known for its deep cognac flavors, accented by pops of orange zest. Paired with peach preserves, you have the perfect ode to summer.
Start with a fresh, lightly toasted baguette. Next, place a moderate layer of peach preserves, followed by a generous layer of the Grand Marnier. Top with a handful of fresh arugula and just a sprinkle of freshly cracked black pepper. Leave it open faced or top it with another piece of baguette, the choice is yours.
Mushroom Magic
Mushrooms are so versatile, savory and filling, they're a staple in our kitchens. To make this one of our most basic and most delicious toasts, simply sauté a few of your favorite mushrooms with sliced onion. Season with salt and pepper to taste. Spread a generous helping of our Black Peppercorn Mousse Pâté onto a toasty baguette, top with the sautéed vegetables, and enjoy!