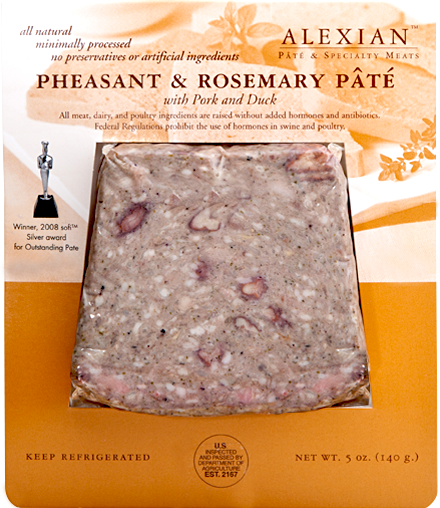 Coarse Cut Pâtés
Pheasant Rosemary
The country style Pheasant Rosemary pâté offers a unique flavor profile, and a palate combination of spices and port wine, which is highlighted by rosemary herb.
These flavors are revealed slowly with each bite, making it an intriguing tasting experience – especially for those who aren't familiar with pâté or the taste of pheasant.
Rosemary, common in Mediterranean cuisine, has a pungent, pine-like aroma and lends its flavor perfectly when combined with game meats.
Ingredients
Made with pheasant, duck and pork meats. Rosemary, pecans, port wine and additional spices are added to create the pâté's delicious flavor and texture.
Duck, Pork, Pork Fat, Pheasant, Onion, Water, Pork Liver, Duck Liver, Pecans, Spices, Port, Salt, Pepper
Contains Pecans
Details
All natural ingredients
No preservatives, hormones or antibiotics
Keep refrigerated
An especially delicious way to enjoy our Pheasant & Rosemary Pâté is with Pinot Noir, a popular wine that tastes delicious with an array of flavors. The earthy flavor of a pinot noir makes it a delicious pair with the spices and port wine flavors of the pheasant and rosemary pâté.
In addition to Pinot Noir, other medium and full body red wines go very well with this pâté. Bordeaux, Cabernet Sauvignon and Syrah are known as great pheasant pairings.
Try serving the pheasant along with sliced French banguette and a glass of wine for a delightful appetizer or luxurious snack.