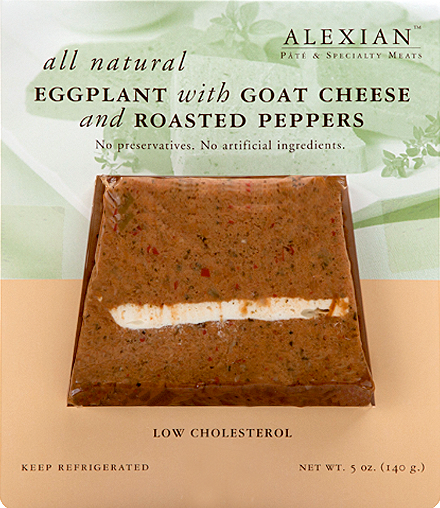 Vegetable Pâtés
Eggplant and Goat Cheese
Roasted peppers and pureed eggplant punctuated by layers of fresh, tangy goat cheese make up our smooth and boldly flavorful eggplant with goat cheese paté.
A magnificent combination of robust and smooth flavors, this paté has a perfect balance of salty goat cheese, rich eggplant puree and refreshing tomato puree. Parsley, gelatin, cornstarch, salt, spices and garlic round out this vegetarian's delight.
Eggplant and goat cheese are well known to be a fantastic pair, used to make everything from pastas to gourmet salads – so use this paté as a shortcut to enjoying the divine flavor of the pairing.
Ingredients
Made with eggplant and roasted red peppers halved by a layer of fresh goat cheese.
Tomato Puree (Tomatoes, Water), Eggplant, Eggs, Water, Red Peppers, Goat Cheese, Parsley, Gelatin, Cornstarch, Salt, Spices, Garlic
Contains Milk and Eggs.
Details
All natural ingredients
No preservatives, hormones or antibiotics
Keep refrigerated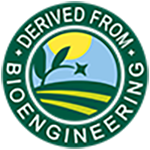 A salad featuring eggplant and goat cheese paté can be made in several ways, the simplest of which is to simply substitute the salad with the paté, serving it in slices alongside crunchy bread, and, if desired a bit of plain goat cheese. Add a simple green salad with croutons, sliced tomatoes and a mild dressing to make a complete summer meal.
Along with fresh slices of cheese, any paté can come alive with flavor. Goat cheese can be served alongside the eggplant and goat cheese paté to provide even more flavor contrast to the paté's eggplant and tomato purees. Harder cheeses like cheddar are fantastic as well, especially when served with sliced tomatoes.
Open-faced sandwiches on sliced bread or thick crackers, tartines come in all shapes and sizes. They make delicious snacks or party finger foods and can be made in minutes. A particularly simple and delicious tartine can be made with just our eggplant and goat cheese paté and a dallop of fresh goat cheese. This bite size treat will have all the flavor of a gourmet goat cheese pizza!