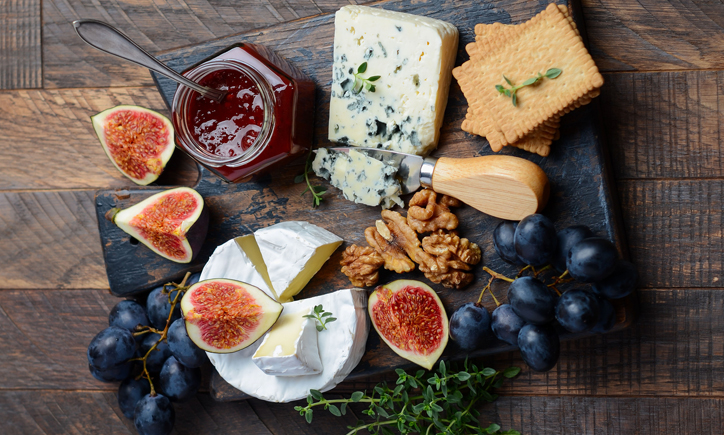 Cheese and crackers make for a satisfying, sophisticated snack. And when you add a dollop of jam atop the cheese, you take this pairing to a whole new level. Here are a few suggestions on what fruity spreads go best with which cheeses:
Let's start with an all-American favorite, apple pie, but hold the crust. Here, you might want to put cheddar, brie or sheep's milk cheese on top of the apples. If you still want a bit of a crunch, serve it atop graham cracker squares.
When we think of figs, most of us think of fig bar cookies. But fig spread is such a diverse condiment that it pairs with many cheeses, from Spanish varieties to brie, blue cheese and even feta.
Quince paste is quite a tasty treat. This fruit spread is made with quince, also known as membrillo, a sweet fruit that tastes like a cross between a pear and a golden delicious apple. Quince paste goes well with manchego cheese.
Originating in India, chutney is a fruit relish that can range from sweet to sour, mild to spicy. Chutney is best complimented by aged cheddar or fresh goat cheese.
If you like bold flavors, you'll love these pairings: aged cheddar with tomato jam, gouda with orange marmalade or plum jam, parmesan with apricot jam, blue cheese with black currant or red onion jam, or camembert and cranberry jam.
Don't let Italian mostarda fool you; while it's made from syrup-preserved fruit, powdered mustard seed gives it a spicy kick. Pair it with gouda, Italian parmigiano or pecorino.
Sweeter cheeses and jams also make for delicious desserts, with all the flavor but not all the guilt. Go for shortbread cookies topped with mascarpone cheese and lemon curd, strawberry or raspberry jam. Rich ricotta is another good choice, served with pear and cocoa spread, peach and cocoa spread, or banana jam.