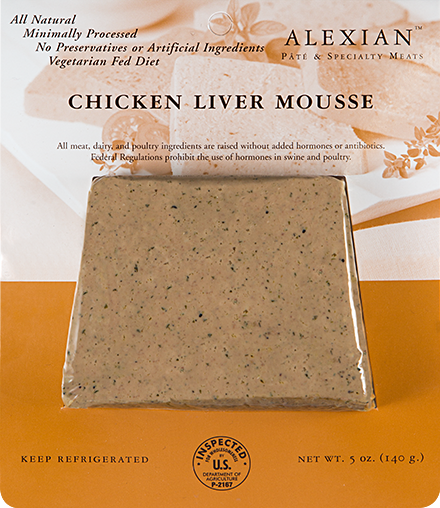 Creamy & Spreadable Mousses
Chicken Liver Mousse
Mousse is a French term that means "froth" or "foam" and the Chicken Liver Mousse paté is a rich yet delicate treat that is also spreadable . It can be enjoyed alone on bread and with simple vegetable accompaniments. Try serving it on a warm bagel with sliced cornichons – the crisp and savory zest of the cornichons makes a great pair with the smooth and flavorful chicken texture.
Chicken Liver Mousse can also be used to make sinfully delicious recipes – like Beef Wellington! This famous dish features a tender beef fillet covered with paté and a mixture of sautéed mushrooms, shallots, onions and herbs. The covered beef is wrapped in pastry and baked to a golden brown.
Ingredients
Made with chicken liver and a dash of sherry.
Chicken Liver, Eggs, Chicken Fat, Onions, Sherry, Nonfat Dry Milk, Spices, Salt, Garlic
Contains Eggs and Milk.
Details
All natural ingredients
No preservatives, hormones or antibiotics
Keep refrigerated
Beef Wellington Recipe
1 Package of Alexian Chicken Liver Mousse
1 Store-bought pastry
2 lb beef fillet
1 lb mushrooms
1 onion
3 oz butter
To make, simply sear the beef on all sides and roast at 375 for about a half hour. While the beef cooks, sauté the mushroom and onions in butter until soft. Remove the beef and coat with a generous portion of Alexian Chicken Liver Mousse . Add a layer of the mushroom mixture on top and then wrap the whole thing in the puff pastry. Put it back in the oven until golden brown. Yummm !
Serve with potatoes, peas, carrots and a full bodied red wine.
Slice and serve with pita chips, baguette slices or toast points for a simple and delicious snack.
Dice and put on toothpicks as you would a hard cheese. Garnish the cutting board or serving tray with colorful grapes and sliced strawberries.