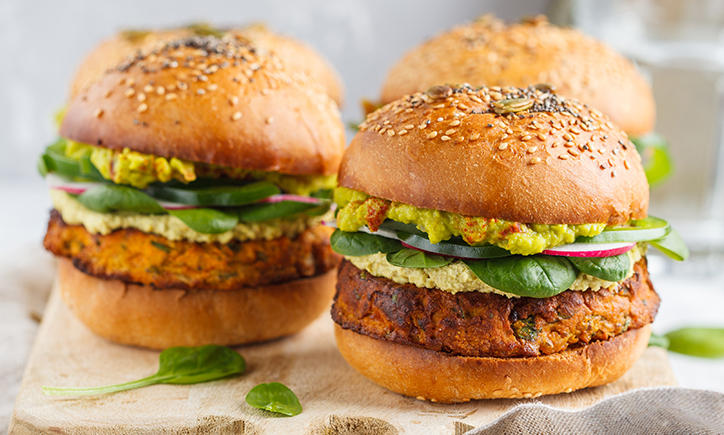 What do Coretta Scott King, Sinéad O'Connor, "Weird Al" Yankovic and Albert Einstein all have in common? They all are (or were) vegans. A vegan is someone who does not consume animal products. Just as vegetarianism has come into the mainstream, veganism is also gaining in popularity.
If you're not ready to give up your bacon or burgers or Buffalo wings quite yet, that doesn't mean you can't try some vegan recipes. The following recipes are so tasty, you won't even miss your beloved meat.
Think that veggie burgers can't compare to their beefy counterparts? Think again! Once you make sweet potato and black bean veggie burgers, you'll be a believer. Finish the burger with a smear of our vegan Tomato Basil or Curry and Bell Pepper pâté, and it will be hard to top!
Who says a sandwich has to be filled with meat? Try a vegan BLT where the "B" is eggplant bacon, which is simply thin slices of eggplant roasted to a smoky flavor. Since mayo has eggs, substitute it with one of our spreadable vegan pâtés instead.
Pull a switch on pulled pork with jackfruit. Its texture is similar to that of shredded pork. Toss with some barbecue sauce, spread some vegan pâté on the bun, and you've got yourself a succulent and substantial sandwich.
Avocado toast is trending now, but herbed mushroom toast is making its mark. Spread garlic toast with our Earthy Mushroom Pâté for a new toast taste sensation!
Roasted brussels sprouts have gained in popularity, but they're often made with pork or bacon. For a vegan spin on Brussels sprouts with all the flavor but none of the meat, swap out pork with our vegan Tomato Basil Pâté.
Craving a quesadilla? Hold the cheese! For a vegan version, substitute cheese with hummus or one of our vegan pâtés.
Pass the pasta… and pass on the meat. Make mouthwatering mushroom ravioli using our Earthy Mushroom Pâté as a delicious shortcut for the filling. Stuff shells with our Tomato Basil Pâté, then smother in a vegan pesto sauce.