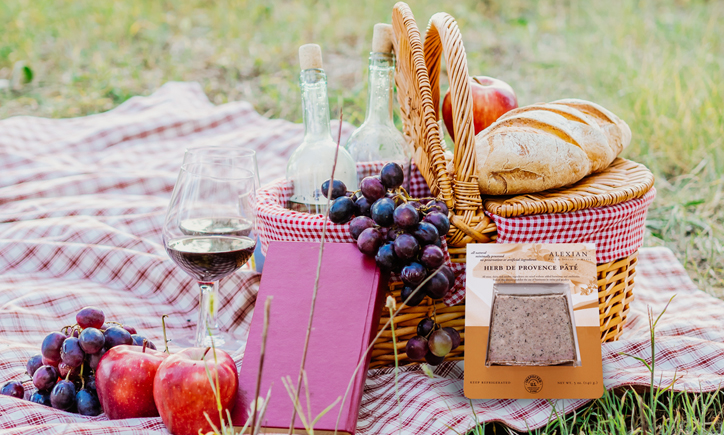 When the weather is this nice, it's hard to stay indoors – even for dinner! Picnics are the perfect way to spend a little extra time soaking up the sunshine, whether it's with your family, partner friends or on your own. To make the planning as painless as possible. we've gathered our very best advice and recipes for creating a picnic to remember.
The Food
Mini-Quesadillas
Quesadillas for a picnic? We know it sounds a little atypical, but these are great for picnics for two very important reasons: they're easy to make in large batches and they don't get soggy!
You'll need 6" flour tortillas – a good rule of thumb is to estimate about 3-5 per person, depending on if you're bringing other sides and if it's a dinner or lunch meal. It's never a bad thing to have leftovers!
Place the tortillas on a large baking tray, lined with parchment paper or aluminum foil. Top with sliced red and yellow bell peppers, your preferred blend of Mexican cheeses and finall, put a spoonful of our rich Duck Rillette. Fold in half, and place them in the oven at 375 degrees F for 7-10, or until the cheese is melted and the tops are slightly golden brown. To keep warm, wrap them in aluminum foil.
You'll need sour cream, salsa and guacamole to dip. For accompanying sides, bring along chips and guacamole, spanish rice, refried beans or an avocado salad.
Pasta Salad
Pasta salad is a lovely picnic dish – it's filling, versatile and is fine when eaten cold or warm. Start with your favorite variety of pasta – penne is always a good choice, but you also can't go wrong with angel hair, farfalle or ziti – and then add your favorite vegetables.
When making this for ourselves, we use grape tomatoes, sliced mushroom and cucumbers. Incorporate cubes of fresh mozzarella or cheddar. Finally, top with cubes of our rich Forest Mushroom Pâté .
Don't forget to bring bowls, forks and a serving spoon!
Truffle Balls
We're not sure what the best part of this recipe is – the truffle, the mousse, the poppable, bite-size shape, or the fact that you don't have to turn on your oven to make them. For years, our Truffle Mousse Balls have inspired rave reviews, yet this three-ingredient recipe takes only minutes to make.
Simply roll teaspoon-sized balls of our Truffle Mousse into a mixture of Panko breadcrumbs and thyme, then set them in the fridge until you're ready to serve them. Make these in a large batch. The decadence of the truffle makes each bite practically melt in your mouth, keeping you coming back to the plate again and again.
The Drink
For Adults
One should always take advantage of seasonal craft beers. Brewers typically use the freshest fruits, herbs and spices on hand, meaning that during summer, we're flush with bright, citrus-y shandys and wheat ales. Summer beers are usually light, crisp and refreshing, making them the perfect pair for rich, creamy and spicy flavors.
Likewise, IPAs are hoppy, strong beers that work incredibly well with rich flavors. For a perfect pairing, we suggest a thin slice of our Campagne pâté 'tween the burger and the roll. Lose the ketchup though, add a pickle instead!
For the Little Ones
You can't go wrong with a homemade lemonade! Steer away from harmful artificial sugars and syrups and embrace natural with this strawberry lemonade recipe.
Helpful Tips for the Perfect Picnic
Get Creative. You don't have to buy anything to have a great time. It's easy to reuse things around your house for picnic purposes. Use old jam jars to carry condiments, a thermos for ice cubes or cold drinks, and muffin tins to hold your drinks once you're on location.
Go Recyclable. Don't stress yourself out by carrying home a garbage bag full of dirty dishes. Choosing recyclable options such as paper plates, cups and tableware will make cleanup a snap.
Plan it Out. Find a place you'd like to spend the afternoon, scope it out – are there picnic tables, or will you need to bring a blanket? Do you need to bring chairs? Is there a BBQ? A few minutes of planning beforehand can make your afternoon one to remember.