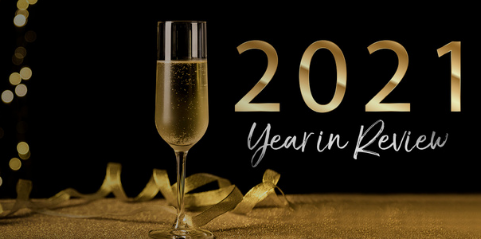 Before the year ends, we wanted to look back at our favorite recipes of 2021. Read on below.
The Millennial's Bagel
What You Will Need:
One everything bagel
Cream cheese
Chives
Full of texture and bursting with flavor, perk up your day with this finger-licking-good recipe that lends a modern twist to a classic bagel flavor.
Toast the halves of an everything bagel to a golden, brown color. Spread the cream cheese across the bagel halves (the more the better). Pile high with the Chicken Liver Mousse and chives. Voila!
Vegan Crepe
Made with just six ingredients, this vegan crepe recipe is ridiculously simple— and extraordinarily delicious. All you'll need is Earthy Mushroom Pâté, chickpeas, diced onion, minced garlic, spinach, and soy sauce.
In a skillet, heat the oil over medium heat and add the diced onion and Earthy Mushroom pâté. Sauté for 3-4 minutes before adding the chickpeas and soy sauce. Stir occasionally. 
Fry for a few more minutes and stir in the minced garlic. Toss in the spinach and cook for 1-2 more minutes, then turn off the heat.
Place the filling in a food processor or blender for some seconds, and then spread 1½ to 2 tablespoons of the filling onto a dairy-free crepe. Salt and pepper to taste.
A Pâté-Inspired Grilled Cheese
For an "adult" twist on a grilled cheese you can turn to again and again, gather shredded white cheddar, sliced Swiss, a thick sliced bread, grilled onions, and our Wild Forest Mushroom Pâté.
Butter one side of two slices of bread. Add a thin slice of our Forest Mushroom Pâté, top with a slice of Swiss cheese, a sprinkle of white cheddar cheese, the grilled onions, another slice of Swiss, and finally the other slice of bread. Cook butter-side-down in a nonstick pan until golden brown on each side. 
Tomato Pasta Salad
Featuring large chunks of ripe tomatoes, fresh basil, tangy red onion, and Parmesan cheese,  Tomato Pasta Salad is a satisfying meal that everyone will love.
For our pâté-inspired version of this recipe, you will need:
5 tablespoons olive oil
1/2 cup chopped fresh basil
1/2 cup red onion
2 large garlic cloves, chopped
1 1/4 pounds tomatoes, chopped
8 ounces penne pasta
1/2 cup grated Parmesan cheese
Salt and pepper, to taste
1 slice of Alexian Pâté de Campagne

In a large bowl, mix the tomatoes, garlic, salt, pepper, oil, basil, red onion, and Parmesan cheese. Cover, then refrigerate for around two hours to blend the flavors. Meanwhile, cook and drain pasta as you would normally. Rinse with cold water to cool; drain. Slice the pâté into small chunks and let it get to room temperature. In a large serving bowl, mix cooked pasta, tomato mixture, and pâté until well combined. Sprinkle extra Parmesan cheese over top, to taste.
Beef Kaldereta
Naturally, we saved the best (and most complex in our list) for last.
An iconic dish in the Philippines, Beef Kalderata is a savory beef stew cooked with creamy tomato sauce, fresh vegetables, and liver spread (in our case, pâté). Commonly served on holidays and special occasions, this spicy mainstay is flavorful and tender, offering melt-in-your-mouth meat and soul-satisfying comfort that's sure to impress.
Read on below for the recipe.
Ingredients:
2 lbs beef cubed
3 pieces garlic cloves crushed and chopped
1 piece onion finely chopped
2 cups beef broth
1 piece red bell pepper sliced
1 piece green bell pepper sliced
1 cup tomato sauce
½ cup Alexian Truffle Mousse 
1 teaspoon chili flakes
3 pieces dried bay leaves
2 cups potatoes sliced
2 cups carrots sliced
1/4 cup cooking oil
1 cup green olives
Salt and pepper, to taste
Instructions:
Heat the cooking oil in the cooking pot or pressure cooker.
Sauté the onion and garlic.
Add the beef. Cook for 5 minutes or until the color turns light brown.
Add the dried bay leaves and crushed pepper. Stir.
Add the pâté. Stir.
Pour-in the tomato sauce and beef broth.
Cook the beef until it becomes tender (about 30 mins if using a pressure cooker, or 1 to 2 hours if using an ordinary pot).
Add the potato and carrots. Cook for 8 to 10 minutes.
Put the green olives and bell peppers in the cooking pot. Stir and continue to cook for 5 minutes more.
Add salt and pepper, to taste.
Serve hot. Enjoy!