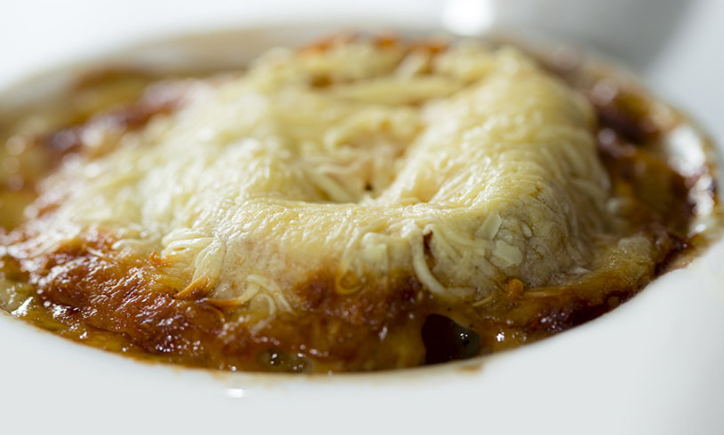 A good dip is worth its weight in gold: it's almost universally loved, incredibly versatile, and makes the perfect dish to pull out before a meal or bring to a party. The key to a good dip, however, is the depth of flavor. With the busiest time of the year quickly approaching, few of us have time to whip up a dip completely from scratch.
Luckily, Alexian pâtés are cooked in a time-honored tradition with the herbs, spices, and love to create the perfect base for your next holiday dip.
Keep these simple (yet delicious) pâté-based dips in your recipe arsenal to pull out at your next gathering.
Eggplant, Goat Cheese & White Bean
Our Eggplant, Goat Cheese and Roasted Red Pepper Mousse are packed with delicious flavors. You can easily serve it on its own at room temperature, but we love creating something with a little bit more flare.
To create a creamy dip, drain and rinse one can of white beans. Stir them into the pâté, mashing slightly until thoroughly combined. Top with crumbled goat cheese, to taste, and heat at 350 degrees F until warm all the way through.
Truffle & Gruyere with Caramelized Onion
The holidays are a time of indulgence. What is more indulgent than a decadent Truffle Mousse dip?
To make this instant-sensation, start by sautéing one yellow onion in a saucepan over medium-high heat with olive oil and salt and pepper to taste. Once caramelized, remove from heat. Next, grate 8 ounces of Gruyere cheese. In a medium bowl, mix ¾ of the cheese and the Truffle Mousse. Spread into a small baking pan. Top with the caramelized onions, a generous drizzle of honey, and the remainder of the cheese.
Let it bake at 425 degrees F for about 25 minutes, or until the cheese is melted and hot.
Smoked Cheddar & Duck Rillette
For a simple, effortless dip that's rich in flavor, look no further than a bold smoked cheddar dip with our savory Duck Rillette.
Simply pour melted smoked cheddar over an even layer of warmed Duck Rillette and enjoy! If you wish, you can also stir it into the Rillette so it's evenly distributed into the dip. This is enjoyed with crackers or toasted baguette.