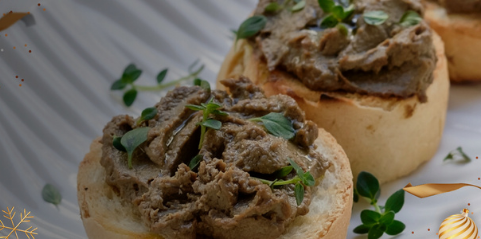 Elegant and delicious, duck liver mousse toast makes for a perfect pre-dinner bite— especially during the holidays when you want to impress your guests. Best of all? It's an incredibly simple appetizer to whip up with few ingredients and easy preparation.
From the ingredients to the instructions, here's everything you need to know about crafting this scrumptious snack.
Ingredients for 1 Serving:
2 tablespoons unsalted butter
2 sprigs thyme plus ½ tsp. fresh thyme leaves
1 ½ ounces Duck Liver with Pork Mousse and Cognac
Kosher salt and freshly ground black pepper (to taste)
1 slice of toasted bread
Instructions:
Heat butter and thyme sprigs in a small skillet over medium heat, swirling occasionally until butter is melted and starting to brown. This should take around 2–3 minutes.
Season pâté with salt and pepper.
Increase heat to medium-high. Quickly heat the pâté, stirring and basting constantly, until warm and crispy on both sides. This should take around 30–45 seconds.
Transfer pâté to toast, drizzle with some butter from the skillet.
Scatter thyme leaves over.