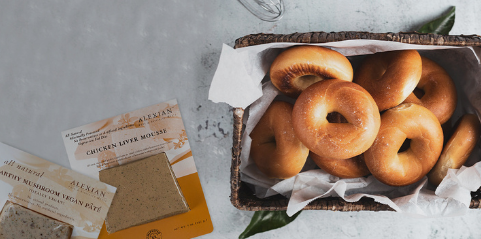 Here, we highlight 3 delicious bagel and pâté sandwich recipes you'll want to eat for breakfast, lunch, and dinner. Because, well, let's face it: there is no better place on earth to be than between the two halves of a crispy warm bagel.
The Millennial's Bagel
What You Will Need:

One Everything Bagel
Cream Cheese
Chives
Full of texture and bursting with flavor, perk up your day with this finger-licking-good recipe that lends a modern twist to a classic bagel flavor. 
Toast the halves of an everything bagel to a golden, brown color. Spread the cream cheese across the bagel halves (the more the better). Pile high with the Chicken Liver Mousse and chives. Voila!
The Vegan Delight
What You Will Need:

Your Favorite Bagel
Sliced Cucumber
Sliced Tomatoes
When meat and dairy are no-nos, say "yes" to starting your day with this vegan breakfast treat.

Toast your bagel halves to a golden, brown color. Spread the 3-4 tablespoons of the Earthy Mushroom pâté across the bagel halves. Top with sliced tomatoes and cucumber. Salt and pepper to taste. Enjoy!
The Elevated Sandwich
What You Will Need:
One Sesame Bagel 
Creamy Garlic Paste
Sliced Red Onions
A super easy, elevated meal in the morning or for lunch, this savory recipe is sure to delight the palate. 
Toast the sesame bagel until golden brown along the edges. Spread a tablespoon of garlic paste on each half. Add  3-4 tablespoons of Duck Liver and Pork Mousse with Cognac and sliced red onions. Sprinkle some salt. Close the bagel and enjoy while hot!