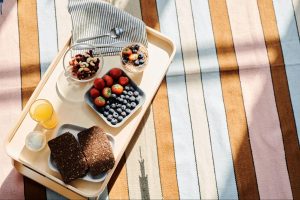 Summer days are endless fun, but all that action in the heat can tire us out quickly. To get the most out of the season, it's important to start your days with a robust morning meal. Not to mention, there's not much better in life than a slow, indulgent breakfast while you're on vacation. By incorporating pâté into your breakfast spread, you get the best of both worlds: heartiness and luxury. Here's our recommendation for the perfect pâté breakfast:
Grains
Don't skimp on carbs in the morning! Incorporating bread, oats, or other grains into your first meal will give you much-needed energy for the rest of your day. We recommend toasted rye bread, fresh sourdough, or apple and cinnamon oatmeal. All with extra butter, of course! 
Proteins
Once you've selected your bready base, it's time for something hearty and flavorful. No one wants to do too much kitchen work in the morning, so pâté is an excellent option. Just slice, spread, and enjoy! Chicken Liver Mousse pairs wonderfully with croissants, and Vegetable Pâté on crackers works wonders. If you do feel like turning on a burner, try Wild Forest Mushroom Pâté crumbles in your scrambled eggs. Only problem is, you'll never want your eggs any other way.
Vitamins
Prepare for a long day with a healthy serving of fruit and veggies! If you're having trouble deciding in the produce aisle, just aim for three different colors. Strawberries, bananas, and avocado. Or, cherry tomatoes, clementines, and blueberries. The world is your rainbow!
Refreshments
We know it sounds crazy, but we recommend beginning your day with three beverages at minimum: water for morning hydration, coffee or tea for a caffeine kick, and fruit juice for a moment of sweetness.
Are you enjoying pâté in the morning? Show us your picture-perfect breakfast spread by tagging us on social media @alexian_pate!