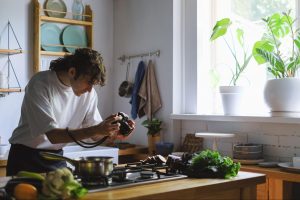 More and more, people are taking to the Internet for recipe inspiration. Although cookbooks will always hold a special place in our hearts (and on our shelves), there is something very satisfying about not only learning a new recipe, but watching it be made. Here are a few of our favorite online chefs, and a bit about what they're cooking up.
Justine Doiron
@justine_snacks
For fans of veggies, herbs, and pizza toast. Whatever Doiron makes, she serves it with a side of realness – many of her recipes are accompanied by frank narration about what it's like to be a chef in the limelight. And for those who prefer to cook the old-school way, she's coming out with a cookbook in just a few months!
Alexis Nikole Nelson
@alexisnikole
Once you watch Nelson's videos, your backyard will never seem the same. Nelson focuses on foraging in both rural and urban landscapes, and will blow your mind with her knowledge on the subject. Plus, her enthusiasm is so contagious that you may begin to think, "yeah, maybe I should eat a pinecone!"
Halle Burns
@ballehurns 
If you get stressed out in the kitchen, Burns is for you. Her calm demeanor and simple tips make even high-level meals seem achievable, and many of her videos have a hypnotic, ASMR-like quality. She's also big on conservation, as evidenced by her video on using every part of the watermelon.
Katie Zukhovich 
@babytamago
If you want a brief on the trendiest dishes, perfect for aesthetic dinner parties and impressing your in-laws, look no further than Zukhovich. Her presentation style is chef-meets-bestie (chefstie?), and she often shares gossipy tidbits to enjoy with your meal.
Fayette Nyehn
@fayette_nyehn
Riding the meal prep train, or looking for a ticket? Nyehn shows you how to run your week smoothly, with delicious food to boot. She eschews narration in favor of simple captions, and her prep videos are straightforward and easy to follow along while you cook.
Although none of these creators have featured Alexian Pâté yet, (no sponsorship here; we're just big fans ????) we remain inspired by all of their recipes. Let us know on social media @alexian_pate if you try out any of these creators' dishes – especially if you add pâté! Happy scrolling!