Looking to follow through on your New Year's resolution to go meat-free? Or maybe you're a seasoned vegan in search of something new to snack on. Whatever your experience level with vegan eating, even committed carnivores will find these vegan pâté snacks delicious.
Tomato Basil Skewers
Cube a block of Tomato Basil Vegan Pâté and use toothpicks to sandwich the blocks between cherry tomatoes. The fresh and colorful mini-skewers also make a great side to any dish.
Pâté Stuffed Peppers
This one takes a little prep work, but then you're set with snacks for a week! Lightly saute onion, garlic, and some vegetables, then mix in a bowl with cooked rice. Break up a block of Curry & Bell Pepper Vegan Pâté and add that to the bowl, then add salt and spices to taste. This mix will keep in the fridge for about a week, and whenever you're hungry, just scoop some into a red bell pepper and bake at 400° for 20 minutes.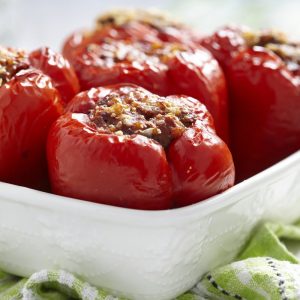 Garlic Mushroom Toast
Move over, avocado toast. For a twist on the millennial favorite, bake some store-bought garlic bread, then top with a smear of Earthy Mushroom Vegan Pâté for a quick, hearty, and savory snack.
Mushroom Pita Dip
Mash some Earthy Mushroom Vegan Pâté lightly with a fork, then serve in your favorite dipping bowl. This makes a great, simple dip for pita chips, tortilla chips, or toasted pita bread!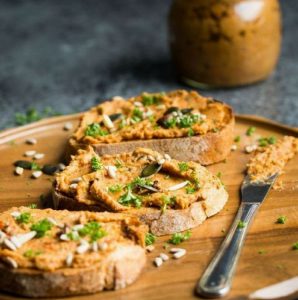 Pâté and Crackers
Did you think we were going to forget this classic? Forget the prep work: sometimes, some delicious Alexian crackers and a few slices of your favorite vegan pâté are all that you need. No judgment here, just pass us the plate when you're finished!