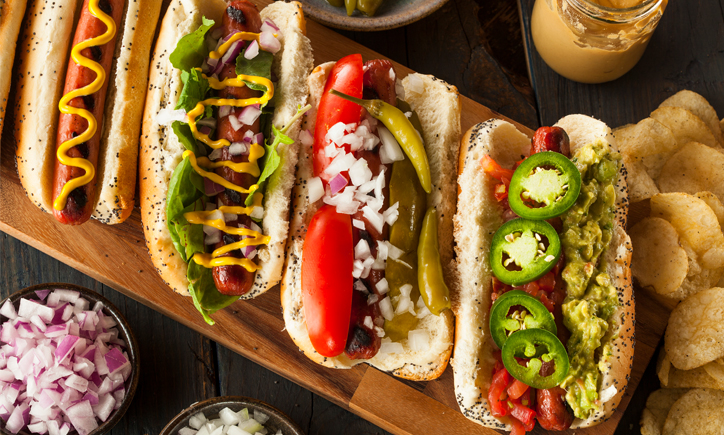 With summer approaching, the time to eat hot dogs is here. From Memorial Day to the Fourth of July to casual weekend barbecues- there's no escaping this classic choice. So why not spruce them up with some amazing toppings? These next-level hot dog toppings aren't just condiments: They're a way to transform a tried and true favorite summer dish. Whether you are firing up the grill or cooking on stovetops, here are 5 gourmet toppings that will elevate your hot dogs to a special tasting experience!
Add some richness to your hot dog by adding pâté to create a Pâté Dog. A coarse cut pâté adds great texture to the smoothness of hot dogs. Dice very small cubes and lay them inside the bun. Add the Dog and Presto! Top with sauerkraut for an added pickled crunch.
Pizza Dogs are a great way to have the best of both worlds. You have the option of simmering marinara sauce in a pan as well simmering the hot dogs themselves in the sauce. Spoon onto toasted buns and sprinkle with grated mozzarella, parmesan cheese, and dried oregano. Put in the oven on broil if you'd like the cheese melted.
Put a French twist on your hot dogs. Melt Brie in the oven or on the grill and layer on top of your hot dogs. Serve on sliced, toasted baguettes. Top with chopped cornichons and Dijon mustard.
Add some freshness to your meal by making Bruschetta Dogs. Dice 2 tomatoes and chop 1 garlic clove. Mix that with 1 tablespoon balsamic vinegar, 2 tablespoons olive oil, some torn basil, and salt. Serve your hot dogs on toasted Italian buns. Top with the tomato mixture and drizzle with olive oil.
We can't forget about bacon! Chop up bacon into small pieces and either pan fry or cook in the oven to your desired crispiness. Sprinkle generously on top of your hot dogs and stuff thin slices of avocado on the sides. Add honey mustard to tie it all together.
These hot dog fixings go way beyond mustard. Gourmet toppings are all the rage so fire up your grill and get ready for some serious flavor. You'll be sure to impress with these great flavors.