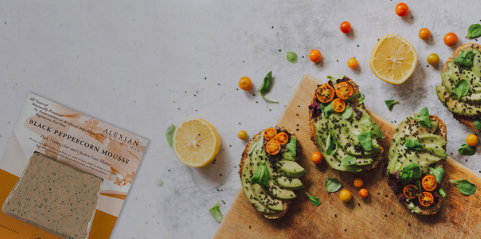 When the sun's out, no-fuss meals that are full of flavor are
in
. Read on below as we highlight our top 5 pâté recipes for summer 2021. 
Avocado Toast
Give this foodie favorite a gourmet flair and elevate your avocado toast by spreading a layer of our velvety-smooth Black Peppercorn Mousse.
Delicately gloss the Mousse on toasted whole-grain bread, and then top it with mashed avocado. Season lightly with salt and pepper. For added flavor, sprinkle a few diced cherry tomatoes or onions on top. And if you're looking to get really fancy with it, sprinkle on some chopped almonds and a drizzle of smoked olive oil. Yum!
Pita Pockets
Next time you're tempted to reach into the freezer for a Hot Pocket, try this far more satisfying recipe instead.
Simply boil two eggs to your preferred consistency— a softer boiled egg lends more creaminess. Once cooked, let the eggs cool, peel them, and chop. Stir in two generous spoonfuls of our Truffle Mousse and season to your preference. Fill the pita with your Mousse mixture, crunchy lettuce, and tomatoes— that's it!  
Jam-packed with protein and healthy grains, this pita pocket is the perfect pick-me-up (and way, way healthier than that Hot Pocket you've been eyeing!).
Grilled Vegetables
As delicious as it is healthy, all that you need for this easy plant-based recipe is a colorful mix of summer vegetables and our Tomato Basil Vegan Pâté.
Slice the vegetables (think: zucchini, squash, and peppers) into long slices and place them on the grill. Once toasted to perfection and slightly charred, spread a thin layer of the Tomato Basil Vegan Pâté onto them and enjoy as is. Yes, it's that easy!
Stuffed Peppers
Stuffed peppers are an almost universally enjoyed dish, and they're easy to make meatless.
One recipe we love is stuffed red bell peppers with our Curry and Bell Pepper Pâté, couscous, and smoked cheddar. For a summertime twist, prepare all ingredients that need to be cooked indoors, then wrap the bell peppers in aluminum foil and throw them on the grill until just tender. Easy and delicious? Count us in!
Chicken and Veal Pâté + Spicy Dijon Mustard Sandwich 
Let's face it: Nothing beats a sandwich for lunch. And when it comes to a pâté sandwich, our Chicken and Veal Coarse Cut makes for a decadent base and is our inspiration behind this go-to recipe.
Slice a fresh baguette, spread a generous helping of spicy dijon mustard, and stack on your Chicken and Veal Coarse Cut Pâté. Add fresh fennel for a little crunch (or a good 'ol bag of chips!), and voila.
Pro tip: This recipe requires minimal prep work as-is, but can easily be jazzed up with cracked pepper, spinach, mixed fresh herbs, or sliced tomatoes.