Irish Cooking With Pâté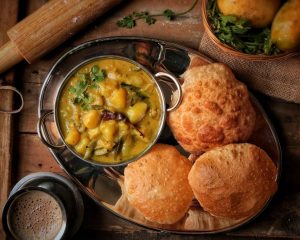 The first food many people associate with Ireland is potatoes, but did you know that the crop only became prevalent in the 18th century, after England took control of Ireland's agriculture? These days, Ireland is seeing a revival of traditional cuisine, which is as rich and colorful as the country's own verdant landscape. 

All that said, if you are looking for recipes featuring pâté and potatoes, not to worry! We've got you covered with a previous Pâté Rendezvous article. Today, we're celebrating traditional Irish recipes with creative ideas on how to make them even more delicious – with pâté, of course!

Shepherd's Pie

This traditional main course is essentially a lamb and vegetable skillet dish topped with cheesy mashed potatoes. It's already hard to beat, but our suggestion is to mix Truffle Mousse into your potatoes, bringing all of those incredible flavors alive. 

Bacon & Cabbage

You can make this yummy and affordable dish in just one pan: simply cook up some torn bacon slices, then fry cabbage in the bacon fat. For a little extra oomph, crumble some Sage and Pork Mousse with Vermouth into the pan before serving. 

Boxty

Put simply, boxties are potato pancakes. Crispy on the outside, tender on the inside, and buttery throughout, this dish would go perfectly with a thin slice of Black Peppercorn Mousse.

White Pudding

A traditional Irish breakfast dish featuring barley, leeks, egg, and handmade pork sausages. If you're up to the task, add Wild Forest Mushroom Pâté to your sausage mixture for an extra burst of flavor.

Soda Bread

If you're interested in bread-making, Irish soda bread is a great way to get started. This dense and delicious bread includes ingredients you already have in your pantry, plus plenty of buttermilk. Enjoy as a breakfast toast or snack, topped with your favorite pâté!

Duck, Duck, Mousse! Pairings for Our Pâté of the Month

There's a lot to celebrate about our Pâté of the Month. Winner of the prestigious Good Food Award in San Francisco, our creamy Duck Liver and Pork Mousse with Cognac blends flavors both strong and subtle for a delightfully decadent experience. With duck, pork, mushrooms,  fine Cognac, and a perfect mix of spices, this savory-sweet mousse is the perfect winter pick-me-up. It's also our most popular mousse (followed closely by Truffle Mousse), and has accordingly been featured in many Alexian recipes. At this point, you're probably impatient to try it. To make things easy for you, here's a directory of our favorite pairings:

Appetizer Pairings
Pear and Mousse Blinis – Though this mousse is primarily rich and savory, it has a refreshing mid-note of sweetness from the Cognac. We find that pairings with fruit really make this quality shine.
Pâté Flight Sampler –  Flights are all about showcasing a variety of unique flavors, so no sample platter is complete without this iconic mousse. 
Mousse-Spread Bagels – A classic for a reason. Enjoy it for breakfast, or substitute bagels for bagel chips at your next dinner party!
Entree Pairings
Pâté Stuffed Tomatoes and Peppers – Colorful, filling, and delicious, these can be served as a side dish or main course, depending on pepper size!
Tournedos Rossini – This buttery steak dish is a French delicacy, made even more luxurious with a dollop of mousse.
French Bistro Burger – While this recipe suggests truffle mousse, duck liver and Cognac bring next-level flavor. Just make sure to pair with extra-sharp cheddar to counterbalance the sweetness from the Cognac!
Drink Pairings
Chardonnay – A crisp, fruity, and slightly buttery chardonnay provides the perfect palette cleanser between bites. 
Port Wine – We'll say it: delicious duck liver mousse with sweet, rich port wine is a snack fit for royalty. 
Cognac Cocktail – Yep, we saved the best for last! As the name suggests, the Cognac in this mousse really comes to life with a sweet and slightly bitter Cognac cocktail.
While these ideas are enough to get you started on your Duck Liver and Pork Mousse with Cognac journey, we'd love to see what YOU make with it! Next time you incorporate this delicious pâté into a recipe, tag us on social media! 

Vegan Pâté Snacks for the New Year

Looking to follow through on your New Year's resolution to go meat-free? Or maybe you're a seasoned vegan in search of something new to snack on. Whatever your experience level with vegan eating, even committed carnivores will find these vegan pâté snacks delicious.

Tomato Basil Skewers
Cube a block of Tomato Basil Vegan Pâté and use toothpicks to sandwich the blocks between cherry tomatoes. The fresh and colorful mini-skewers also make a great side to any dish.

Pâté Stuffed Peppers
This one takes a little prep work, but then you're set with snacks for a week! Lightly saute onion, garlic, and some vegetables, then mix in a bowl with cooked rice. Break up a block of Curry & Bell Pepper Vegan Pâté and add that to the bowl, then add salt and spices to taste. This mix will keep in the fridge for about a week, and whenever you're hungry, just scoop some into a red bell pepper and bake at 400° for 20 minutes.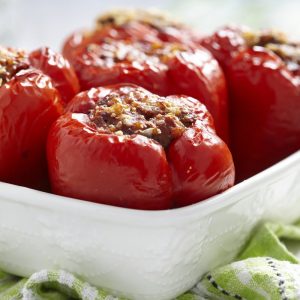 Garlic Mushroom Toast
Move over, avocado toast. For a twist on the millennial favorite, bake some store-bought garlic bread, then top with a smear of Earthy Mushroom Vegan Pâté for a quick, hearty, and savory snack.
Mushroom Pita Dip
Mash some Earthy Mushroom Vegan Pâté lightly with a fork, then serve in your favorite dipping bowl. This makes a great, simple dip for pita chips, tortilla chips, or toasted pita bread!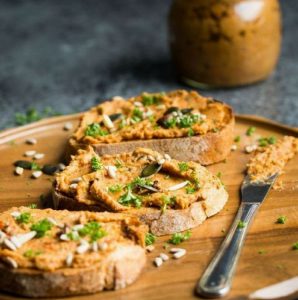 Pâté and Crackers
Did you think we were going to forget this classic? Forget the prep work: sometimes, some delicious Alexian crackers and a few slices of your favorite vegan pâté are all that you need. No judgment here, just pass us the plate when you're finished!

What We're Toasting To in the New Year

Gifts have been given, it's solidly winter, and the holiday season is coming to an end (with the exception of tonight's big party, of course). Turning towards 2023, we have an opportunity to reflect on the year that's passed and set intentions for the year to come. At Alexian, we have so much to look forward to. Here are just a few things we're toasting to tonight.
First, we can't wait to see what 2023 brings for creativity! This year saw the ever-growing influence of Tik Tok, bringing amazing recipes into our homes and helping professional and amateur chefs alike collaborate in this new frontier. We've even contributed ourselves, sharing serving ideas online. Even we remain inspired by just how much you can do with pâté.
We wouldn't be anywhere without our community. Our incredible network of distributors and retailers has helped move our products from shelf to table, and we're so grateful for all the work each individual business does. Among our audience, the charcuterie craze seems stronger than ever. We're happy to be a small part of that. Not to mention, it's so much fun seeing all your beautiful boards on social media!
And of course, here's to health. Feeling good is an everyday blessing, and it's always been our mission to make quality, natural food accessible. We're committed to the cause by keeping preservatives, fillers, and artificial flavors and colors out of our products.
May your loved ones remain healthy through this year and beyond. Have a very happy New Year, from all of us at Alexian Pâté.

White Wine Pairings with Alexian's Pâté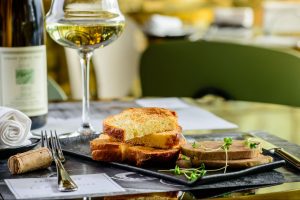 Those who love white wines such as Riesling, Sauvignon Blanc, or Chardonnay appreciate a good combination, and  the perfect taste they  create with our Alexian pâtés. White wines are a great choice of serving at any time since they usually have lower alcohol levels than red wines. They are better chilled, and when consumed with fish, salads, or light meals with vegetables, this kind of wine  leaves a refreshing feeling. Our suggestion of pairing with Alexian pâté will do the experience  even better.

Riesling wine goes well with Champagne Pâté, Sage & Pork Mousse Pâté, or Chicken Liver Mousse Pâté because of this wine's flowery and aromatic character. Riesling wine is characterized for its dry, semi-sweet, and sparkling sip, so our pâté's selection is a great match. 

Try pairing Sauvignon Blanc with Tomato Basil Pâté and Curry and Bell Pepper Pâté. This green-skinned grape variety is the fruity taste you want for a fresh pâté choice. 

Alexian Pâté pairing options for Chardonnay are Sage & Pork Mousse Pâté, or Truffle Mousse Pâté. This green variety of wine is used in the production of white wine, and it is its rich and creamy  flavor that makes it perfect for our  variety of products.

Refreshing fruits pairing

Refreshing summer fruits are ideal companions to pâté; they make great appetizers for summer dinners, brunches, and cookouts.

To begin, choose three or four Alexian pâtés. A smooth and creamy pâtésuch as our Chicken Liver Mousse; a country-style pâté such as our Campagne Pâté; and a vegetarian choice such as our Tomato Basil all go well together.

After you have selected your pâtés, pick up some green onions, olives, and cornichons to add to the tray. Sliced nectarines or peaches make a delicious pairing with pâtéin the summer and are a terrific way to combine sweet and savory flavors. 

Another refreshing fruit pairing is sliced strawberries, raspberries, or red currants with chicken liver mousse, or pineapple diced with Pâté de Campagne. 

To complement your meal, incorporate some sliced pita, ciabatta, or baguette along with hot mustard and celery sticks for an unforgettable meal.

Place everything on plain white serving ware to highlight the brilliant hues. Enjoy!

Summer Dinner Ideas for the Whole Family

Ever since our childhood, Summer has been a time to relax with our families: barbecues, picnics, cookouts, long evenings on the patio, and of course great home cooked dinners. Check out these new twists on classic and easy dishes.
1. Potato Salad 
Whether you are enjoying an outdoor BBQ or an indoor dinner, a potato salad can complement your meal like nothing else can.
Ingredients
2 potatoes, peeled and diced 
3 hard-cooked eggs, peeled and diced
½ cucumber, peeled and diced
1 tomato, diced
1 celery stalk, diced
¼ onion, diced 
¼ cup chopped green onion
mayonnaise
Dijon mustard
salt and ground black pepper to taste
Alexian Truffle Mousse
Boil a large pot of salted water. Add potatoes and cook until soft. Rinse with cold water.
In a large mixing bowl, combine the potatoes, eggs, cucumber, tomato, celery, onion, green onion, pâté, mayonnaise, and mustard. Blend evenly. 
Add desired salt & pepper for flavor.
2. Duck Rillette Quesadilla
Ingredients
Alexian Duck Rillette 
2 Tortillas
1 Onions
1 Peppers
To make a simple flavor-filled quesadilla, spread Duck Rillette on tortillas and top with grilled onions and peppers. Grilled seasonal vegetables such as zucchini, tomatoes, and bell peppers. Grill tortillas with all ingredients and vegetables inside. 
3. Dilly Truffle Mousse Ball
Ingredients
 
1 1/2 cups grated sharp cheddar cheese
1/2 cup chopped dill pickle
 1/4 cup finely chopped green onion
2 Tbsp mayonnaise
 1 tsp Worcestershire sauce
1/2 cup chopped walnuts
2 Tbsp finely chopped parsley
Combine first six ingredients, beating until smooth. Cover and chill until firm or overnight. Shape into a ball and roll in a mixture of nuts and parsley. Serve it on a plate surrounded by assorted crackers.

Breakfast Ideas to Whip Up for Mom This Mother's Day

Start Mother's Day off right with these three delicious yet simple breakfast ideas.

Savory Breakfast Sandwich

Short on time but still want to impress mom? Then opt for our simple savory breakfast sandwich recipe.

Spread our Forest Mushroom Pâté on a toasted baguette, followed by over medium eggs and mixed greens. Hearty and delicious, the baguette will absorb all the delicious egg yolk and leave mom a happy camper.

Go-To Breakfast Wrap

For something lighter, try our Tomato Basil Vegan Pâté on a whole wheat tortilla. Add in scrambled eggs, sliced avocado, and fresh baby spinach; then wrap up and enjoy.

If mom is vegan, simply swap the eggs for other veggies— onions, broccoli, or bell peppers. Healthy and delicious? We'll take three servings, please.

Elegant Duck Crepe

Duck Rilletteis rich and full of flavor, making it the perfect filling for a decadent breakfast crepe. Best of all, this recipe is super easy. In fact, the other two ingredients in this recipe are sautéed onions and bell peppers. That's it.

Once you've sautéed the vegetables— preferably with some minced garlic, salt, and pepper— spread the Duck Rillette onto a warm crepe. Add the sautéed onions and bell peppers. Voila!

Our Pâté Picks for Spring
Ah, winter. Let's just say: We're glad it's nearly over with.

While we enjoyed our many culinary adventures throughout the season, we're looking forward to what spring may bring, especially when it comes to— yep, you guessed it— pâté.

We here at Alexian have done the research to see which pâté varieties could gain tons of traction in the upcoming season, and we've come up with a few guesses. So, what will be on our plate as the flowers begin to bloom? Well, let's find out.

Vegan Pâté

Recent reports by food forecasters have suggested that plant-based items will be all the rage in 2022, and pâté is no exception. Light, tasty, and 100% meat-free, our three vegan pâté offerings are sure to raise the interest of plant-based eaters nationwide. From the earthy notes of our Earthy Mushroom terrineto our Curry & Bell Pepper and Italian-inspired Tomato Basil,, our herbivorous pâtés are sure to be popular meat replacements that taste just as delicious as their non-vegan counterparts.

Wild Forest Mushroom Pâté

This upcoming season, food experts expect "to see an uptick in recipes that call on mushrooms," according to Delish. Enter our Wild Forest Mushroom Pâté. Featuring a number of ingredients—namely, premium pork and pork liver, chopped shiitake mushrooms, and sherry wine— this unique pâté offers a simple, refined taste that can be enjoyed on its own, or in a variety of dishes. Most importantly, the recipe is a call back to its gourmet heritage, which has been made and celebrated for centuries in Europe.

Truffle Mousse

Experts agree that this season will see a return of fine dining. "If you follow restaurant trends over the last two decades, when we've come out of a period of unrest—including 9/11 or the 2008 economic crisis, for example—there's been a return to super high-end dining and really inventive cuisine," Paul C Reilly, chef/owner of Coperta and Apple Blossom in Denver explained to Food & Wine. "The time is ripe for this and I think people will be willing to go out and spend more and gather together around a more formal dining experience."

This brings us to the question: What says fine dining more than truffles? Full-flavored and easy to spread, our Truffle Mousse is a decadent combination of pork, turkey and chicken liver, sherry, truffles, wild mushrooms, and spices. It's smooth, it's creamy, it's… delicious. And while it might not be "fine dining" in the traditional sense of, say, eating at a Michelin starred restaurant, it's definitely a high-quality, gourmet indulgence. There's no doubt about it: Truffle Mousse is surely one food that will define how we eat in the upcoming months.

Most Underrated Breads You Should Serve with Pâté
Deciding which bread to pair with pâté can be a… well, an overwhelming process. So, with the hope of helping you feel more equipped when you go to grab that lovely loaf off the grocery shelf, we carefully rounded up our top bread choices for accompanying pâté. That said, we're not highlighting just any bread choices— instead, we're focusing on the underrated ones. Read on below.
Ciabatta
An Italian bread made from wheat flour, salt, yeast, and water, ciabatta is crusty, versatile, and addictively delicious. Perfect for sandwiches and paninis, it also pairs well with— yep, you guessed it— pâté.
Sourdough
A yeasted bread made from a starter — a fermented mixture of flour and water— sourdough is infamous for making fantastic grilled cheeses. Offering a substantial crust with a soft, chewy center and large air bubbles, this loaf is amazing when paired with our vegan selections, veggies, and French cheese.
Focaccia
An Italian bread typically baked flat, focaccia is similar to pizza dough, and is often flavored with rosemary and garlic. Typically coated with olive oil before baking for a delicate yet crispy crust, it's often enjoyed on its own, but is also great for dipping in soup or serving with meat, cheese, and pâté.
Brioche
A French bread made with eggs and butter, brioche is a super light bread with subtle sweetness. Its totally soft crust— and golden hue— makes for an amazing match to our pâté. Think: A soft-as-a-pillow pastry with an ever-so delightful savory touch.