5 Things You Didn't Know About Alexian Pâté


You may have singled out pâté as everything you need to know about Alexian, but the truth is there's much more to us than meets the eye (or shall we say, plate). Here, we highlight five tidbits of trivia to ponder as you munch away at (hopefully our) pâté!

We're a Women-Owned Business

Women are behind many successful and growing companies— and Alexian Pâté is one of them.

We are certified as a Women Owned Business, by the Women's Business Enterprise National Council (WBENC), and we will be celebrating our 39th anniversary this year. Not to toot our own horn, but we'd like to take this moment to quote Queen Bey and say… Who run the world? Girls!

We're Also a Mother/Daughter Business

Yes, it's true: Alexian is run by mother-daughter duo, Laurie and Alexandra. In fact, last May, we actually explored what really goes into a mother-daughter business — and how it affects their relationship — via our Mother's Day blog post, "Mother's Day with Alexian Pâté."

We Love Community

We believe in helping others and supporting communities. We make regular donations to our local food banks, support national programs which provide assistance to those in need by way of home cooked meals, and donate to disaster recovery programs.

In addition, our pâtés are packaged in printed cardboard sleeves that carry the seal of the Forest Stewardship Council®, certifying that the sourcing of materials promotes responsible and sustainable forest management to support local communities. The corrugated cartons used to ship Alexian products are made from recycled materials and printed with water-based inks.

We Stand by Humane Farm Animal Care

A question we often get us asked here at Alexian about our meat-based products is: "Are the animals humanely raised?" The answer is yes!

Each farm and ranch from which we purchase our meat ingredients, practices good animal husbandry. Their animals are treated humanely, live comfortably, and live stress-free. They have access to the outdoors to roam freely as weather permits; they live in minimal confinement and have adequate space to move and perform the functions natural to their species; they have access to food and water and protection from the elements; and their diet is balanced with the proper nutrients and is free from any animal by-product

We Keep It Natural

All of our pâtés — yes, all — are 100% natural and feature no artificial colors, no preservatives, and no fillers. Additionally, the vendors from which we source the meats used in our pâtés certify that they are free from added hormones and antibiotics.

Our Favorite Pâté Quotes of the Decade

If you're looking to learn a little more about pâté, there's no need to dig through cookbooks for knowledge. These quotes about pâte— from food critics to the late Anthony Bourdain — will surely resonate.

Read on below as we unveil our favorite pâté quotes of the decade!

On first-time pâté nerves…

"You've made meatloaf, right? You've eaten cold meatloaf, yes? If so, you're halfway to pâté. Nothing to be scared of!" — Anthony Bourdain, Chef, Book Author, Journalist, and Travel Documentarian

On the must-have flavors and textures…

"Pâté is cashmere for the palate. Smooth, rich and decadent, it seems more sinful than it is." — Kathleen Willcox, Author of "Hudson Valley Wine: A History of Taste & Terroir."

On the benefits (taste and otherwise) of indulging…

"It may be an acquired taste, but it's something that you should go out of your way to acquire—like a learned language, or a rare book. The iron-y, gamey taste of liver, the most accessible of all the organ meats, sharpens all that it accompanies. It makes red wine richer and cheeses acid-bright; it can make your conversation wittier with each bite. It can make a lazy, homebound Sunday feel accomplished." — Talia Lavin, Guest Contributor at Bon Appétit and Author of "Culture Warlords"

On the effortless plating…

"Foams and ballotines may impress MasterChef judges, but they'll never hit the spot like a buttery hunk of pâté… It's luxurious enough to make the table for your festive feasts (and can be made days in advance) but is easy to throw together for lunch all year round. Did I mention it's dangerously easy too?" — Felicity Cloake, Author of Six Cookbooks and Past Winner of the Guild of Food Writers awards for Food Journalist of the Year

On how to serve it…

"Good bread and cornichons, of course. Other pickled vegetables are good, too. And wine! It is important to have a balance with the rich flavors of pâté. Always have wine with pâté." — Chef Antoine Westermann of Parisian bistro Le Coq Rico, speaking to Food Republic Senior Editor Jess Kapadia

Our Guide to a Festive Charcuterie Board

The holidays may be a little different this year, with fewer of our family and friends around the table, but you can still keep the holiday spirit alive with a show stopping dish. Two words: Charcuterie. Board.

We know, we know. You're probably asking yourself: But how exactly do I transform a regular 'ol charcuterie board into a magically festive meal for the holidays? Don't fret: We're here to help!

Here, we lay out everything you need to know about creating a holly jolly (not to mention, delicious!) charcuterie board for the holiday season.

The Cheeses

We suggest keeping it simple and using only three or four of your favorite cheeses. For a holiday charcuterie board, we always opt for a creamy Brie, a sharp cheddar, and a logof goat cheese. Not only are these cheeses well-loved by everyone, they're also affordable and provide a nice variety..

The Meat

You didn't think we'd go a whole blog post without mentioning pâté did you? When it comes to our holiday charcuterie boards, our top picks are our Grand Marnier, Chicken & Veal, and Herb de Provence. Also consider adding a smooth, spreadable option like our Truffle Mousse or Duck Liver Mousse with Cognac. Decadent and fulfilling, these pâtés can be perfectly paired with a multitude of cheeses and crackers, and are also always holiday favorites.

Hosting a vegan or vegetarian affair? Don't panic: There's pâté for that as well!

The Theme

Preparing a charcuterie board is like decorating: You can put a beautiful platter together with a mix of colors, textures, and shapes– just like you would a home. That's why when it comes to a holiday charcuterie board, we suggest sticking to a theme; one that includes reds, greens, and whites.

Pears, grapes, and pomegranates are winter fruits that match the Christmas theme, while cranberries also add a dash of holiday spirit. Nuts and olives are a great festive choice as well, as well as some fresh rosemary. Oh, and don't forget the crackers!

Overall, it's essential to remember to place the large items like cheese and meats first. Then, fill in with nuts, fruit, and so on.

Happy holidays!

Our Guide to a Perfect Charcuterie and Cheese Pairing

Like cheese, pâté can stand alone, but uniting the two can lead to a match made in foodie heaven. 

Accordingly, we at Alexian have decided our early Holiday gift to you is — drumroll, please — none other than to unveil our secrets to the perfect charcuterie (read: pâté) and cheese board. Excited? You should be!

Below, we highlight our guide to a perfect charcuterie and cheese pairing.

As the name suggests, hard cheese is firm and goes perfectly well with our creamy and decadent mousse pâtés. Often savory, hard cheese can be divided into two categories: hard (such as Parmesan), and semi-hard (such as Gouda). We suggest pairing the former with Black Peppercorn, and the latter with Chicken Liver.

Conversely, when it comes to coarse cut pâtés, we suggest opting for soft cheeses. Brie is a spreadable cheese with a buttery flavor and a strong aroma, while Burrata is part of the Mozzarella family and is typically served fresh with salads, fresh tomatoes and herbs, or bread. Both are excellently paired with our coarse cut variety. 

A third place winner in our books when it comes to pairing cheese with a coarse cut? None other than Camembert. First made in France, this soft cheese made from cow's milk is similar to Brie, but softer and more buttery, with an earthy flavor. Pro tip: It's also best paired with red wine.

Overall, we recommend pairing boldly flavored pâtés— such as Pheasant Rosemary or Duck Liver Mousse with Cognac — with milder cheeses. And when it comes to softer-flavored pâtés, like Chicken Liver or our Vegetable varieties, we suggest opting for a strong flavored cheese of your choosing.

Here's to happy snacking!

Easy Appetizers with 5 Ingredients or Less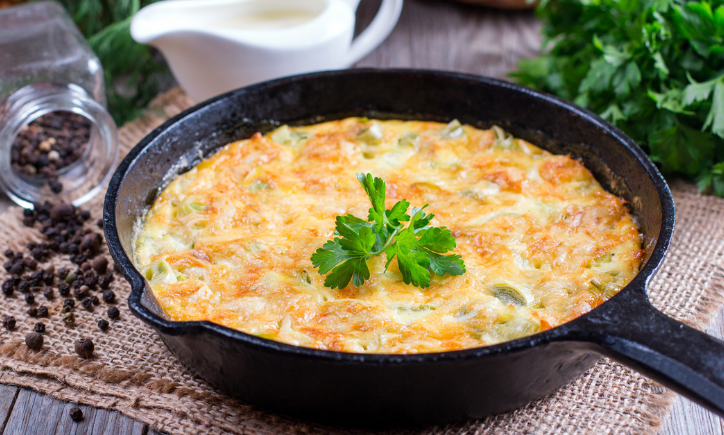 The season of entertaining is upon us once again, but it seems like just last week we were stuffing our turkeys and decking the halls! If you're anything like us, your Novembers and Decembers are packed with friends, family, and food. Here in the Alexian Kitchen, we're always trying to create new recipes that not only please our guests, but that is easy enough to leave us time to enjoy them.

We've gathered some of our very favorite 5-ingredient recipes to help you host the holidays without the hassle.

Baked Fontina

You can never go wrong with a big, melty skillet full of cheese. Especially when you add in Alexian pâté.

Layer cubed fontina cheese and Alexian Black Peppercorn Mousse in a cast iron skillet or baking dish, top with sliced garlic, thyme leaves and olive oil. Broil until it's melted and bubbly enough to scoop up. Serve with toasty, flaky bread.

Truffle Balls

We're not sure what the best part of this recipe is – the truffle, the mousse, the poppable, bite-size shape, or the fact that you don't have to turn on your oven to make them. For years, our Truffle Mousse Balls have inspired rave reviews, yet this three-ingredient recipe takes only minutes to make.

Simply roll teaspoon-sized balls of our Truffle Mousse into a mixture of Panko breadcrumbs and thyme, then set them in the fridge until you're ready to serve them. Make these in a large batch. The decadence of the truffle makes each bite practically melt in your mouth, keeping you coming back to the plate again and again.

Mini Grilled Cheese

Grilled cheese on Thanksgiving? Absolutely. Elevate your typical grilled cheese by substituting in decadent ingredients. Simply make 4-5 full-size sandwiches, slice into quarters and arrange on a plate. Here are a few mouth-watering suggestions.

Brioche + Swiss cheese + Goose Liver Mousse + caramelized onions

French bread + Duck Rillette + brie + plum jam

Potato bread + Black Peppercorn Mousse + over easy egg

Puff Pastry Bites

There's nothing quite as satisfying as biting into a warm, melt-in-your-mouth roll full of savory goodness. Gently wrap thin slices of any of our pâtés (though a couple of our favorites for this recipe are the Chicken & Veal and Forest Mushroom pâtés) in puff pastry and cook until light golden brown.

You can also use crescent roll dough in place of puff pastry to save a little time. Feel free to experiment with your own add-ins – like your favorite smoked cheese – just don't overload them!

Serve with a dijon or whole grain mustard dipping sauce, or on their own!

Deviled Eggs with Pâté

A simple yet decadent delight, deviled eggs are even better when Black Peppercorn Mousse is mixed in! These hearty snacks are handheld, making them ideal for casual holiday parties.

Party of One: How to Solo Snack on Pâté

To quote Three Dog Night: One is the loneliest number— but not with a delicious and savory snack in front of you. 
Pâté isn't just a snack or side, it's an entire vibe. Not to mention, when experiencing a little bit of solitude, you've earned the right to enjoy yourself and indulge.
Ultimately, when snacking on pâté by yourself, there are only a few things you should know to get the most out of your experience. Luckily for you, we've gathered them here for your reading pleasure.
When it's just you, presentation isn't everything. Sure, if you want to practice putting together a beautiful cheese and meat board complete with pâté, then this is a good chance to go through some trial and error. But, honestly, why go through the trouble? When snacking on pâté alone you can throw presentation—  and even etiquette—  out the window. Grab a plate, a boxful of Alexian speciality crackers, and bring on the pâté so you make your snack session all about enjoying every last bite.

Make an adventure out of being on your own. Pâté and the best crunchy sides that go with it, are known for being portable. Plan a beautiful hike and reward your bold spirit with a savory solo picnic.
Experiment. Without any prying eyes (or judgemental friends) you can see just how many delicious snacks pâté goes well with. Our philosophy is "If it goes crunch, it goes with your pâté at lunch!" Rest assured, there's plenty of food you can try for the first time with pâté that will please your palate. From cucumbers to pretzel sticks, there are plenty of foods that aren't always included in a pâté spread that could (and should!) be. Get creative, and you might just find your new favorite combination.
Above all, remember this: the best part about solo snacking on pâté is that you don't have to share!

Creating a Pâté Board In 5 Easy Steps

Pâté is a traditionally decadent food, ideal for the season's celebrations of food and family. A well-crafted pâté board will please even the pickiest of eaters by allowing your guests to customize their selection. Best of all, it's easy to set up.

Here's how to make a crowd-pleasing pâté board just five easy steps:

1. Choose Your Pâtés

Your pâtés will be the star of your board, and everything else should work in harmony to enhance the rich flavors.

We suggest offering a selection of pâtés that showcase a variety of flavor profiles and textures.

For instance, a country-style pâté has a coarse texture, with herb-infused, gamey flavors that can be cut into cubes and served with toothpicks. Our Chicken and Veal Pâté is encrusted with mustard seeds and pairs nicely with mustards, dried fruits, and nuts. Our Campagne Pâté is our most versatile country-style pâté and pairs with almost anything, including mustards, pickles, and chutneys.

Our Duck Rillette, however, has a more shredded texture, and a special seasoning blend that pairs well with smoked cheeses, or as an indulgent, standalone bite.

Our mousses offer a lighter, creamier consistency that is easy to spread, and perfect for pairing with condiments, fresh fruits and vegetables, and cheeses. The Spiced Apple Mousse is a seasonal favorite, with hints of apple brandy and apple pie spices.

And if your family has vegetarian, vegan or diet-conscious diners, our tempting vegetable and vegan terrines are a great way to round out the selection. Even your most carnivorous guests will appreciate the refreshing vegetable medleys that come to play in our terrines.

2. Choose Your Cheese

When you offer a variety of pâté, you also need a variety of cheeses. One of the most exciting parts of a pâté board is allowing your guests to experiment with different combinations. We suggest choosing cheeses from different categories, such as:

? Smoked cheeses, such as smoked provolone, gouda and gruyere. The smoky, nutty taste pairs well with our pâté, complementing each other without losing their nuance.

? Sharp cheeses, like cheddar. The sharp, salty flavors cut through the gaminess of our country-style pâtés to provide a delightful contrast of flavors.

? Soft cheeses like brie or chevre. These cheeses add a creamy component to our pâtés, terrines and mousses.

If your pâté board is your main appetizer, you'll want about three to four ounces of cheese per person. If it's just one of many in your pre-meal line-up, shop for about two ounces per person.

3. Choose Your Accompaniments

Hard and cured meats such as salami and prosciutto have bold flavors that provide a contrast to the richness of pâtés. They also work as standalone flavors for pairing with cheeses.

You'll also want a sweet component to balance many of the salty and prominent flavors on the board. Seasonal fruits, such as figs, pears and apples are a classic way to add balance, and a drizzle of honey enhances the savory flavors of pâtés and cheeses.

Nuts add texture and provide a palette-cleansing effect, which is important when you're hosting an array of flavors. For a seasonal touch, roast walnuts or chestnuts. The aroma is mouth-watering!

4. Choose Your Breads

With all of this creamy, cheesy, savory goodness in front of them, your guests will be looking for a vehicle to get it from the board to their mouths. Supply your guests with a mixture of different breads, crackers and breadsticks for a range of texture options.

5. Choose Your Settings

Last, but certainly not least, are the details. If you're crafting an elaborate pâté board, you'll need plenty of room. You want to make sure that your board is not over-crowded, for both aesthetic and logistical purposes.

It's helpful to guests if you label each item, so they know what to expect and how to pair their samplings. In order to keep things moving quickly, be sure that each item can easily be served. For soft foods, make sure there is an appropriate utensil (either for spreading or scooping). For hard foods or meats, make sure they're cut into individual sizes servings, and that there are either toothpicks or serving forks readily available.

An Epicurean Picnic Checklist

Epicurean food consists of luxurious — and yes, even sensual — bites. An Epicurean picnic is all about having fun, getting fancy, and leaving the cheese doodles at home (we promise you won't miss them).
When it comes to Epicurean picnic foods, your options are nearly endless. That said, the most important thing to keep in mind during an epicurean picnic is to be as lavish as possible. Here, we highlight a few suggestions that will steer you in the right direction. 
Get comfy. Your picnic blanket has to be more than a sheet or beach towel. Get something soft and cozy to the touch. Washing machines were invented for grass stains, right?
It's all in how you carry it: there's no reason why the term picnic basket should be considered antiquated. Forget plastic bags and backpacks– make sure your goods are transported in a way that makes you eager to tear off the lid.
Wine? Why not. If you're not in the mood for wine, substitute with champagne or even beer. The key point here isn't expensive wine, but, rather, a fancy glass. Solo cups won't do– drink any (and all) beverages out of something that will  have you feeling like royalty.
Cheese. Such a simple, must-have for a picnic that can oh so simply go wrong in so many ways. Stick to quality. French and Dutch-made cheeses stimulate the palate with their every variety. Like with drinks, how you serve the cheese is just as important. Pack your best cutting board. 
Pâte works on its own for a regular picnic.  But for an Epicurean one? You need pâté's best friends to unlock its full potential, and those friends include everything from crackers to cucumbers to toasts– anything and everything that can be smeared upon. Take our Alexian Crackers, smear them with a bit of pâté and place a sliced cucumber square right in the middle. Now that's Epicurean in every sense of the word.
More to munch on: rillettes, dry cured meats like prosciutto or salami, baguette, fruits and pickled vegetables.
Dessert. From chocolates to pie to homemade cannolis, the key here (and to much of what you eat) is that handcrafted is luxury unto itself.
5 Cucumber Bite Recipes

Cucumber bites: the perfect healthy snack with plenty of crunch.
As savory as they are fulfilling, there are tons of different recipes for cucumber bites (because like pâté, they can pretty much go with everything). These bites of deliciousness are portable for picnics, easily shareable for group gatherings, and the coolness of the cucumber is particularly refreshing in warm weather.
The best part about cucumber bites? They're incredibly easy to make! Check out our five favorite recipes below.
Shrimp Cucumber Bites
Ingredients:
3 cucumbers
1 pound of cooked, peeled shrimp 
Cajun seasoning, to taste
2 tbsp lime juice
2 tbsp honey
2 cloves of garlic, finely minced
1/3 cup of olive oil
Sea salt, to taste
Guacamole (any brand)
2 tbsp of Cilantro, finely choppedInstructions:
Cut and peel cucumbers before slicing them into tokens.
Roughly chop shrimp
Combine lime juice, honey, garlic, and olive oil, n a bowl. Add shrimp and sprinkle in both cajun seasoning and sea salt.  Mix and let marinate. Pro tip: the longer you marinate, the more flavorful the shrimp.
Slather guacamole on cucumbers, add shrimp mixture, and garnish with cilantro.
Classic Dilly Cucumber Bites
Ingredients:
3 Cucumbers
1 pint of grape tomatoes, sliced
Container of Greek yogurt
An 8-ounce block of cream cheese
1 small container of ranch dressing
3 tbsp of fresh dill

Instructions:
Cut and peel cucumbers before slicing them into tokens. 
Combine yogurt, cream cheese, and dill in a bowl. Add ranch dressing for flavoring. 
Slather mixture on cucumbers and garnish with grape tomatoes. Yum!
Prosciutto Cheese Cucumber Bites with Prosciutto
Ingredients:
Instructions:
Cut and peel cucumbers before slicing into tokens
Slather eggplant and Goat Cheese Pâté onto each token
Garnish with prosciutto
Cucumber Bites
Ingredients:
Instructions:
Cut and peel cucumbers before slicing into tokens. Place thin slices of Chicken and Veal Pâté onto cucumber tokens.
Use toothpicks to stack cucumber, pâté, a slice of grape tomato, and parsley together.
Tomato Basil Cucumber Bites
Ingredients:
Instructions:
Cut and peel cucumbers before slicing into tokens. 
Spread Tomato Basil Pâté.
That's all you need for this simple yet savory snack!
Mother's Day With Alexian Pâté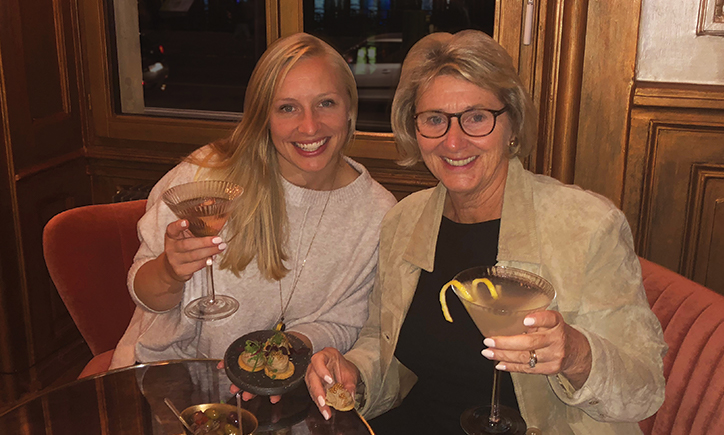 While you're familiar with our delicious pâté, you may not realize that Alexian Pâté is owned and operated by Laurie and Alexandra, who are mother and daughter. In honor of Mother's Day, we interviewed them about their experiences running award-winning, women-owned business together.
What's your favorite part about running a business with your mother/daughter?
Laurie: I get to be with my daughter every day!  And it's wonderful to execute and plan with someone who is so vested in the business.
Alexandra: I agree! Working together means we always have something to talk about. We can always bounce ideas off of one another, work through plans for improvement, and, most importantly, we are ableto share in our successes together. 
What are some challenges you face?
Laurie: Alexandra really wants my big office (laughs). On a serious note, her high energy level makes me aware of my inevitable ageing. We do disagree with each other occasionally, but not often. Disagreements are usually resolved after taking the time to recognize each other's knowledge and experience.  For example, she might defer to my many years of experience in growing and running a manufacturing business, but I will usually defer to her in matters of technology, communications, and giving enough time to fully examine an issue.
Alexandra: Yes, I'm after that big office of hers! (laughs)
Even though we are mother/daughter, our brains operate differently, so sometimes there are different approaches to things and we may not agree always.  Despite those differences, we do complement each other and we are usually able to come to the fairest and best solution.
At family gatherings, we find ourselves diving into work conversations because we are both so passionate about what we do. Finding the balance between work and personal/family time can be a challenge. 
What advice would you have for other mothers and daughters looking to run a business together?
Laurie: 
Clarify the goals and aspirations of both mother and daughter.
Be prepared to disagree and have a method for resolution, if needed. 
Understand and appreciate the talents and experience that each brings to the mission.
Alexandra: In addition to that:
Get yourselves into professional peer organizations. You'll often find other professionals in your position and they can give great feedback, advice, and support.
Embrace each other's strengths and differences, and realize that the way they may approach a challenge or situation may be different than yours. Just because there are different approaches doesn't mean that either is wrong. 
Make a plan to separate your business relationship from your family relationship.
What is your favorite "quality" about your mom/daughter? 
Laurie: It's definitely her attention to and patience with detail in any and all forms.
Alexandra: Her vast knowledge of business and our industry.  She is very business-minded and has creative ways of thinking about things and approaching challenges.  
How do you think Alexian Pâté reflects your relationship?
 Laurie: It is a very happy and fun brand that never forgets what made it great:  Attention to quality, food safety, and consideration for its employees.

Alexandra: Laurie and I may be family by genes, but we consider our team here to be like family too. A big part of Alexian's success can be attributed to our team of loyal employees and the care they put into the products that we make.  For decades, we have prided ourselves on making a top-quality product and we can't make that without a top-quality team!