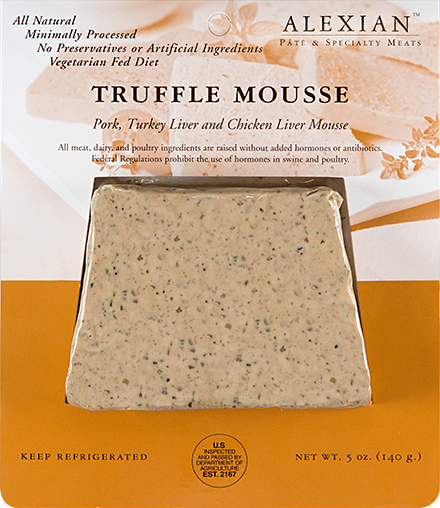 Creamy & Spreadable Mousses
Truffle Mousse
Truffle mousse pâté is a delightful mixture of rich flavors and creamy, delicate textures. The ultra smooth and rich truffle mousse paté is part of our selection of mousse patés, which are full-flavored and easy to spread.
Truffles have been culinary delights in Europe for centuries and have been gaining popularity among American chefs and home cooks in recent years. A type of mushroom that's famously difficult to cultivate because they can only grow in the wild, Truffles' scarcity and flavor makes them a true delicacy.
Often found at French restaurants, truffle mousse offers authentic French flavor that's delicious on its own or with a variety of accompaniments.
Ingredients
Made with pork, turkey and chicken liver, sherry, truffles, wild mushrooms and spices.
Pork Fat, Eggs, Turkey Liver, Milk, Chicken Liver, Sherry, Onions, Spices, Truffles, Salt, Garlic, Mushrooms
Contains Eggs and Milk.
Details
All natural ingredients
No preservatives, hormones or antibiotics
Keep refrigerated
Green Salad Verte – In France, simple green salads are called Salad Verte. A plate of cool curly greens and fresh, juicy summer vegetables is revitalizing on a warm day. While green salads are tasty and refreshing, they can be less than satiating. Enjoying a full-flavored, hearty delicacy like the Truffle Mousse Paté alongside salads creates an instantly light and satisfying meal.
Sliced Baguette – Thick French bread is perfect for a flavorful paté like the Truffle Mousse. Spreading the mousse on French bread is a traditional way to enjoy the paté, and you can add slices of juicy vegetables like tomatoes and carrots, which taste great with the creamy and sensuous texture.
Chilled French Wines – Truffle Mousse Paté has a delicate, complex flavor that comes alive when paired with wines. Try it with refreshing French wines like Rosé or Chardonnay for a delectable flavor combination. The crisp lightness of chilled wines brings out the best of the wild mushroom and truffle flavors. The rich flavor of the pâté is a great complement to the sweetness.