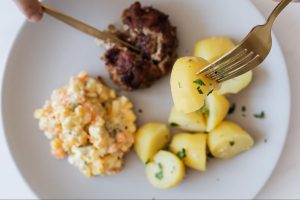 Germany shares borders with seven countries, including France, Poland, and Denmark. Perhaps because of this central geography, German cuisine is widely varied, with qualities both delicate and hearty. Perhaps the most famous celebration of German cuisine is the annual folk festival Oktoberfest. Though the official fest is held in Munich, people all around the world throw similarly-themed parties around this time. If you're having an Oktoberfest party – or just looking to branch out your cultural palate – here are a few ideas on traditional German dishes to cook, all with a little pâté twist!
Brâté & Bröchen
For a hassle-free homage to the classic German combo, enjoy a dollop of Sage and Pork Mousse pâté on dense, crispy white buns. Adorn with capers and mustard for some extra kick. And don't forget to serve with a pint of beer: here are our favorite brews to pair with pâté.
A Side of Käsespätzle
Although spaghettieis is a common after-dinner treat, German cuisine favors buttery, cheesy noodles in traditional dishes. Käsespätzle – likely the precursor to modern day mac and cheese – makes an excellent base for savory flavors. Try between bites of thinly sliced Grand Marnier pâté. 
Pâtéto Salad
German Kartoffelsalat is the mother of all potato salads, and is made all the more authentic with Wild Forest Mushroom pâté. For centuries, the German Black Forest has been a fruitful site for mushroom harvesting, so the flavors of this pâté blend well with tradition.
Pâté Dumplings
If you're up for indulging your inner chef, try making Maultaschen. Essentially, these are little savory raviolis filled with bacon, beef, veggies, or as we suggest, Truffle Mousse pâte. The trick here will be creating the dough from scratch, but one bite of the hearty, delicious finished product will be worth it!
Döner Kebab
Originally created by Turkish immigrants in the 1970s, this stuffed pita dish has evolved into a modern German lunchtime staple. The real thing is quite delectable, but you likely don't have a rotisserie set up in your house. So, substitute lamb meat for thin cuts of Chicken & Veal pâté, quickly pan-fried and then served in a pita with tzatziki, cucumber, and other Mediterranean favorites.
If you incorporate pâté into your own personal Oktoberfest, we'd love to see! Tag us on social media @alexian_pate.