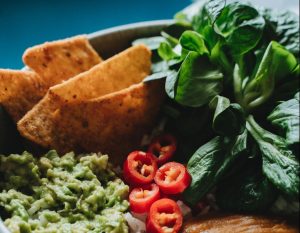 Craving something salty and savory? Nothing hits the spot quite like a plate full of nachos. Nachos can be as simple as chips, beans, and melted cheese, but we prefer the more "loaded" variety. Here's how to elevate your next serving of nachos with delicious toppings, creative garnishes, and of course, a bit of Alexian pâté magic.
Not-So-Basics
Set yourself up for nacho success by beginning with great base ingredients. Thicker corn tortilla chips will hold toppings better, and make sure to grate your own cheese for optimal meltiness. We recommend a combo of Monterey Jack, colby, and pepper jack.
Tons of Toppings
Proportions are totally subjective, but here's our personal recipe for success (measurements are per 1lb bag chips):
1 ripe tomato, diced
1 jalapeño, thinly sliced
½ can of sweet corn kernels
½ can sliced black olives
½ red pepper, chargrilled and thickly sliced
A dollop of quick pickled red onions
Pick Your Proteins
Include a can of pinto beans in your toppings mix, and set aside warm refried beans as a dip. Now's the best part: select your favorite coarse-cut pâté and crumble it by hand. Pheasant & Rosemary, Wild Forest Mushroom, and Pâté de Campagne will all bring a rich and savory profile to the dish.
The Art of the Bake
Baking nachos is an art of its own. Our advice? Foil line the pan, preheat to 350°F, and take your time. To preserve flavors and textures in every bite, bake in layers. Let the first layer of chips and cheese bake for five minutes. Then, add the juicier ingredients like corn, tomatoes, and beans, which can take a bit of heat. After those are sizzling, finish off the dish with the remaining toppings and pâté, allowing them just enough time to warm up. As you go, add more cheese and chips to your heart's delight!
Dinner is Served
Present your latest work of culinary art with a colorful array of dips and garnishes. No one will complain about fresh cilantro, lime slices, mole salsa, sour cream, and homemade guac. For next level-decadence, include a side of spreadable mousse pâté. Forget seconds – our Black Peppercorn or Truffle flavors will have your guests going back for thirds!