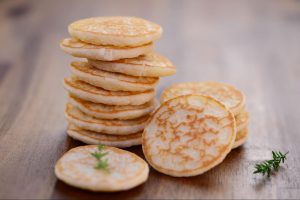 We have the perfect pairing for you to snack on.  Alexian Mousse on blinis are that sudden and delightful bite. In addition to the Alexian products you already know, we want to bring a delicious tip with blinis, which are an Eastern European mini pancake traditionally made from wheat or buckwheat flour, and served with several garnishes. Blini is one of the most-eaten dishes in this side of Europe, and we are introducing to you as the perfect match with our Alexian Mousse. Together they can be served on a variety of occasions since they are  great and tasty appetizers.
 Chicken Liver Mousse on Blinis:
This original duo will not  take more than a few minutes to prepare. Simply spread a generous portion of Alexian's Chicken Liver Mousse over some blinis,  and top with strawberry or grape jam.
The Chicken Liver Mousse's savory flavor is  perfect for  the sweetness of the jam. You may also slice some pickled grapes in half, and place on the pâté as a topping. 
Truffle Mousse on Blinis:
For this flavorsome combination, you need cherry tomatoes cut in half.  Spread Alexian's Truffle Mousse on the blinis,  and top with cherry tomatoes for a sensational degustation. The rich Truffle Mousse flavor is much for  each bite.
Duck Liver and Pork Mousse with Cognac 
Boasting a sophisticated flavor profile, Alexian award-winning pâté  is the fresh, natural and definitively delicious option for a pairing. For this match we spread Duck Liver and Pork Mousse with Cognac on the blinis, and we enhance the plate with pear slices and celery sticks. 
Enjoy with a glass of wine!