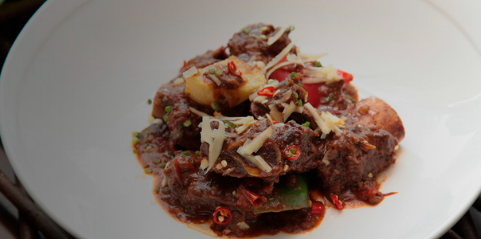 An iconic dish in the Philippines, Beef Kalderata is a savory beef stew cooked with creamy tomato sauce, fresh vegetables, and liver spread (in our case, pâté). Commonly served on holidays and special occasions, this spicy mainstay is flavorful and tender, offering melt-in-your-mouth meat and soul-satisfying comfort that's sure to impress. 
Read on below for the easy recipe.
Ingredients:
2 lbs beef cubed
3 pieces garlic cloves crushed and chopped
1 piece onion finely chopped
2 cups beef broth
1 piece red bell pepper sliced
1 piece green bell pepper sliced
1 cup tomato sauce
½ cup Alexian Truffle Mousse processed using blender
1 teaspoon chili flakes
3 pieces dried bay leaves
2 cups potatoes sliced
2 cups carrots sliced
1/4 cup cooking oil
? cup green olives
Salt and pepper, to taste
Instructions:
Heat the cooking oil in the cooking pot or pressure cooker.
Sauté the onion and garlic.
Add the beef. Cook for 5 minutes or until the color turns light brown.
Add the dried bay leaves and crushed pepper. Stir.
Add the pâté. Stir.
Pour-in the tomato sauce and beef broth.
Cook the beef until it becomes tender (about 30 mins if using a pressure cooker, or 1 to 2 hours if using an ordinary pot).
Add the potato and carrots. Cook for 8 to 10 minutes.
Put the green olives and bell peppers in the cooking pot. Stir and continue to cook for 5 minutes more.
Add salt and pepper, to taste.
Serve hot. Enjoy!