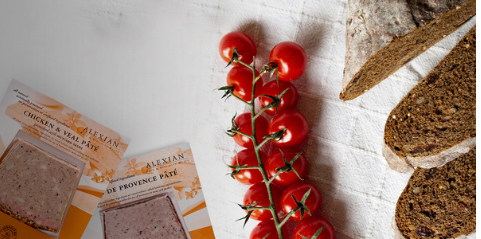 Read on as we highlight three flavorful and easy recipes involving the summer food pairing you should add to your repertoire ASAP: tomato and
pâté.
Crostini
An irresistibly simple Italian appetizer, crostini is crusty bread with different delicious toppings.
For our pâté-inspired version of this recipe, you will need:
1 loaf of fresh Italian bread, cut into thin diagonal pieces
8 oz of sharp white cheddar
1 pint of cherry tomatoes, sliced in half
1 slice of Chicken and Veal Pâté (or any one of our coarse pâtés)
First, slice your loaf into thin diagonal pieces. Then, cut the cheese and pâté into slices that will fit like puzzle pieces onto the slices of bread. To construct the crostini, place the cheese and pâté on the bread and top with the cherry tomato slice. Repeat until you've reached the desired number of crostini you wish to serve. Voila! 
Caprese Sandwich
A classic vegetarian Italian sandwich, a Caprese sandwich is a flavorful dish composed of fresh mozzarella, tomatoes, and sweet basil, seasoned with salt and olive oil.
For our pâté-inspired version of this recipe, you will need:
1 Italian sub roll
1/2 tablespoon extra-virgin olive oil
1/2 tablespoon balsamic glaze
3 thick slices fresh mozzarella (buffalo, if possible)
2 fresh Campari tomatoes (thickly sliced)
5 basil leaves
Salt, to taste
Freshly ground black pepper, to taste
1 slice of Alexian Sage and Pork Mousse
First, split open the roll and slice the tomatoes. Spread pâté, to taste, on the underside of the top half of the roll, then drizzle with extra virgin olive oil and balsamic glaze. Add basil and tomato to the bottom half of the roll and sprinkle with salt and pepper. Top with fresh mozzarella and, as the Italians would say, Mangia!
Tomato Pasta Salad
Featuring large chunks of ripe tomatoes, fresh basil, tangy red onion, and Parmesan cheese,  Tomato Pasta Salad is a satisfying meal that everyone will love.
For our pâté-inspired version of this recipe, you will need:
5 tablespoons olive oil
1/2 cup chopped fresh basil
1/2 cup red onion
2 large garlic cloves, chopped
1 1/4 pounds tomatoes, chopped
8 ounces penne pasta
1/2 cup grated Parmesan cheese
Salt and pepper, to taste
1 slice of Alexian Pâté de Campagne
In a large bowl, mix the tomatoes, garlic, salt, pepper, oil, basil, red onion, and Parmesan cheese. Cover, then refrigerate for around two hours to blend the flavors. Meanwhile, cook and drain pasta as you would normally. Rinse with cold water to cool; drain. Slice the pâté into small chunks and let it get to room temperature. In a large serving bowl, mix cooked pasta, tomato mixture, and pâté until well combined. Sprinkle extra Parmesan cheese over top, to taste.