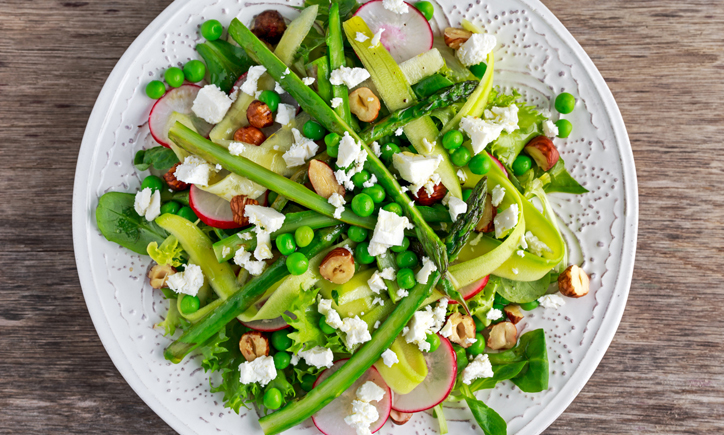 Summer salads are one of life's finer things. When you pair them with another of life's finer things, such as our pâté – it's a pure delight. Some of our favorite summertime combinations are shown below.
Don't feel limited by our recipes, however! Pairing pâté s with fresh fruits and vegetable is easy. We'd love to hear how you enjoy your pâté s in the summertime. Tag us on Facebook or Instagram and share your creations!
Fresh Mango Salad
When we think of summertime salads, we think of bright, fresh flavors. For this salad, we bring together three of the best things about summer: raspberries, avocados, and mangoes. To make it hearty enough for a dinner, we use our Chicken Ballotine. Made from chicken breast and hints of tropical fruits and pistachios, this pâté makes the perfect summertime protein.
Ingredients:
Dressing:
• ½ cup fresh raspberries
• ? cup extra-virgin olive oil
• ? cup red-wine vinegar
• 1 small clove garlic, coarsely chopped
• ¼ teaspoon kosher salt
• ? teaspoon freshly ground pepper
Salad:
• Alexian Chicken Ballotine, cubed
• 1 cup fresh raspberries
• 8 cups of spinach (or salad greens of your choosing)
• 1 ripe mango, diced
• 1 ripe avocado, diced
• ½ cup thinly sliced red onion
• ¼ cup toasted chopped pistachios, optional
Preparation:
1. To make the dressing, puree ½ cup raspberries, oil, vinegar, garlic, salt and pepper in a blender until combined.
2. Divide the greens among serving dishes. Top each plate of greens with ¼ cup of the Chicken Ballotine
3. In a medium bowl, combine mango, avocado, remaining raspberries and onion. Pour the dressing on top and gently toss to coat.
4. Top each with pistachios, and enjoy!
Cranberry Pecan
Tart cranberries, nutty pecans and savory Chicken and Veal Pâté come together to create our go-to salad for hazy summer afternoons.
Ingredients:
• Chicken and Veal Pâté, cubed
• 1 cup pecan halves, roasted
• 2 tablespoons raspberry vinegar
• 1/2 teaspoon Dijon mustard
• 1/2 teaspoon sugar
• 1/2 teaspoon salt
• freshly ground black pepper to taste (optional)
• 6 tablespoons olive oil
• 6 cups mixed salad greens, rinsed and dried
• 3/4 cup dried cranberries
• 1/2 medium red onion, thinly sliced
• crumbled goat cheese
Directions:
1. In a small bowl, stir together the vinegar, mustard, sugar, salt, and pepper; mix until sugar and salt dissolve. Whisk in olive oil.
2. In a salad bowl, toss together the greens, cranberries, pecans, onions, and cheese. Top with the Chicken and Veal cubes. Drizzle with vinaigrette before serving.
Green Goddess
The Green Goddess salad is one that everyone has their own variation of and recipe for. Some people put chickpeas, others put chopped bacon, we use our Herb de Provence Chicken Pâté . The creamy avocado and crunchy fresh greens mesh perfectly with the fresh blend of herbs in our pâté to create a more sophisticated take on the salad.
Ingredients:
• Herb de Provence Chicken Pâté , cubed
• 6 cups spinach
• ½ cucumber, sliced
• 1 ½ cups pea shoots
• ? cup feta cheese
• ½ cup almonds, chopped
• 1 avocado, cut into chunks
Directions:
Combine and toss the ingredients, top with your favorite Green Goddess dressing. You can find one of our favorite recipes, here, if you'd like to make your from scratch!
Caprese Salad
Caprese salad are almost synonymous with summer – light, refreshing and filling, the classic combination of basil, tomato and mozzarella is always a good choice. Our rendition gives the traditional salad a modern twist – using our Tomato Basil Pâté and a handful of fresh spinach.
Ingredients:
• Alexian Tomato Basil Pâté , sliced
• 8 oz. fresh mozzarella, sliced
• Balsamic vinegar or dressing
Alternate placing slices of Tomato Basil and mozzarrella on a plate. Drizzle with your choice of balsamic and garnish with fresh basil.