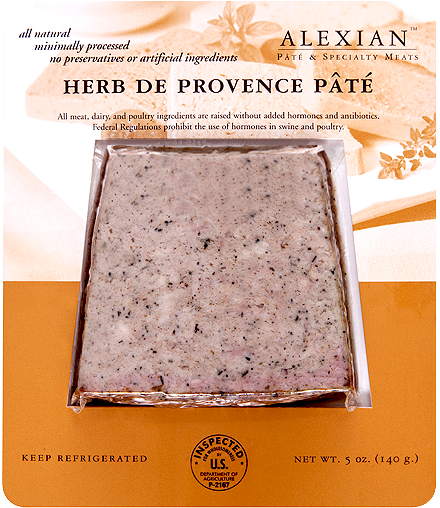 Coarse Cut Pâtés
Herb de Provence
Ingredients
Breast of chicken, chicken liver and rum with the classic French blend of herbs, featuring lavender.
Chicken, Milk, Chicken Liver, Onions, Rum, Nonfat Dry Milk, Salt, Spices, Garlic
Contains Milk.
Details
All natural ingredients
No preservatives, hormones or antibiotics
Keep refrigerated
Slice thin and slice on your favorite bread. Serve with wine.
Put on Tartines, they make delicious snacks and party appetizers and can be made in just few minutes.
You could simply cube the pate and spear it with a toothpick for hors d'oeuvres. Serve with chornichons and mustard.