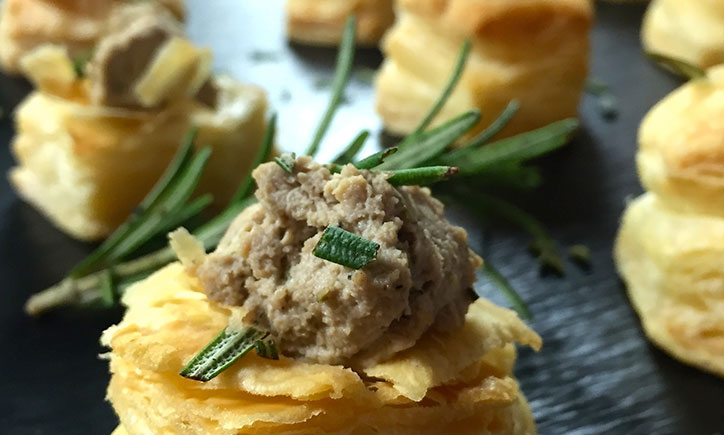 Whether you're entertaining during the holidays or any time of the year, pâté and puff pastries are two foods that add an element of elegance to the occasion. And, when you combine the two, you've got an appetizer that's certain to impress.
Puff pastries appeal to all the senses. They look like perfect little packages, each one filled with a tasty surprise. The outside is buttery and flaky, and the inside is typically a rich, creamy consistency.
This recipe for chicken bundles is a perfect example. The recipe uses premade puff pastries and only four main ingredients for the filling — chicken, artichoke hearts, cream cheese and green onions — so it's incredibly easy to make. For an even simpler recipe, fill the puff pastries with our Grand Marnier pâté. Voilà! An instant hit!
For cheese lovers, brie is always a favorite. Sure, you can just slather on some raspberry jam and call it a day, or you can add dried cranberries, slivered almonds and enwrap it in puff pastry. Serve this Holiday Brie En Croute ("en croute" means "in a pastry crust") with our specialty crackers.
Asparagus spears wrapped in puffed pastry spirals are pleasing to the eye and the palate. Prosciutto or ham adds a little "bite" but can be omitted for a vegetarian version. Platter the spears with our truffle mousse for an irresistible appetizer.
Individual puff pastry tartlets look like little stars, and they'll be the star of your holiday spread. These Eggplant Parmesan Tartlets are a great twist on the Italian classic. Or, fill the tartlets with our Duck Liver Mousse with Cognac for a more sophisticated (and easy) appetizer.
For these Puff Pastry Holly Leaves, you'll need a holly leaf-shaped cookie cutter and frozen puff pastry, plus pimiento for the "berries." In this recipe, the filling is cream cheese, feta, pesto and seasonings. But you can make your own culinary creation by filling with the pâté of your choice.
This holiday, start with puff pastry then add pâté and a little imagination. You'll be on your way to crowd-pleasing holiday appetizers.