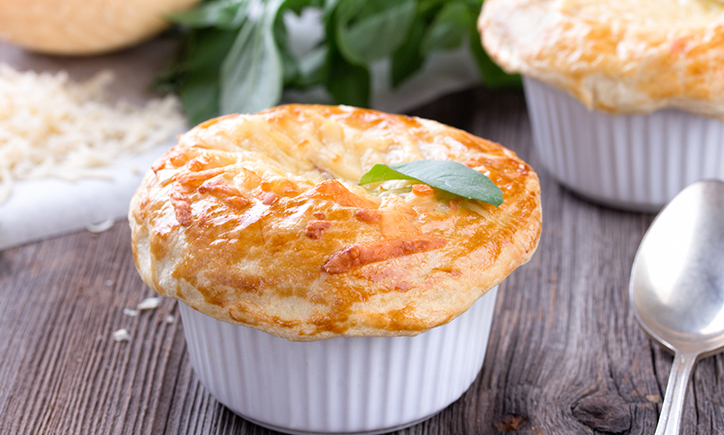 Chicken pot pie is a dish that elicits a smile no matter what. It's cozy comfort food that has been passed down for generations. Upgrade this classic dish with pâté and create a flavor profile your loved ones haven't experienced before. For this recipe, which makes two pot pies, we will use store-bought pie crust as it's a helpful hack when you don't want to spend time making a crust from scratch.
Ingredients:
• 2 cups diced peeled potatoes
• 1-3/4 cups sliced carrots
• 1 cup butter, cubed
• 2/3 cup chopped onion
• 1 cup all-purpose flour
• 1-3/4 teaspoons salt
• 1 teaspoon dried thyme
• 3/4 teaspoon pepper
• 3 cups chicken broth
• 1-1/2 cups whole milk
• 4 cups cooked chicken
• 1 cup frozen peas
• 1 cup frozen corn
• 4 sheets refrigerated pie crust
• 1 slice of your favorite Alexian coarse cut pâté, cubed
First preheat oven to 425°. Place potatoes and carrots in a large saucepan; add water to cover. Bring to a boil. Reduce heat; cook, covered, 8-10 minutes or until crisp-tender; drain. In a large skillet, heat butter over medium-high heat. Add onion; cook and stir until tender. Stir in flour and seasonings until blended. Gradually stir in broth and milk. Bring to a boil, stirring constantly; cook and stir 2 minutes or until thickened. Stir in the potato mixture, chicken, peas, corn, and pâté; remove from heat.
Unroll a pie crust into a 9-in. pie plate, using one crust per plate; trim even with the rim of the plate. Add chicken mixture. Unroll remaining crusts; place over filling. Trim, seal and flute edges. Cut slits in tops. Bake 35-40 minutes or until crust is lightly browned. Let stand 15 minutes before cutting.
Freeze option: Cover and freeze unbaked pies. To use, remove from freezer 30 minutes before baking. Preheat oven to 425°. Place pies on baking sheets; cover loosely with foil. Bake 30 minutes. Reduce oven setting to 350°; bake 70-80 minutes longer or until crust is golden brown and a thermometer inserted in the center reads 165°.
Take out of oven and let cool slightly. . Freshly baked, chicken pot pie will last up to 5 days in the refrigerator.
Beef Wellington is a rich, satisfying entree often featured on the menus of high end restaurants. But the dish is surprisingly easy to make at home, especially with Alexian Pâté and pre-made puff pastry dough. This famous dish features a tender beef fillet covered with pâté and a mixture of sautéed mushrooms, shallots, onions and herbs. The covered beef is wrapped in pastry and baked to a golden brown.
Ingredients:
• 1 Slice of Alexian Black Peppercorn Mousse
• 1 Store bought puff pastry
• 2 lb beef fillet
• 1 lb mushrooms
• 1 onion
• 3 oz butter
To make, simply sear the beef on all sides and roast at 375° for about a half hour. While the beef cooks, sauté the mushrooms and onions in butter until soft. Remove the beef and coat with a generous portion of Alexian Black Peppercorn Mousse . Add a layer of the mushroom mixture on top and then wrap the whole thing in the puff pastry. Put it back in the oven until golden brown.
Serve with potatoes, peas, carrots and a full bodied red wine.