Easy Brunch Crepes with Pâté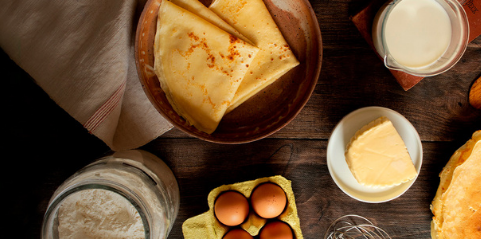 Easy Brunch Crepes with Pâté 

Universally adored and conveniently adaptable to endless food combinations, who doesn't love a delicious brunch crepe— especially when it involves pâté? Read on as we highlight our top three favorite pâté-inspired, mid-day crepe recipes.

Savory Chicken Crepe

 One of our favorite chicken crepe recipes is as easy as it is delicious, and essentially only involves four ingredients: Truffle Mousse, shredded chicken, asparagus, and roasted tomatoes. 

Spread a thin layer of the Truffle Mousse on a crispy golden crepe. Lightly sprinkle some of the shredded chicken on top, in addition to the asparagus and roasted tomatoes. Add salt and pepper to taste.

Pro tip: We suggest slowly building on these ingredients instead of going all in at once, as the last thing you want is your crepe to fall apart. And naturally, if you're keener on other vegetables— or on adding some cheesy elements— feel free to experiment as you see fit.

Vegan Crepe

Made with just six ingredients, this vegan crepe recipe is ridiculously simple— and extraordinarily delicious. All you'll need is Earthy Mushroom pâté, chickpeas, diced onion, minced garlic, spinach, and soy sauce. 

In a skillet, heat the oil over medium heat and add the diced onion and Earthy Mushroom pâté. Sauté for 3-4 minutes before adding the chickpeas and soy sauce. Stir occasionally. 

Fry for a few more minutes and stir in the minced garlic. Toss in the spinach and cook for 1-2 more minutes, then turn off the heat. 

Place the filling in a food processor or blender for some seconds, and then spread 1½ to 2 tablespoons of the filling onto a dairy-free crepe. Salt and pepper to taste. Voila!

Gourmet Duck Crepe

We know what you're thinking: Gourmet? I thought this article was supposed to be about easy crepe recipes. News flash: This culinary creation is about as easy as it gets, as it involves only three ingredients. Yes, you read that right. Three.

Duck Rillette is rich and full of flavor, making it the perfect filling for a gourmet brunch crepe, as well as the star of this recipe. The other two ingredients are sautéed onions and bell peppers. That's it.

Once you've sautéed the vegetables (preferably with some minced garlic, salt, and pepper), spread the Duck Rillette onto a crispy crepe. Add the sautéed onions and bell peppers. 

Overall, the crispy vegetables should cut through the savory creaminess of the Rillette to create a gourmet flavor that'll take your taste buds to new levels of deliciousness. 

An Ode to the Comté et Pâté Baguette Sandwich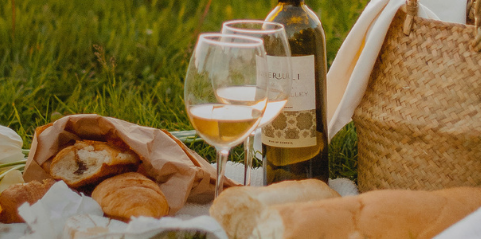 Sandwiches have undergone a sharp makeover throughout the past decade. Once dubbed as dreary lunchbox staples, they're now seen as indestructible menu heroes— from gourmet chicken wafflewiches to luxurious grilled cheeses, there's no denying we're in the absolute golden age of sandwiches.
That said, there's one hearty sandwich in particular we think might just be the best thing since sliced bread: the Comté et pâté baguette sandwich.
An indulgent beauty, the Comté et pâté baguette sandwich incorporates all of our favorite ingredients: pâté, cheese, and crunchy accessories. It's a decadently fresh yet filling dish that's perfect for lunch, dinner, or anything in between.
The picnic-ready sandwich is made up of simple components and is even simpler to put together. Essentially, the only ingredients needed are:
2 oz Comté
1.5 oz Alexian Truffle Mousse
1 demi French baguette
8 thin slices of radish
4 cornichons, cut in half lengthwise
Whole grain mustard
Once you've gathered all of the above, spread the Truffle Mousse over the bottom slice of the baguette. Layer the cornichons and radish over it, and then add the Comté on top. Spread the whole grain mustard on the top slice of the baguette. 

Before closing the sandwich, make sure everything is evenly spaced— that is unless you like sandwiches that send juices running down your elbows. 

Once the sandwich is ready to go, pour yourself a nice glass of wine or bubbly (we suggest: Pinot Noir or Prosecco) and enjoy!

Our Top 5 Pâté Recipes for Summer 2021: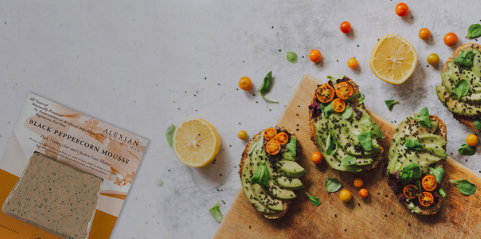 When the sun's out, no-fuss meals that are full of flavor are in. Read on below as we highlight our top 5 pâté recipes for summer 2021. 

Avocado Toast

Give this foodie favorite a gourmet flair and elevate your avocado toast by spreading a layer of our velvety-smooth Black Peppercorn Mousse.

Delicately gloss the Mousse on toasted whole-grain bread, and then top it with mashed avocado. Season lightly with salt and pepper. For added flavor, sprinkle a few diced cherry tomatoes or onions on top. And if you're looking to get really fancy with it, sprinkle on some chopped almonds and a drizzle of smoked olive oil. Yum!

Pita Pockets

Next time you're tempted to reach into the freezer for a Hot Pocket, try this far more satisfying recipe instead.

Simply boil two eggs to your preferred consistency— a softer boiled egg lends more creaminess. Once cooked, let the eggs cool, peel them, and chop. Stir in two generous spoonfuls of our Truffle Mousse and season to your preference. Fill the pita with your Mousse mixture, crunchy lettuce, and tomatoes— that's it!  

Jam-packed with protein and healthy grains, this pita pocket is the perfect pick-me-up (and way, way healthier than that Hot Pocket you've been eyeing!).

Grilled Vegetables

As delicious as it is healthy, all that you need for this easy plant-based recipe is a colorful mix of summer vegetables and our Tomato Basil Vegan Pâté.

Slice the vegetables (think: zucchini, squash, and peppers) into long slices and place them on the grill. Once toasted to perfection and slightly charred, spread a thin layer of the Tomato Basil Vegan Pâté onto them and enjoy as is. Yes, it's that easy!

Stuffed Peppers

Stuffed peppers are an almost universally enjoyed dish, and they're easy to make meatless.

One recipe we love is stuffed red bell peppers with our Curry and Bell Pepper Pâté, couscous, and smoked cheddar. For a summertime twist, prepare all ingredients that need to be cooked indoors, then wrap the bell peppers in aluminum foil and throw them on the grill until just tender. Easy and delicious? Count us in!

Chicken and Veal Pâté + Spicy Dijon Mustard Sandwich 

Let's face it: Nothing beats a sandwich for lunch. And when it comes to a pâté sandwich, our Chicken and Veal Coarse Cut makes for a decadent base and is our inspiration behind this go-to recipe.

Slice a fresh baguette, spread a generous helping of spicy dijon mustard, and stack on your Chicken and Veal Coarse Cut Pâté. Add fresh fennel for a little crunch (or a good 'ol bag of chips!), and voila.

Pro tip: This recipe requires minimal prep work as-is, but can easily be jazzed up with cracked pepper, spinach, mixed fresh herbs, or sliced tomatoes.

Treat Dad to these Pâté Sandwich Recipes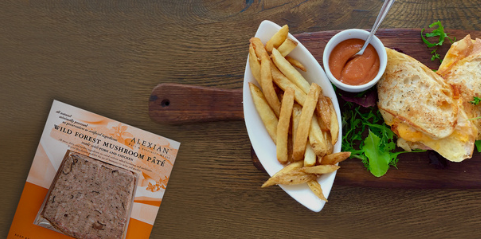 Treat Dad to the best pâté sandwich recipes and get ideas for the perfect Father's Day Sunday. Trust us when we say that these easy recipes—from an irresistibly gooey grilled cheese to a Thai-inspired dish—will please the whole fam. 

The American Classic

Is there anything better than biting into a hearty baguette? Only biting into a hearty baguette that's topped with our Herb de Provence Pâté! For a sandwich that's sure to please, we suggest layering our pâté with pickled vegetables (think: green beans, radishes, and carrots), crisp frisée, and creamy dijon aioli.

Feel free to experiment with fresh vegetables— like sliced tomato or onion— as well. Remember: You can't go wrong with additional greens!

The Thai Twist

A deliciously fun play on the classic Banh Mi, our rendition of this sandwich couples our Chicken Liver Pâté with traditional Vietnamese pork for additional depth in flavor. Stuffed full of fresh veggies and herbs for a burst of freshness, this sandwich will leave you and Pops craving for more.

For an extra layer of flavor, try incorporating any one of our vegan varieties into the mix. The interplay of flavors will do wonders for your taste buds (and Dad's!).

The Veggie Blend

First, julienne and sauté your choice of veggies (we suggest opting for mushrooms, onions, and peppers). Slice a fresh baguette in half and evenly toast both sides. Spread a smooth layer of Dijon on the inside of the warm, crispy bread. For your sandwich filling, include a few thin slices of our Herb de Provence Pâté, and stuff to the brim with the warm vegetables you prepared. Yum.

The Grilled Cheese 

We know what you might be asking yourself: A grilled cheese on Father's Day? The answer: Yes. But we're not just talking any grilled cheese here— we're talking a decadent pâté-inspired one.

For an "adult" twist on a grilled cheese you can turn to again and again, gather shredded white cheddar, sliced Swiss, a thick sliced bread, grilled onions, and our Wild Forest Mushroom Pâté.

Butter one side of two slices of bread. Add a thin slice of our Forest Mushroom Pâté, top with a slice of Swiss cheese, a sprinkle of white cheddar cheese, the grilled onions, another slice of Swiss, and finally the other slice of bread. Cook butter-side-down in a nonstick pan until golden brown on each side. 

The Brunch Special

Turns out, Dads love brunch just as Moms do!

Start with a fresh, crusty baguette from your local bakery. Cut in half and lightly toast it. Spread a generous helping of our Truffle Mousse Pâté. Sauté a few mushrooms, fry an egg, and gently place them on top. On the opposite side of the baguette, spread whole grain mustard. Last step: Enjoy!

10 People Share their Summertime Pâté Cooking Plans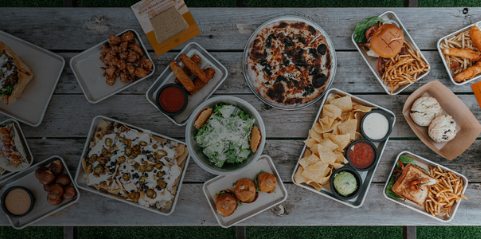 Summer is just around the corner, and you know what that means: margaritas, pool time, and pâté. Erm, OK, so pâté isn't technically a "summer thing," but that doesn't mean it can't be. In fact, we sought out to hear from several pâté enthusiasts on how they incorporate the French classic into their summertime dishes— and as it turns out, they had a lot to say. 

Read on as 10 people reveal their favorite go-to summertime recipes when it comes to pâté.

"As soon as summer hits, I plan on creating one of my favorite recipes: pâté-stuffed mushrooms. I typically use Grand Marnier pâté, but the recipe works with just about any variety. It's perfect as a light appetizer for a garden party."— Aly C., 28

"Summertime calls for a pâté Caprese sandwich. First, I cut open the roll, slice the tomatoes, and spread pâté, to taste, on the underside of the top half of the roll. Then, I drizzle the dish with extra virgin olive oil and balsamic glaze. Add basil and tomato to the bottom half of the roll and sprinkle with salt and pepper. Top with fresh mozzarella and enjoy." — David F., 33

"A light dish I love making once the weather warms up is tomato pasta salad. I typically incorporate 1 slice of Alexian Pâté de Campagne into the mix and top it off with some Parmesan cheese. So good!" — Rachel B., 31

"I'm all about enjoying a simple crostini by the pool. To make one, I place cheese and pâté on the bread and top with a cherry tomato slice. It's a delicious snack I never get tired of!"— Barbara S., 25

 "I like to whip up a scrumptious omelette on summer weekends for me and my partner. And sometimes, if I'm feeling particularly adventurous, I incorporate coarse pâtés, diced and cubed, into the mix. My go-to is chicken and veal pâté as it pairs well with cheese, tomatoes, peppers, and onions."— Peter J., 30

"As a big fan of savory crepes, a go-to summer staple of mine is Truffle Mousse with shredded chicken, asparagus, and roasted tomatoes. It's honestly heaven-sent and way, WAY better than any banana-Nutella combo."— Amy S, 26

"I like to get creative with my summer salads, and often toss Chicken Ballotine on top of my bed of greens. It's a unique addition that instantly upgrades my meal."— Laura A, 35

"I like to use Chicken Ballotine pâté as a base for my lunch wraps during the summer. After I cut it into bite-sized chunks, I mix it up with slices of pineapple, avocado, leafy greens, fresh bell peppers, and a light vinaigrette. The result is a tropical and fresh flavor that makes me feel like I'm lounging somewhere in the Caribbean— and not sitting at home in New Jersey."— Jon D, 37

"For dinner on cool summer nights, I like to make pasta with Alexian Black Peppercorn Mousse for the whole family. The mousse adds a melt-in-your-mouth creamy texture to the pasta that's better than anything I've ever ordered at a 5-star restaurant. "—  Leslie T., 44

"During BBQ season, I'm a big fan of grilling pâté-topped bistro burgers. My usual go-to's are Alexian Truffle Mousse or Black Peppercorn with a layer of melted cheese, lettuce, caramelized onions, and sautéed mushrooms. It's perfect for a summer cookout or anytime you want a special occasion burger from the comfort of your own home."—  Dan F., 30

Leftover Pâté Pasta Sauce? Yes, Please!

Have some leftover pâté? Two words: pasta sauce. Yes, you read that right.

As it turns out, leftover pâté is a great way to whip up some deliciously creamy gravy for your spaghetti or tagliatelle. While pâté won't necessarily translate into a thick, blanket-like sauce, it does make for a good light and refreshing variety.

So, exactly what is the recipe?

First, cook the pasta as you normally would in a large pan of boiling water. When it's almost ready, scoop out of a cup of the pasta cooking water and keep it on the side. Trust us: You'll need it.

While the pasta is cooking, place butter into a frying pan and gentle sauté onion and garlic. Once soft, add the leftover mousse(of your choosing) until it melts. Then, add sherry, wine, or lemon juice, depending on your palette. If you want to get creative, feel free to toss is add 7-10 grapes or cherry tomatoes that you've cut into quarters.

Gently stir for around five minutes before you pour in the pasta cooking water to make the sauce. And lastly, season to taste.

Gluten-free or vegan? Simply spice up the recipe with gluten-free pasta and any one of our vegan pâtés.

Enjoy!

The Ultimate Guide to Your Next Pâté Garden Party


Everyone loves a garden party. And while spring weather is notoriously a little temperamental, it's worth braving for an alfresco afternoon among loved ones

After what has felt like the longest winter, like, ever, of being cooped up inside, nothing feels more satisfying (and fun!) than soaking in the long-awaited sun. Think: delicious drinks, savory seasonal food, and pâté. Lots and lots of pâté.

Here, we highlight the ultimate guide to your next pâté garden party.

Dip is Essential

Make room for the life of the party: dips. We suggest making a dip for tortilla or pita chips by lightly mashing a vegetable or vegan pâté with a fork. Featuring a colorful three-layer composition of spinach, broccoli, cauliflower, and carrot mousses, our Vegetable pâté is a perfect choice for this appetizer. Warning: will be gone in 10 seconds flat.

Get Seasonal with Fruits

It's no surprise that spring equates to gardening, fresh vegetables, and fresh fruits. In the case of a garden party, we suggest serving pâté slices with fruit. Namely, brandied cherries and/or sour cherries. Sprinkle them in with some extra Cognac or Brandy and… Voila!

Become One with the Grill

Grilling recipes are perfect for a garden party because, well, you don't have to cook anything inside (especially important during these times). If you're grilling steak, spread Truffle Mousse over the top of the meat once it has come right off of the grill for a European twist to an American classic.

More of a plant-based person? Don't panic: Grill a mix of summer or spring vegetables, cut into long slices, then spread a thin layer of our vegan Tomato-Basil pâté on top while they are still warm. Yum!

Indulge in Libations

Really looking to make your garden party the talk of the town? One word: wine. And lots of it.

When it comes to white wine, Chardonnay pairs beautifully with Sage & Pork Mousse and Truffle Mousse, while Riesling is a lovely accompaniment to Chicken Liver Mousse and Mushroom Artichoke.

As for reds, we suggest a glass of Pinot Noir with our Forest Mushroom or Pheasant Rosemary for a beautiful-yet-boozing pairing. More of a Merlot or Rosé enthusiast? Then opt for our Grand Marnier variety, boasting hearty flavors of cognac and fresh orange.

Cheers!

5 Things You Didn't Know About Alexian Pâté


You may have singled out pâté as everything you need to know about Alexian, but the truth is there's much more to us than meets the eye (or shall we say, plate). Here, we highlight five tidbits of trivia to ponder as you munch away at (hopefully our) pâté!

We're a Women-Owned Business

Women are behind many successful and growing companies— and Alexian Pâté is one of them.

We are certified as a Women Owned Business, by the Women's Business Enterprise National Council (WBENC), and we will be celebrating our 39th anniversary this year. Not to toot our own horn, but we'd like to take this moment to quote Queen Bey and say… Who run the world? Girls!

We're Also a Mother/Daughter Business

Yes, it's true: Alexian is run by mother-daughter duo, Laurie and Alexandra. In fact, last May, we actually explored what really goes into a mother-daughter business — and how it affects their relationship — via our Mother's Day blog post, "Mother's Day with Alexian Pâté."

We Love Community

We believe in helping others and supporting communities. We make regular donations to our local food banks, support national programs which provide assistance to those in need by way of home cooked meals, and donate to disaster recovery programs.

In addition, our pâtés are packaged in printed cardboard sleeves that carry the seal of the Forest Stewardship Council®, certifying that the sourcing of materials promotes responsible and sustainable forest management to support local communities. The corrugated cartons used to ship Alexian products are made from recycled materials and printed with water-based inks.

We Stand by Humane Farm Animal Care

A question we often get us asked here at Alexian about our meat-based products is: "Are the animals humanely raised?" The answer is yes!

Each farm and ranch from which we purchase our meat ingredients, practices good animal husbandry. Their animals are treated humanely, live comfortably, and live stress-free. They have access to the outdoors to roam freely as weather permits; they live in minimal confinement and have adequate space to move and perform the functions natural to their species; they have access to food and water and protection from the elements; and their diet is balanced with the proper nutrients and is free from any animal by-product

We Keep It Natural

All of our pâtés — yes, all — are 100% natural and feature no artificial colors, no preservatives, and no fillers. Additionally, the vendors from which we source the meats used in our pâtés certify that they are free from added hormones and antibiotics.

Our Favorite Pâté Quotes of the Decade

If you're looking to learn a little more about pâté, there's no need to dig through cookbooks for knowledge. These quotes about pâte— from food critics to the late Anthony Bourdain — will surely resonate.

Read on below as we unveil our favorite pâté quotes of the decade!

On first-time pâté nerves…

"You've made meatloaf, right? You've eaten cold meatloaf, yes? If so, you're halfway to pâté. Nothing to be scared of!" — Anthony Bourdain, Chef, Book Author, Journalist, and Travel Documentarian

On the must-have flavors and textures…

"Pâté is cashmere for the palate. Smooth, rich and decadent, it seems more sinful than it is." — Kathleen Willcox, Author of "Hudson Valley Wine: A History of Taste & Terroir."

On the benefits (taste and otherwise) of indulging…

"It may be an acquired taste, but it's something that you should go out of your way to acquire—like a learned language, or a rare book. The iron-y, gamey taste of liver, the most accessible of all the organ meats, sharpens all that it accompanies. It makes red wine richer and cheeses acid-bright; it can make your conversation wittier with each bite. It can make a lazy, homebound Sunday feel accomplished." — Talia Lavin, Guest Contributor at Bon Appétit and Author of "Culture Warlords"

On the effortless plating…

"Foams and ballotines may impress MasterChef judges, but they'll never hit the spot like a buttery hunk of pâté… It's luxurious enough to make the table for your festive feasts (and can be made days in advance) but is easy to throw together for lunch all year round. Did I mention it's dangerously easy too?" — Felicity Cloake, Author of Six Cookbooks and Past Winner of the Guild of Food Writers awards for Food Journalist of the Year

On how to serve it…

"Good bread and cornichons, of course. Other pickled vegetables are good, too. And wine! It is important to have a balance with the rich flavors of pâté. Always have wine with pâté." — Chef Antoine Westermann of Parisian bistro Le Coq Rico, speaking to Food Republic Senior Editor Jess Kapadia

Our Guide to a Festive Charcuterie Board

The holidays may be a little different this year, with fewer of our family and friends around the table, but you can still keep the holiday spirit alive with a show stopping dish. Two words: Charcuterie. Board.
We know, we know. You're probably asking yourself: But how exactly do I transform a regular 'ol charcuterie board into a magically festive meal for the holidays? Don't fret: We're here to help!
Here, we lay out everything you need to know about creating a holly jolly (not to mention, delicious!) charcuterie board for the holiday season.
The Cheeses
We suggest keeping it simple and using only three or four of your favorite cheeses. For a holiday charcuterie board, we always opt for a creamy Brie, a sharp cheddar, and a logof goat cheese. Not only are these cheeses well-loved by everyone, they're also affordable and provide a nice variety..
The Meat
You didn't think we'd go a whole blog post without mentioning pâté did you? When it comes to our holiday charcuterie boards, our top picks are our Grand Marnier, Chicken & Veal, and Herb de Provence. Also consider adding a smooth, spreadable option like our Truffle Mousse or Duck Liver Mousse with Cognac. Decadent and fulfilling, these pâtés can be perfectly paired with a multitude of cheeses and crackers, and are also always holiday favorites.
Hosting a vegan or vegetarian affair? Don't panic: There's pâté for that as well!
The Theme
Preparing a charcuterie board is like decorating: You can put a beautiful platter together with a mix of colors, textures, and shapes– just like you would a home. That's why when it comes to a holiday charcuterie board, we suggest sticking to a theme; one that includes reds, greens, and whites.
Pears, grapes, and pomegranates are winter fruits that match the Christmas theme, while cranberries also add a dash of holiday spirit. Nuts and olives are a great festive choice as well, as well as some fresh rosemary. Oh, and don't forget the crackers!
Overall, it's essential to remember to place the large items like cheese and meats first. Then, fill in with nuts, fruit, and so on.
Happy holidays!