One Bite Delights!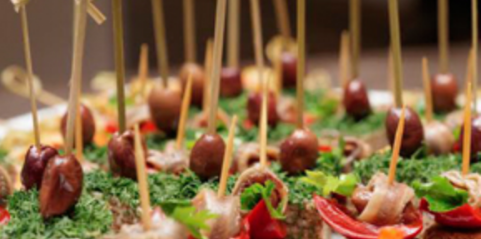 Entertaining at home can be fun! Alexian makes it easy to whip up fun, creative yet simple finger foods and one-bite appetizers.

Create a sampler platter and allow guests to create their own one-bite delights. Present a few different pâtés next to each other and show off a variety of colors, textures and flavors. Make it festive by forgoing labels and letting partygoers guess the flavors and ingredients.

Simply arrange some small, garnished plates and make finger food-sized portions of pâté available. If your guests are new to pâtés, we recommend offering a smooth and creamy mousse. Our duck liver mousse with Cognac is a best seller and even children love it.

All Alexian varieties can be paired with chunks of bread, cheeses and small portions of vegetables. Our pâtés are playful foods, so don't be afraid to experiment with ingredients. Here are some of our favorite combinations for single-bite party foods.

– Baked potatoes with Duck Rillette. Slice the potatoes in half the long way, add a generous dollop of pâté in the middle and cut into fourths to serve on toothpicks.

– Hallowed out zucchinis, peppers and tomatoes can be filled with pâtés like Pheasant Rosemary, Campagne or Grand Marnier. Cut them into small pieces and serve on toothpicks.

Our Gooiest Cheese Dip Recipes for the Holidays

Get your holiday parties started in style this year with these delicious cheesy pâté dips. As indulgent as they are simple, read on below for 3 recipes that'll impress family and friends alike.

Eggplant with Goat Cheese & Roasted Peppers Pâté & White Bean

An eggplant lover's dip that gives guests the opportunity for casual, friendly chatter while munching on delicious cheese and pâté? Yes, please!

To create this creamy appetizer, first drain and rinse one can of white beans. Stir the beans into the pâté, mashing slightly until thoroughly combined. Top with crumbled goat cheese, to taste, and heat at 350°F until warm all the way through. Yum.

Truffle Mousse & Gruyère with Caramelized Onions

To create this dinner party sensation, start by halving and slicing one brown or yellow onion.  Then, sautéing in a saucepan over medium-high heat with olive oil and salt and pepper to taste. Once caramelized, remove from heat. 

Next, grate eight ounces of Gruyère cheese. In a medium bowl, mix ¾ of the cheese and the Truffle Mousse. Spread into a small baking pan. Top with the caramelized onions, a generous drizzle of honey, and the remainder of the cheese.

Let it bake at  425°F for about 25 minutes, or until the cheese is melted and hot. Dig. In.

Smoked Cheddar & Duck Liver and Pork Mousse with Cognac

For a simple, effortless dip that's as flavorful as it is versatile, look no further than a bold smoked cheddar dip with our decadent Duck Liver and Pork Mousse with Cognac, a winner of the prestigious Good Food Award in San Francisco.

Melt grated smoked cheddar (on the stovetop or in the microwave) and then pour it over an even layer of the mousse. That's. It. Yes, this recipe is really that simple. Pro tip: Make sure the mousse has been heated up before you pour in the smoked cheddar, and that you have some crackers on hand to really indulge.

If you wish, you can also stir the smoked cheddar into the mousse so it's evenly distributed throughout the dip.

5 Must-Have Appetizers for Oktoberfest Celebration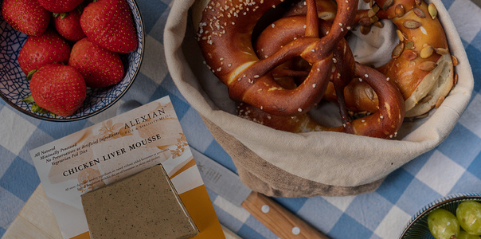 From mouthwatering puff bites to savory cheese delights, let's toast to our favorite Oktoberfest appetizers that are quick, easy, and— most importantly— delicious. Prost!

Baked Fontina

You can never go wrong with a large, melty skillet full of gooey cheese— especially when you add in delicious pâté.

Layer cubed fontina cheese and Black Peppercorn Mousse in a cast iron skillet or baking dish, top with sliced garlic, thyme leaves, and olive oil. Broil until it's melted and bubbly enough to scoop up. Serve with toasty, flaky bread, or crackers and tortilla chips.

Stuffed Mushrooms

Hearty stuffed mushrooms are always a treat, but when beer is involved they become a requirement. 

Clean and chop off the stems of however many large mushrooms you see fit. Sautee stems and green onions and combine with herby breadcrumbs, Campagne pâté, Parmesan cheese, basil, salt, and pepper. Fill the mushroom caps and bake for 15 minutes at 400 degrees F. Garnish with parsley to serve. 

Mini Grilled Cheeses

Elevate your everyday grilled cheese by introducing decadent ingredients. Simply make 4-5 full-size sandwiches, slice into quarters, and arrange on a plate. Here are a few mouth-watering suggestions.

Wontons

Wonton wrappers are a staple in our kitchen. They can be used to make a quick cup— by pressing them into a cupcake pan and baking—  or to make delicious dumplings.

To make a simply satisfying wonton for your party, spoon small amounts of our Truffle Mousse into wonton wrappers. Bake or fry until golden brown, and serve with your favorite dipping sauce— i.e. soy sauce, sesame oil, or spicy mayo.

Puff Pastry Bites

Gently wrap thin slices of any of our pâtés (though a couple of our favorites for this recipe are Chicken & Veal and Wild Forest Mushroom) in puff pastry and cook until light golden brown.

You can also use crescent roll dough in place of puff pastry to save a little time. Feel free to experiment with your own add-ins – like your favorite smoked cheese or veggie – for added flavor.

Serve with a dijon or whole grain mustard dipping sauce, or on their own. 

Delicious Bagel & Pâté Pairings We Can't Resist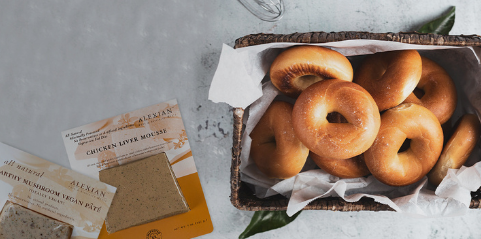 Here, we highlight 3 delicious bagel and pâté sandwich recipes you'll want to eat for breakfast, lunch, and dinner. Because, well, let's face it: there is no better place on earth to be than between the two halves of a crispy warm bagel.
The Millennial's Bagel
What You Will Need:

One Everything Bagel
Cream Cheese
Chives
Full of texture and bursting with flavor, perk up your day with this finger-licking-good recipe that lends a modern twist to a classic bagel flavor. 
Toast the halves of an everything bagel to a golden, brown color. Spread the cream cheese across the bagel halves (the more the better). Pile high with the Chicken Liver Mousse and chives. Voila!
The Vegan Delight
What You Will Need:

Your Favorite Bagel
Sliced Cucumber
Sliced Tomatoes
When meat and dairy are no-nos, say "yes" to starting your day with this vegan breakfast treat.

Toast your bagel halves to a golden, brown color. Spread the 3-4 tablespoons of the Earthy Mushroom pâté across the bagel halves. Top with sliced tomatoes and cucumber. Salt and pepper to taste. Enjoy!
The Elevated Sandwich
What You Will Need:
One Sesame Bagel 
Creamy Garlic Paste
Sliced Red Onions
A super easy, elevated meal in the morning or for lunch, this savory recipe is sure to delight the palate. 

Toast the sesame bagel until golden brown along the edges. Spread a tablespoon of garlic paste on each half. Add  3-4 tablespoons of Duck Liver and Pork Mousse with Cognac and sliced red onions. Sprinkle some salt. Close the bagel and enjoy while hot!

Easy Brunch Crepes with Pâté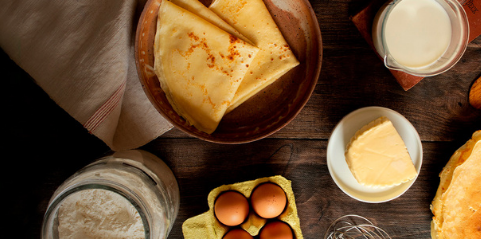 Easy Brunch Crepes with Pâté 

Universally adored and conveniently adaptable to endless food combinations, who doesn't love a delicious brunch crepe— especially when it involves pâté? Read on as we highlight our top three favorite pâté-inspired, mid-day crepe recipes.

Savory Chicken Crepe

 One of our favorite chicken crepe recipes is as easy as it is delicious, and essentially only involves four ingredients: Truffle Mousse, shredded chicken, asparagus, and roasted tomatoes. 

Spread a thin layer of the Truffle Mousse on a crispy golden crepe. Lightly sprinkle some of the shredded chicken on top, in addition to the asparagus and roasted tomatoes. Add salt and pepper to taste.

Pro tip: We suggest slowly building on these ingredients instead of going all in at once, as the last thing you want is your crepe to fall apart. And naturally, if you're keener on other vegetables— or on adding some cheesy elements— feel free to experiment as you see fit.

Vegan Crepe

Made with just six ingredients, this vegan crepe recipe is ridiculously simple— and extraordinarily delicious. All you'll need is Earthy Mushroom pâté, chickpeas, diced onion, minced garlic, spinach, and soy sauce. 

In a skillet, heat the oil over medium heat and add the diced onion and Earthy Mushroom pâté. Sauté for 3-4 minutes before adding the chickpeas and soy sauce. Stir occasionally. 

Fry for a few more minutes and stir in the minced garlic. Toss in the spinach and cook for 1-2 more minutes, then turn off the heat. 

Place the filling in a food processor or blender for some seconds, and then spread 1½ to 2 tablespoons of the filling onto a dairy-free crepe. Salt and pepper to taste. Voila!

Gourmet Duck Crepe

We know what you're thinking: Gourmet? I thought this article was supposed to be about easy crepe recipes. News flash: This culinary creation is about as easy as it gets, as it involves only three ingredients. Yes, you read that right. Three.

Duck Rillette is rich and full of flavor, making it the perfect filling for a gourmet brunch crepe, as well as the star of this recipe. The other two ingredients are sautéed onions and bell peppers. That's it.

Once you've sautéed the vegetables (preferably with some minced garlic, salt, and pepper), spread the Duck Rillette onto a crispy crepe. Add the sautéed onions and bell peppers. 

Overall, the crispy vegetables should cut through the savory creaminess of the Rillette to create a gourmet flavor that'll take your taste buds to new levels of deliciousness. 

An Ode to the Comté et Pâté Baguette Sandwich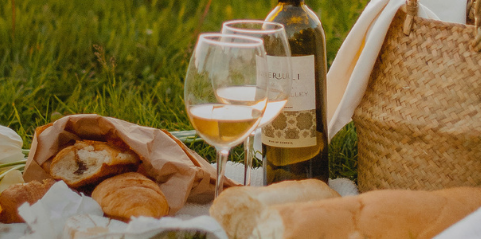 Sandwiches have undergone a sharp makeover throughout the past decade. Once dubbed as dreary lunchbox staples, they're now seen as indestructible menu heroes— from gourmet chicken wafflewiches to luxurious grilled cheeses, there's no denying we're in the absolute golden age of sandwiches.
That said, there's one hearty sandwich in particular we think might just be the best thing since sliced bread: the Comté et pâté baguette sandwich.
An indulgent beauty, the Comté et pâté baguette sandwich incorporates all of our favorite ingredients: pâté, cheese, and crunchy accessories. It's a decadently fresh yet filling dish that's perfect for lunch, dinner, or anything in between.
The picnic-ready sandwich is made up of simple components and is even simpler to put together. Essentially, the only ingredients needed are:
2 oz Comté
1.5 oz Alexian Truffle Mousse
1 demi French baguette
8 thin slices of radish
4 cornichons, cut in half lengthwise
Whole grain mustard
Once you've gathered all of the above, spread the Truffle Mousse over the bottom slice of the baguette. Layer the cornichons and radish over it, and then add the Comté on top. Spread the whole grain mustard on the top slice of the baguette. 

Before closing the sandwich, make sure everything is evenly spaced— that is unless you like sandwiches that send juices running down your elbows. 

Once the sandwich is ready to go, pour yourself a nice glass of wine or bubbly (we suggest: Pinot Noir or Prosecco) and enjoy!

Our Top 5 Pâté Recipes for Summer 2021: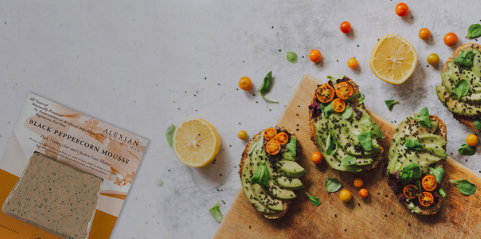 When the sun's out, no-fuss meals that are full of flavor are in. Read on below as we highlight our top 5 pâté recipes for summer 2021. 

Avocado Toast

Give this foodie favorite a gourmet flair and elevate your avocado toast by spreading a layer of our velvety-smooth Black Peppercorn Mousse.

Delicately gloss the Mousse on toasted whole-grain bread, and then top it with mashed avocado. Season lightly with salt and pepper. For added flavor, sprinkle a few diced cherry tomatoes or onions on top. And if you're looking to get really fancy with it, sprinkle on some chopped almonds and a drizzle of smoked olive oil. Yum!

Pita Pockets

Next time you're tempted to reach into the freezer for a Hot Pocket, try this far more satisfying recipe instead.

Simply boil two eggs to your preferred consistency— a softer boiled egg lends more creaminess. Once cooked, let the eggs cool, peel them, and chop. Stir in two generous spoonfuls of our Truffle Mousse and season to your preference. Fill the pita with your Mousse mixture, crunchy lettuce, and tomatoes— that's it!  

Jam-packed with protein and healthy grains, this pita pocket is the perfect pick-me-up (and way, way healthier than that Hot Pocket you've been eyeing!).

Grilled Vegetables

As delicious as it is healthy, all that you need for this easy plant-based recipe is a colorful mix of summer vegetables and our Tomato Basil Vegan Pâté.

Slice the vegetables (think: zucchini, squash, and peppers) into long slices and place them on the grill. Once toasted to perfection and slightly charred, spread a thin layer of the Tomato Basil Vegan Pâté onto them and enjoy as is. Yes, it's that easy!

Stuffed Peppers

Stuffed peppers are an almost universally enjoyed dish, and they're easy to make meatless.

One recipe we love is stuffed red bell peppers with our Curry and Bell Pepper Pâté, couscous, and smoked cheddar. For a summertime twist, prepare all ingredients that need to be cooked indoors, then wrap the bell peppers in aluminum foil and throw them on the grill until just tender. Easy and delicious? Count us in!

Chicken and Veal Pâté + Spicy Dijon Mustard Sandwich 

Let's face it: Nothing beats a sandwich for lunch. And when it comes to a pâté sandwich, our Chicken and Veal Coarse Cut makes for a decadent base and is our inspiration behind this go-to recipe.

Slice a fresh baguette, spread a generous helping of spicy dijon mustard, and stack on your Chicken and Veal Coarse Cut Pâté. Add fresh fennel for a little crunch (or a good 'ol bag of chips!), and voila.

Pro tip: This recipe requires minimal prep work as-is, but can easily be jazzed up with cracked pepper, spinach, mixed fresh herbs, or sliced tomatoes.

Treat Dad to these Pâté Sandwich Recipes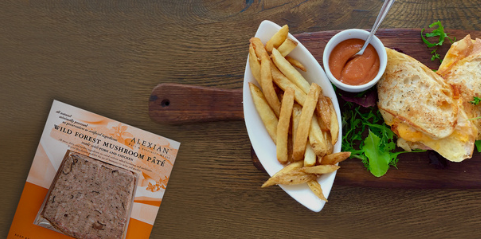 Treat Dad to the best pâté sandwich recipes and get ideas for the perfect Father's Day Sunday. Trust us when we say that these easy recipes—from an irresistibly gooey grilled cheese to a Thai-inspired dish—will please the whole fam. 

The American Classic

Is there anything better than biting into a hearty baguette? Only biting into a hearty baguette that's topped with our Herb de Provence Pâté! For a sandwich that's sure to please, we suggest layering our pâté with pickled vegetables (think: green beans, radishes, and carrots), crisp frisée, and creamy dijon aioli.

Feel free to experiment with fresh vegetables— like sliced tomato or onion— as well. Remember: You can't go wrong with additional greens!

The Thai Twist

A deliciously fun play on the classic Banh Mi, our rendition of this sandwich couples our Chicken Liver Pâté with traditional Vietnamese pork for additional depth in flavor. Stuffed full of fresh veggies and herbs for a burst of freshness, this sandwich will leave you and Pops craving for more.

For an extra layer of flavor, try incorporating any one of our vegan varieties into the mix. The interplay of flavors will do wonders for your taste buds (and Dad's!).

The Veggie Blend

First, julienne and sauté your choice of veggies (we suggest opting for mushrooms, onions, and peppers). Slice a fresh baguette in half and evenly toast both sides. Spread a smooth layer of Dijon on the inside of the warm, crispy bread. For your sandwich filling, include a few thin slices of our Herb de Provence Pâté, and stuff to the brim with the warm vegetables you prepared. Yum.

The Grilled Cheese 

We know what you might be asking yourself: A grilled cheese on Father's Day? The answer: Yes. But we're not just talking any grilled cheese here— we're talking a decadent pâté-inspired one.

For an "adult" twist on a grilled cheese you can turn to again and again, gather shredded white cheddar, sliced Swiss, a thick sliced bread, grilled onions, and our Wild Forest Mushroom Pâté.

Butter one side of two slices of bread. Add a thin slice of our Forest Mushroom Pâté, top with a slice of Swiss cheese, a sprinkle of white cheddar cheese, the grilled onions, another slice of Swiss, and finally the other slice of bread. Cook butter-side-down in a nonstick pan until golden brown on each side. 

The Brunch Special

Turns out, Dads love brunch just as Moms do!

Start with a fresh, crusty baguette from your local bakery. Cut in half and lightly toast it. Spread a generous helping of our Truffle Mousse Pâté. Sauté a few mushrooms, fry an egg, and gently place them on top. On the opposite side of the baguette, spread whole grain mustard. Last step: Enjoy!

10 People Share their Summertime Pâté Cooking Plans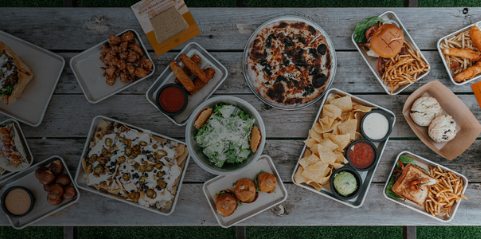 Summer is just around the corner, and you know what that means: margaritas, pool time, and pâté. Erm, OK, so pâté isn't technically a "summer thing," but that doesn't mean it can't be. In fact, we sought out to hear from several pâté enthusiasts on how they incorporate the French classic into their summertime dishes— and as it turns out, they had a lot to say. 

Read on as 10 people reveal their favorite go-to summertime recipes when it comes to pâté.

"As soon as summer hits, I plan on creating one of my favorite recipes: pâté-stuffed mushrooms. I typically use Grand Marnier pâté, but the recipe works with just about any variety. It's perfect as a light appetizer for a garden party."— Aly C., 28

"Summertime calls for a pâté Caprese sandwich. First, I cut open the roll, slice the tomatoes, and spread pâté, to taste, on the underside of the top half of the roll. Then, I drizzle the dish with extra virgin olive oil and balsamic glaze. Add basil and tomato to the bottom half of the roll and sprinkle with salt and pepper. Top with fresh mozzarella and enjoy." — David F., 33

"A light dish I love making once the weather warms up is tomato pasta salad. I typically incorporate 1 slice of Alexian Pâté de Campagne into the mix and top it off with some Parmesan cheese. So good!" — Rachel B., 31

"I'm all about enjoying a simple crostini by the pool. To make one, I place cheese and pâté on the bread and top with a cherry tomato slice. It's a delicious snack I never get tired of!"— Barbara S., 25

 "I like to whip up a scrumptious omelette on summer weekends for me and my partner. And sometimes, if I'm feeling particularly adventurous, I incorporate coarse pâtés, diced and cubed, into the mix. My go-to is chicken and veal pâté as it pairs well with cheese, tomatoes, peppers, and onions."— Peter J., 30

"As a big fan of savory crepes, a go-to summer staple of mine is Truffle Mousse with shredded chicken, asparagus, and roasted tomatoes. It's honestly heaven-sent and way, WAY better than any banana-Nutella combo."— Amy S, 26

"I like to get creative with my summer salads, and often toss Chicken Ballotine on top of my bed of greens. It's a unique addition that instantly upgrades my meal."— Laura A, 35

"I like to use Chicken Ballotine pâté as a base for my lunch wraps during the summer. After I cut it into bite-sized chunks, I mix it up with slices of pineapple, avocado, leafy greens, fresh bell peppers, and a light vinaigrette. The result is a tropical and fresh flavor that makes me feel like I'm lounging somewhere in the Caribbean— and not sitting at home in New Jersey."— Jon D, 37

"For dinner on cool summer nights, I like to make pasta with Alexian Black Peppercorn Mousse for the whole family. The mousse adds a melt-in-your-mouth creamy texture to the pasta that's better than anything I've ever ordered at a 5-star restaurant. "—  Leslie T., 44

"During BBQ season, I'm a big fan of grilling pâté-topped bistro burgers. My usual go-to's are Alexian Truffle Mousse or Black Peppercorn with a layer of melted cheese, lettuce, caramelized onions, and sautéed mushrooms. It's perfect for a summer cookout or anytime you want a special occasion burger from the comfort of your own home."—  Dan F., 30

Leftover Pâté Pasta Sauce? Yes, Please!

Have some leftover pâté? Two words: pasta sauce. Yes, you read that right.
As it turns out, leftover pâté is a great way to whip up some deliciously creamy gravy for your spaghetti or tagliatelle. While pâté won't necessarily translate into a thick, blanket-like sauce, it does make for a good light and refreshing variety.
So, exactly what is the recipe?
First, cook the pasta as you normally would in a large pan of boiling water. When it's almost ready, scoop out of a cup of the pasta cooking water and keep it on the side. Trust us: You'll need it.
While the pasta is cooking, place butter into a frying pan and gentle sauté onion and garlic. Once soft, add the leftover mousse(of your choosing) until it melts. Then, add sherry, wine, or lemon juice, depending on your palette. If you want to get creative, feel free to toss is add 7-10 grapes or cherry tomatoes that you've cut into quarters.
Gently stir for around five minutes before you pour in the pasta cooking water to make the sauce. And lastly, season to taste.
Gluten-free or vegan? Simply spice up the recipe with gluten-free pasta and any one of our vegan pâtés.
Enjoy!